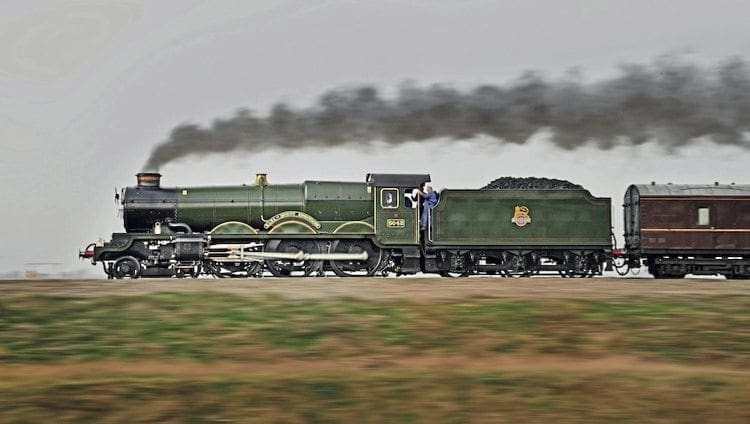 As the steam railtour market undergoes one of its most significant overhauls in decades, Gary Boyd-Hope talks to Tyseley's Michael Whitehouse about Vintage Trains' bid to become an independent train-operating company owned by the general public.
Some years ago The Railway Magazine presented an in-depth look at the strategic vision laid down by Tyseley for its long-term survival – not only in an ever-changing rail industry, but also as part of a multi-cultural and increasingly busy cityscape. 
The masterplan covers all facets of the Tyseley operation, from the running of regular steam-hauled expresses out of Birmingham and the unique selling point of three 'Castle' class 4-6-0s, to the revival of the Metropolitan Railway Carriage & Wagon Company name and the redevelopment of the former 84E shed at Tyseley itself.
At the very heart of the plan lies Vintage Trains' (VT) bid to become an independent, British-owned, fully integrated train-operating company (TOC), the application for which has already been submitted to the Office of Road and Rail.
In early December, the new Vintage Trains Community Benefit Society (CBS) launched a £3million share offer to raise the capital required to turn the vision into a reality. Included in this is a minimum sum (£800,000) required to prove to the ORR that VT has the financial wherewithal to run trains independently.
In a nutshell it sounds like a worthy and admirable goal, but look a little deeper and you'll find that there is actually far more to it than that. For Tyseley's move towards TOC status is not just about its own survival, but it may also help shape the future of main line steam operation as a whole.
To quote Tyseley chairman Michael Whitehouse: "Main line steam has reached a tipping point which is very real, and the railway preservation world needs to wake up, realise the issues and join with us in developing the solutions."
As we fast approach the 50th anniversary of the end of BR steam, main line steam coming to a critical junction which, unless faced, understood and dealt with, could result in a 'make or break' situation for the railtour market.
The issues Michael refers to are many and varied, ranging from the simple fact that we have a busier national railway network, to ageing motive power and an equally aging workforce.
Together these factors could heavily influence the future direction of the steam railtour industry, which is one of the primary reasons why Vintage Trains and others are striking out on their own.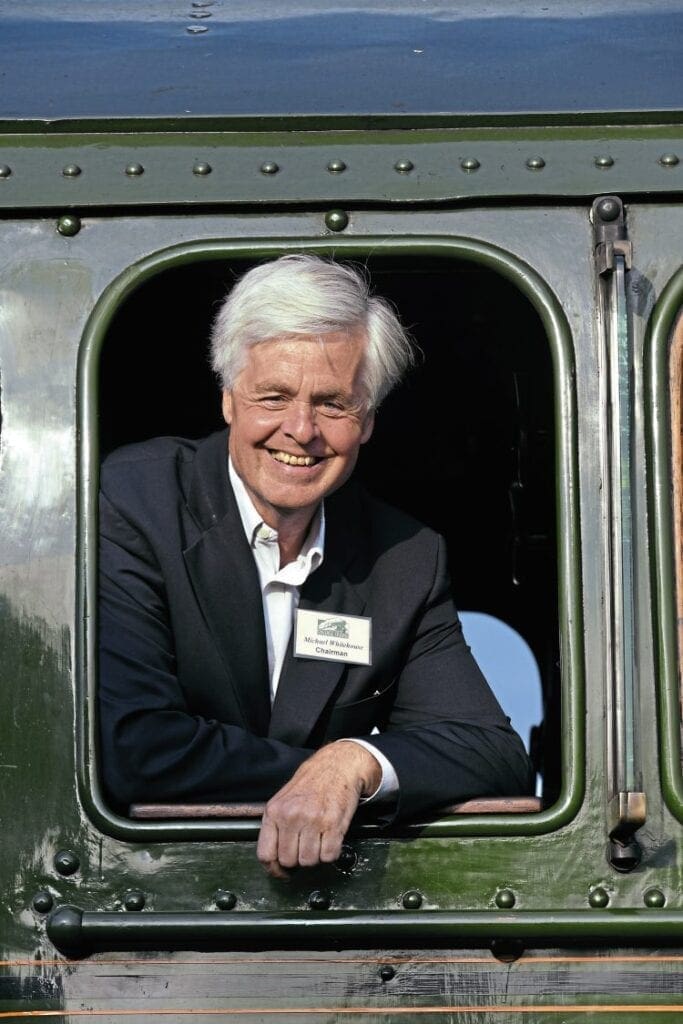 'Less space and paths'
"Take the network for example," says Michael. "We are seeing more and faster trains in the timetables, meaning less space and paths for spot-booked charters.
"Add to that the fast disappearing operating skills and knowledge. Very few drivers now remain who really understand steam locomotives, and in particular those who are competent to drive them at 75mph with 11 coaches in all conditions.
"Furthermore, when away from their home base, steam locomotives have no back up (unless they take a diesel with them), and the national railway staff are not trained to understand them.
"Equally, there are probably only a handful of people around who really understand steam locomotive engineering and who have the requisite facilities to fix locomotives to the required standard. You only have to look at the number of locomotive failures and examine the causes so see the evidence of this."
An ageing steam locomotive fleet is one of the key concerns Michael raises. As he points out, many of the current main line-registered locos are rapidly approaching their 100th anniversaries, and with advanced age comes wear and big repair bills.
"We are now facing complete renewals of major parts which costs in excess of half a million pounds a throw," explains Michael. "Look at the number of appeals and locomotives laid up on the main line list, then look at the number of them whose tickets have or will soon expire. Compare this to the number that are still in ticket and coming back on line.
"The support network is shrinking, too. Some of these main line engines are owned by individuals or societies that have no facilities of their own, and which are coping with dwindling memberships. As such they increasingly rely on a smaller and smaller group of people for their destiny."
Of course, attracting the next generation of engineers, drivers and firemen remains one of the principal challenges faced by preserved railways, and this is particularly relevant for main line operation.
How do you lure the technology-savvy iPad generation away from SnapChat and Instagram, and encourage them to pick up a firing shovel? And, as Michael points out, how many really have the time to indulge in spending hours and hours learning the requisite skills to repair and operate a steam engine.
"It's not all doom and gloom, but it is necessary to face reality and work out a plan to deal with the real issues," says Michael. "Over the last 20 years we have been doing that at Tyseley. We have learned how to repair locomotives.
"We have a train of our own carriages. We have a workshop. We have a main line-connected depot. We have created a tour company. All of those need constant plate spinning. What we don't have is a licence and, with it, our own operating team. Easy to say, but a hurdle to jump nonetheless."
It is Michael's view the railway heritage movement as a whole needs to create an organisation capable of delivering express steam trains on a sustainable basis, which at the same time is integrated with passenger, freight and community services. In the vacuum of national leadership, Tyseley has picked up the baton.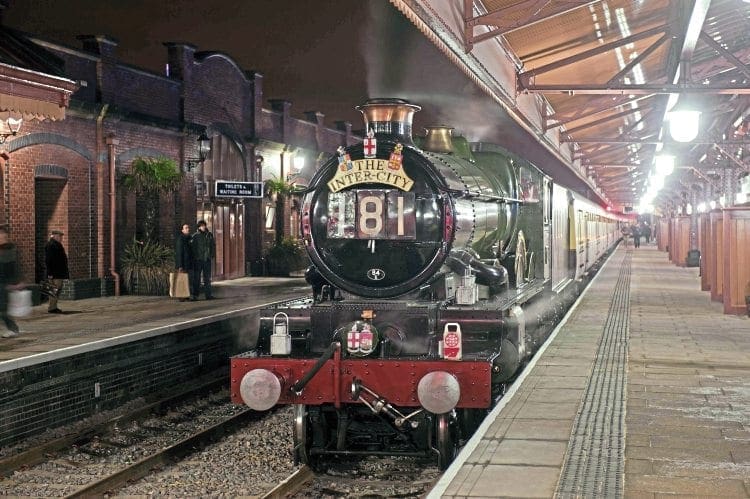 "Yet it is not all about Tyseley. Yes we are the only charity in the game with all these facilities, knowledge and skills, but we are not seeking to monopolise. We want to preserve our heritage, stay in the game, teach and transfer skills. If anything that is at the core of our Community Benefit Society.
"The challenge and opportunity to everyone passionate about the subject is to join in: buy a share and volunteer."
What is a CBS?
The concept of community shares and Community Benefit Societies is not a new one, but the Vintage Trains CBS is pioneering its use in the heritage railway sector.
They have been successfully used all over the UK to finance projects that involve and benefit communities, from football clubs and pier restorations, to local transport and the creation of wind farms.
One may wonder how the running of steam trains benefits the community, but in fact much of what Tyseley is trying to accomplish has been steered by community input.
During the creation of the masterplan, Michael opened a dialogue with all local stakeholders, including Birmingham City Council, the University of Birmingham, Bournville College, Network Rail, the Department for Transport, the ORR, the local community and others, all to find out what Tyseley could, or should, be offering. The feedback has been very encouraging.
Steam-hauled expresses fall slap bang within Birmingham's 'Midlands Engine' growth strategy: developing engineering, using technology and encouraging tourists.
Furthermore, Birmingham has a tremendous but understated railway heritage pedigree: Boulton & Watt developed the steam engine to enable the city to become the 'Workshop of the World' and engage in mass manufacture.
It developed the first inter-city railway hub at Curzon Street (which will be re-incarnated by the arrival of HS2), with the city being the manufacturing base for carriages delivered worldwide.
"We have begun marketing the share offer and CBS concept within Greater Birmingham, and are discussing how it fits with the city's Midlands Engine strategy for growth," Michael explains.
"Already the mayor has bought a share, the city leader has invited me to discuss the CBS further, the Lord Lieutenant has adopted the scheme and is promoting it, and we will deeply discuss with our city stakeholders the community benefits, encouraging the next generation, training and apprentice opportunities."
Opportunities for people to develop, particularly a wider and more diverse range of young people, is probably as much a driver for the CBS as the TOC status itself. Thanks to a £90,000 Heritage Lottery Fund-resilient grant, Tyseley is proceeding to establish a volunteer system and is setting up a 'youth board', which is intended to shadow the CBS board, thereby allowing its members to learn business skills and participate in the development and steering of the CBS.
"We have to prepare now to hand over the management of our priceless collection and teach skills so it can endure," added Michael.
"As we are a charitable foundation, we are well placed to do this. The founding families have given the collection and workshop equipment to the foundation so the next generation can succeed and learn how to innovate for themselves within a charitable but also business environment.
"The next generation will be able to learn about and also help tell the very significant stories about the major contribution Birmingham and its people have made to railways and steam locomotives.
"From Boulton & Watt and Metropolitan Railway Carriage & Wagon Company, to the heritage railway pioneers and their families who invented the railway preservation concept in Britain, and who spearheaded the return to steam in 1972.
"We intend to add a fourth strand over the next 50 years: our Community Benefit Society. This is particularly important as Birmingham is, and always has been, a migrant city. It is essential, for the wellbeing of the community, that everyone understands their roots and how and why they came to live here.
"Clearly this will take longer than the share offer timetable, but you should not overlook the opportunities when we become a national TOC. We are very lucky to be within a major city and one which will see history repeating itself as Curzon Street once again becomes the hub of a new grand trunk route when HS2 arrives."
'Home-grown' TOCs
At a time when newspapers and television news are dominated by Brexit, and the nation tries to make sense of the uncertainties that go with it, one of Tyseley's big selling points for the CBS is that it will be a British-owned TOC.
Privatisation and the franchising of the national railway's operations have brought with it a tremendous amount of investment, much of which comes from Europe and further afield.
A look at the list of current TOCs includes names such as Abellio (the Netherlands), Arriva (a subsidiary of Germany's Deutsche Bahn), Trenitalia (Italy), Mitsui (Japan), Govia (part owned by the French transport operator Keolis), and MTR (China).
Stagecoach, Virgin and First Group are 'home grown', as are the likes of West Coast Railways and the new Saphos Trains, but none are owned by the British 'people' or by a charity, which should provide the enduring factor, rather than being owned and controlled by individuals or foreign corporates.
In this regard the Vintage Trains CBS stands alone, and with ex-Chiltern Railways chief Adrian Shooter as the TOC's chairman, it is already securing its place within the West Midlands rail operation as a whole.
Adrian brings a wealth of experience to the table, having helmed Chiltern Railways for 18 years, until 2012. Yet he also understands Tyseley as a whole, its history and aspirations, as he had been a trustee for the last 15 years.
The new TOC's primary purpose will be to operate a range of trains safely and commercially. Of course, this will include the operation of regular steam-hauled express trains serving Birmingham and the surrounding area using the locomotives of the Tyseley home fleet, and one or two affiliated 'guest' engines.
However, as reported in The RM last month, the TOC is also applying for a non-passenger licence, thereby enabling it to provide a broader public service; this underlines its community benefit.
The TOC will participate in the market place, not as a franchise company with a limited term, nor as a charter promoter taking second or third place to passenger and freight. The CBS and the TOC will be enduring, publically owned and with charity control and governance.
Intergrated timetable
The intention is to create a stable and long-term environment, within an integrated timetable structure, both for express steam trains to operate and for the next generation to learn and participate within a business environment.
The decision to apply for TOC status was the brainchild of the aforementioned Mr Shooter, who also proposed that Vintage Trains narrow its geographic coverage, and instead of running excursions far and wide, focus on fewer destinations, but visit them more frequently.
In essence this builds upon the success of VT's annual 'Shakespeare Express' season, which sees steam working two round trips between Birmingham Snow Hill and Stratford-upon-Avon every Sunday from July to September.
It will also enable forward bookings to be taken from international tour operators with more certainty and so serve key events such as the 2022 Commonwealth Games, which are to be held in Birmingham.
However, as the nation's second city, Birmingham's railway system is one of the busiest in the country, and so Tyseley is already well advanced in securing its place at the top table with passenger and freight track access contracts.
These will provide it with rights to agree timetabled paths to suit and integrate with the busy suburban passenger network, but also provide a year round capability to meet market opportunities.
"We have already met with West Midlands Railway (who use the West Midlands Trains brand) to take forward our memorandum of understanding to ensure heritage express steam trains both fit in with, and are capable of growth, within the timetable," says Michael.
"Remember we are not talking about charter trains as the 'Shakespeare Express' has always been a timetabled train. What we are talking about is regular every day steam in the working timetable as 'Q paths', even for the day-out excursions, with the blessing of Network Rail.
This is the integration the DfT was seeking when it included the heritage train component within the West Midlands Trains invitation to negotiate; something I believe is currently unique."
From the perspective of timetable planning, a Vintage Trains express steam train will simply be 'another train in the timetable' but, to the market, it will offer regular and fascinating opportunities.
In fact VT will be planning at least three Greater Birmingham 'Q paths' and several day-out excursion 'Q paths' to connect the city with other heritage attractions and international destinations. One of these will be a new regular evening slot for a steam-hauled dining train from Birmingham to Kidderminster and on to the Severn Valley Railway at Bridgnorth.
"We will work with the Severn Valley Railway in partnership to develop both main line and branch line heritage," said Michael.
"West Midland Trains has agreed to work with us to ensure paths for both the 'Shakespeare Express' and dining train to Bridgnorth are available seven days a week from 2021 when the next train and service upgrade is due.
"We will also work on developing a family train market between Moor Street station (right next to the Bullring shopping centre and to be integrated with HS2 at Curzon Street) to our Tyseley depot, providing an ideal one-hour round trip excursion.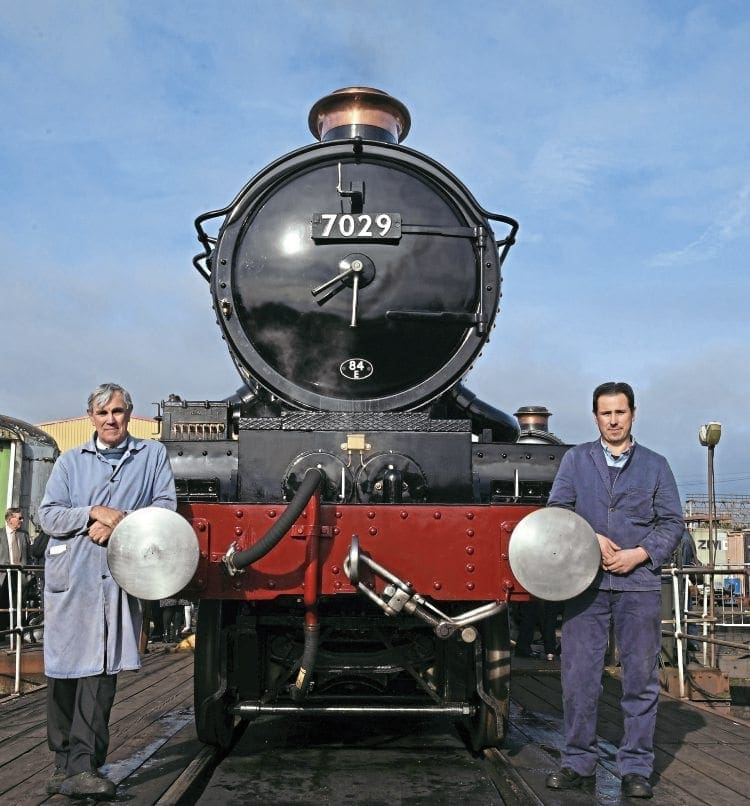 "While there is detailed timetabled work to do of course, the intent is clearly there so that these trains can run any day the market requires. They will be integrated into the timetable with franchise trains.
"West Midlands Trains has even repainted the stations on the Shakespeare Line in traditional Great Western colours. Every bit helps," he added.
The bigger picture
As last March's feature explained, and as Michael has made clear in this article, the vision for Tyseley encompasses far more than just the running of trains.
In Michael's words: "We want to re-create in the 21st century something similar to what the GWR created in the early 1900s: the capacity for every day timetabled express steam trains running between a 1906 authentic GWR city terminus at Moor Street to Shakespeare's Stratford, with our locomotives and workshop based at Tyseley – the last remaining depot, which has seen a steam locomotive available for use every day for 110 years.
"We will develop our Tyseley depot to become the 21st century workshop for both steam locomotives (as Tyseley Locomotive Works) and carriages (as Metropolitan Railway Carriage & Wagon Co). That way, our collection will have a purpose in still doing what it was designed and built for.
"We are fortunate to be in the middle of the country, accessible, and supported by a great city and its regional transport authority.
"We are in a region of growing tourism and well connected to international destinations. Add in Birmingham's strategy to create tourist destinations and create engineering jobs and skills, and the vision becomes compelling.
"We have the chance to achieve it all, but only if we can reach our initial £800,000 target with the public's support, ownership and participation."
Be a part of history
The Vintage Trains Community Benefit Society share offer closes on May 31. Shares are available at a minimum subscription of £500, or a maximum of £100,000. Amounts must be bought in blocks of 500 shares.
Shareholding comes with a range of benefits, including exclusive membership of the Founders Club for the first 2,000 subscribers. Members of this exclusive club will get the opportunity to travel on five shareholder-only railtours behind 'Castles' Nos. 7029 Clun Castle and 5043 Earl of Mount Edgcumbe over appropriate Great Western metals.
Other benefits include lifelong complementary access to Tyseley's twice-annual open days, a say in the governance of the CBS, the opportunity to stand for election to the board, and the chance to earn interest on shares.
For a full share prospectus and share application form visit: www.VintageTrains.co.uk/Shares or write to Vintage Trains, 670 Warwick Road, Tyseley, Birmingham B11 2HL.
Gift Aid donations are also welcome, and will be counted within the required £800,000.
The Railway Magazine Archive
Access to The Railway Magazine digital archive online, on your computer, tablet, and smartphone. The archive is now complete – with 123 years of back issues available, that's 140,000 pages of your favourite rail news magazine.
The archive is available to subscribers of The Railway Magazine, and can be purchased as an add-on for just £24 per year. Existing subscribers should click the Add Archive button above, or call 01507 529529 – you will need your subscription details to hand. Follow @railwayarchive on Twitter.
Read more News and Features at www.therailwayhub.co.uk/ and also in the latest issue of The Railway Magazine – on sale now!
---
Advert
---
Railway Reads
From the history of steam through to 21st century rail transport news, we have titles that cater for all rail enthusiasts. Covering diesels, modelling, steam and modern railways, check out our range of magazines and fantastic
subscription offers.
Get The Railway Hub Weekly Round-up
Enter your e-mail address below and you will receive weekly rail news straight into your inbox…

You can unsubscribe at any time.