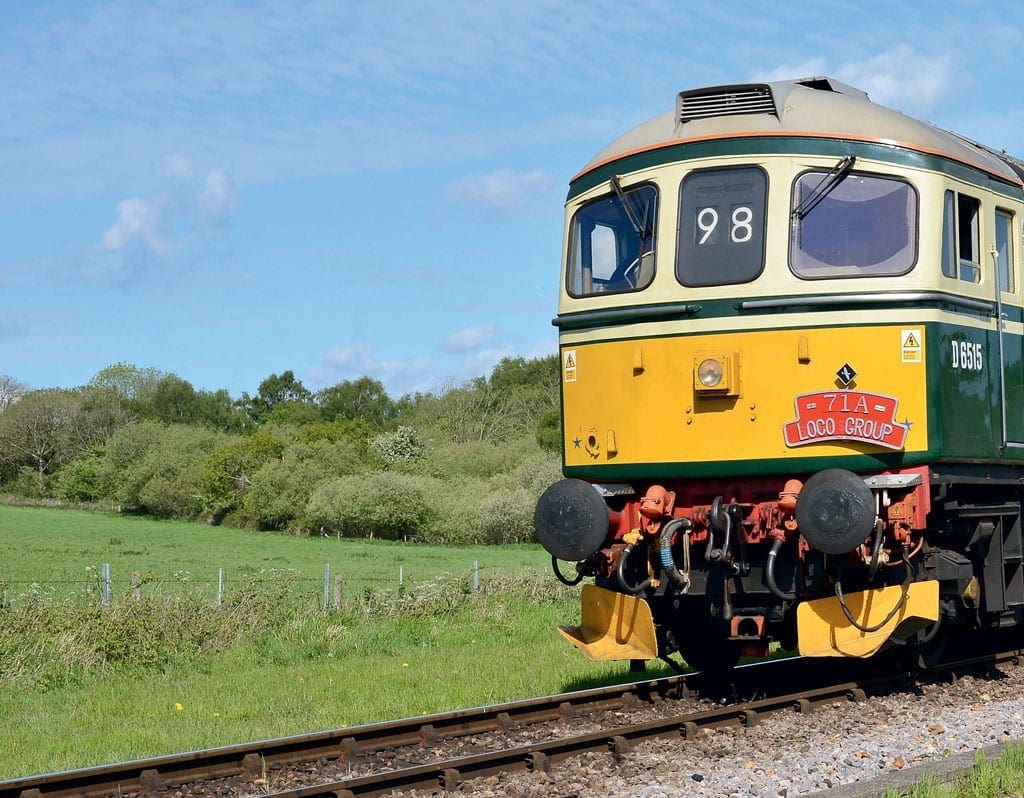 Last year marked the 60th anniversary of the Birmingham Railway Carriage & Wagon Company's Type 3, better known as the Class 33, or simply the 'Crompton'. Mark Nicholls recounts the type's history.
In British Railways' 1955 Modernisation Plan there was little interest for a Type 3 power category, covering locos in the 1,500-2,000hp range, but that was soon found to be a mistake.
The Type 3 was actually one of the most flexible of all, able to provide a loco capable of varied mixed traffic use for light and medium freight and passenger work. It also had the ability to haul heavy loads at low to moderate speed. Furthermore, it offered the power of a Type 5 if used in multiple.
Among the firms to build a Type 3 was the Birmingham Railway Carriage & Wagon Company and its Class 33 was to prove to be a successful and popular loco. Originally promoted as a replacement for steam on the Southern Region, the design went on to be used more widely later in its career, such as on the Western and Midland Regions.
Another accolade enjoyed by the Class 33 – or the 'Crompton' as it is best known, due to the manufacturer of its electrical equipment, Crompton Parkinson – is it was the first UK loco built with electric train heating. It also had duplicate driving controls on each side of the cab to make shunting, among other things, much easier.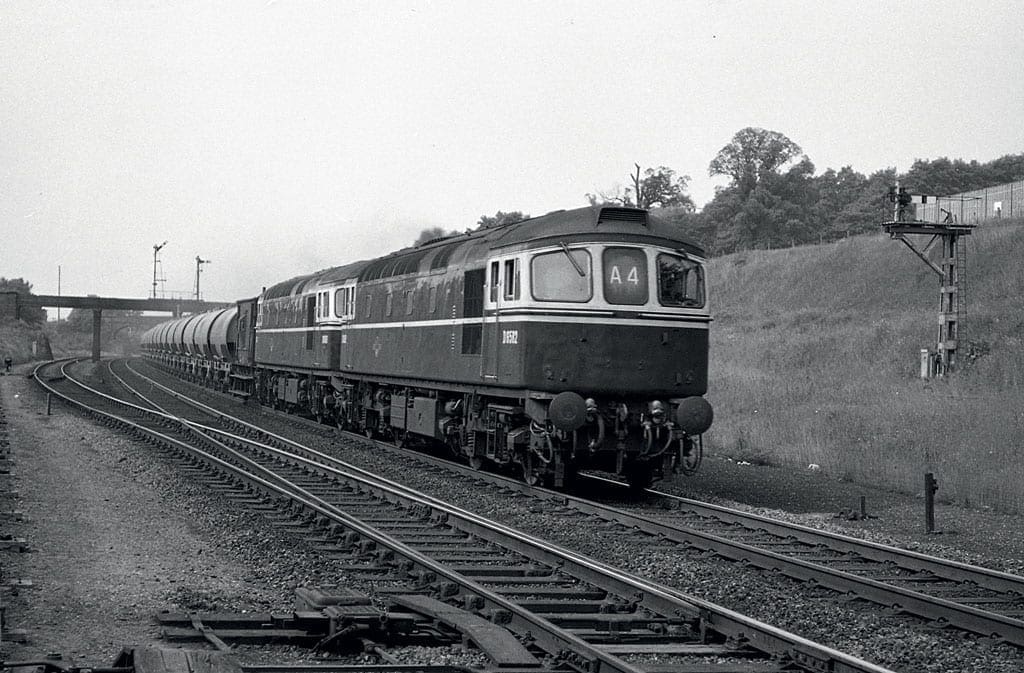 Concept
The BRCW Type 2 (later Class 26/27), fitted with a Sulzer 6LDA power unit, was among the more successful designs of the Modernisation Plan, and so to satisfy the British Transport Commission's requirement for new Southern Region traction a more powerful version was authorised.
The initial preference was for a Co-Co bogie layout, but a Bo-Bo was successfully argued for and settled upon because it would have wider access to the network, along with a top speed of 85mph.
The resulting loco was visually similar to the BRCW Type 2, but it had a more powerful Sulzer 8LDA28 engine, rated at 1,550hp, which also made it the most powerful four-axle diesel-electric in the UK, with an output of 387.5hp per axle.
As EMUs, which were all air brake-equipped (either electro pneumatic/automatic or Westinghouse), were quickly dominating the Southern Region it was decided to make the locos dual-braked, meaning they were built with vacuum and air train brakes from new, assisted by pipe extensions (stowed in the engine room) to allow coupling to waist-level air pipes on the front of EMUs.
The Type 3s were ordered in several batches; the first batch of 45 in December 1957 was destined for the South Eastern Division. Subsequent orders were for 20 in October 1958, 12 narrow-body variants (Class 33/2) in July 1959 and 21 standard examples in December 1959.
The Southern always referred to the locos using a letter-based classification: KA (Class 33/0), KB (Class 33/1) and KC (Class 33/2). The BRCW Type 3s were equipped with Blue Star (electro-pneumatic) multiple working cabling from new, allowing them to work with any loco fitted with the same system, including Classes 20, 25, 26, 27, 31, 37 and the SR's Class 73s when working on diesel power.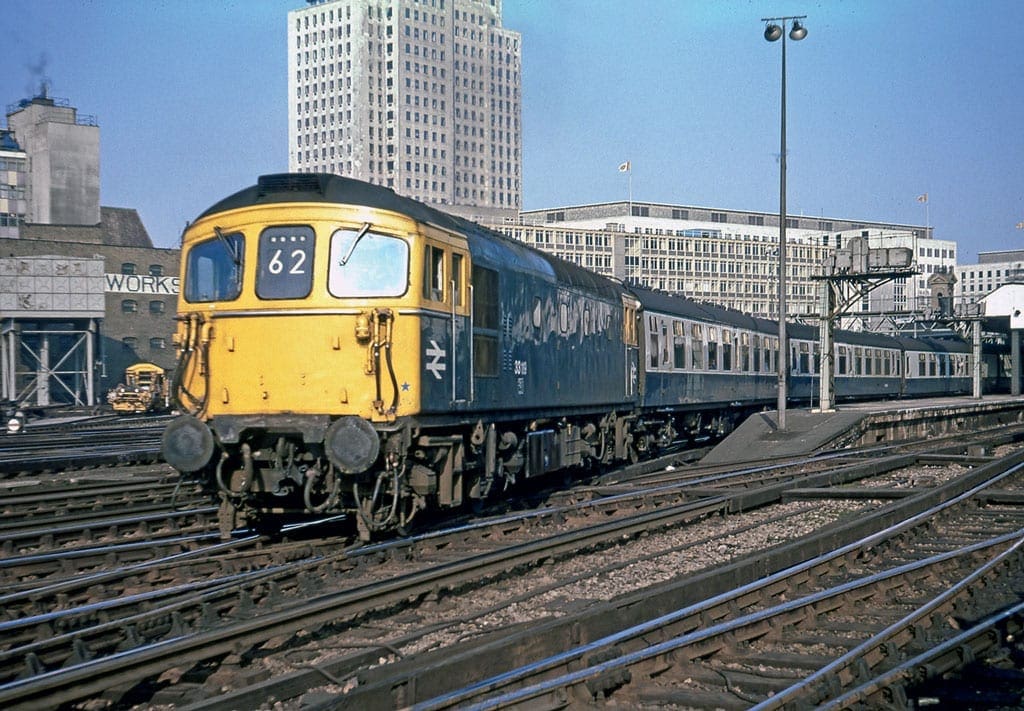 Construction
The structure had a welded steel underframe, formed of two main double-channel longitudinals joined by four transoms, with buffers and drawgear attached to a fabricated dragbox on the main underframe.
A lattice-girder construction was employed for the body. Louvres were placed above cant rail height to provide equipment ventilation for the engine room, with the only bodyside louvres adjacent to the main cooling group at the No 1 end. The removable roof panels were made of translucent reinforced plastics, as were the cab roofs.
The engine room was a single compartment, with the two Reavell vacuum exhausters beside the main cooling group at No 1 end, then the power unit and generator, followed by the main electrical control equipment at the No 2 end housed in a dust-proof compartment.
A Metcalfe Oerlikon compressor was also mounted in the engine room. The Sulzer 8LDA28 engine was of a turbo-charged design, cooled by a Serck-Behr system incorporating a hydrostatically driven, roof-mounted, thermostatically controlled fan.
The Crompton Parkinson generator group was actually three units, one to provide traction power, one to act as the auxiliary generator providing power for everything except traction and heating, with the third, and smallest, to supply ETH.
When ETH was in use the engine rpm increased from 350rpm to 550rpm. The cabs were considerably different from BRCW's previous Type 2, most obviously because of the Southern Region-style, two-character headcode panel mounted between the two front windows.
Four Crompton Parkinson Cl71 C2 traction motors, with a continuous rating of 305hp were used, which were series wound, force-ventilated, axle hung and nose-refinery. The electrified lines between Sevenoaks and Dover went live on June 12, 1961 and EMUs took over passenger duties.
The Type 3s and some Type 2s were deployed onto other non-electrified routes, such as Maidstone East to Ashford and Ashford to Ramsgate, as well as those not being electrified, including Ashford to Hastings/New Romney.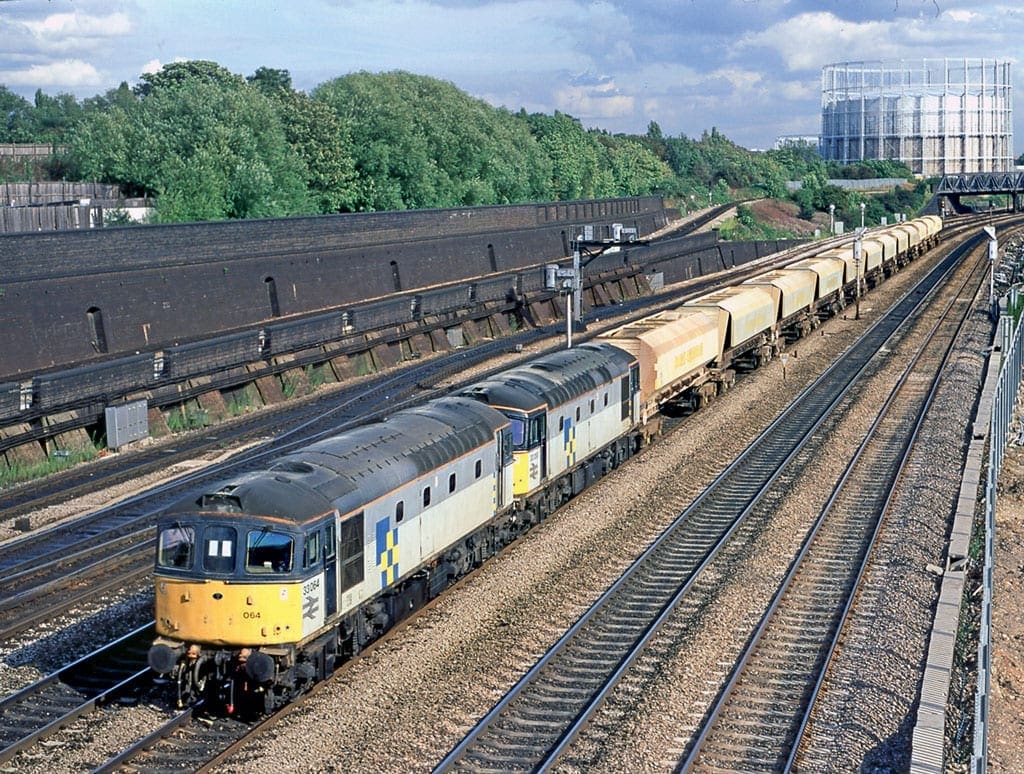 Push-pull and other modifications
The Southern Region's Modernisation Plan for the Bournemouth/Weymouth route included a requirement for push-pull traction where a loco could be marshalled at one end of a multiple unit formation, but controlled from a remote driving cab.
As part of the development programme Type 3 D6580 was fitted with high-level air pipes and control jumpers at Eastleigh Works in June 1965. The same company supplied the two traction motor blowers, which were in the main engine compartment, one for each bogie.
The bogies were based on those fitted to the BRCW Type 2 and were of the equalising-beam type with swing bolsters. The fuel tank and roll-out battery boxes were beneath the underframe between the bogies.
Service introduction
The BRCW Type 3s were built at the firm's Smethwick Works between February 1959 and May 1962. Once finished they were generally delivered to the SR under their own power and were commissioned at Hither Green.
Building all of them to fit the narrow tunnels on the Tonbridge to Hastings route was considered but the complexities of designing them for this would have taken too long, delaying production. Only the final 12 were constructed to the Hastings load gauge, seven inches narrower than standard.
Although this might have seemed an easy job, in fact it required considerable redesign and cost BRCW dearly, and was one reason why it abandoned building main line locos.
The first BRCW Type 3, D6500, was rolled out in November 1959 and delivered to Hither Green on December 17, with trial running in Kent commencing in March 1960. Prior to that, diesel requirements were satisfied by the loan of 15 BR/Sulzer Type 2s (Class 24) from the London Midland Region.
Sufficient Type 3s were available by the summer of 1960 to permit most Charing Cross to Dover trains to be diesel-hauled while Stage 2 of the electrification work continued. Type 2s had to be used with the Type 3s to provide steam heating in the winter of 1962/63 because the rolling stock was not ETH equipped.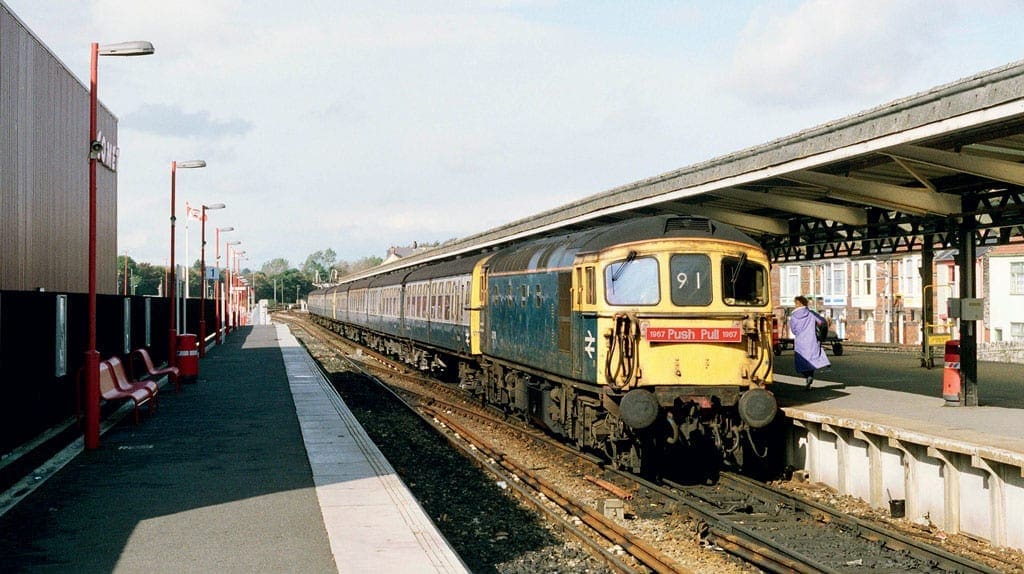 The Type 3s began to dominate freight traffic in Kent and from February 1961 they handled all freight on the Hundred of Hoo branch, including the cement traffic from Cliffe and oil trains from the Grain At the time it was decided to only electrify as far as Bournemouth, which required a further 18 conversions (Class 33/1) and the fitting of TC (trailer control) equipment.
The 18 differed from D6580 in having drop-head buckeye couplers, retractable buffers and a centre rubbing plate; these were later retrofitted to D6580. The push-pull equipment allowed the Type 3s to be marshalled in any position within a train of 1963/66 EMU stock and controlled from any other cab. Primarily they were used to convey 4-TC units between Bournemouth and Weymouth, with the swap to and from 4-REP powered EMUs taking place at Bournemouth.
The basic design was little changed during the type's career, but some modifications were made, such as the Class 33/2s being equipped with slow-speed control from 1971 to permit them to be used on merry-go-round coal trains.
All Class 33s wore BR green from new and received BR blue from the mid-1960s. When BR's naming policy was relaxed in the late 1970s several Cromptons were named, which continued until the type was phased out.
Once it was built D6504 was loaned to BR's Derby Research Centre for electric train heat tests and development work. It took part in static load bank tests at Derby and dynamic runs between Derby and Hornsey via Peterborough and the East Coast Main Line between Hornsey, King's Cross and Edinburgh Craigentinny on February 14-17, 1961.
Three years later D6553 visited Derby as part of air brake trials in connection with the Freightliner concept. Towards the end of its career in 1989 Class 33/1 33115 was modified to help undertake the development of retractable bogie-mounted third rail power collection shoes for the proposed Eurostar fleet.
Service career
Once the Kent electrification project had been completed in the early 1960s, the Type 3s became more common across the rest of the SR, although the 'Slim Jim' KC variant was usually confined to the Tonbridge to Hastings line, although it could be seen elsewhere on the South Eastern Division.
The BRCW Type 3s became rather famous for their use on the 0230 Cliffe (Holborough) to Uddingston cement train, and return, which ran along the East Coast Main Line to York starting in December 1961.
The train was formed of 28 four-wheel tank wagons and was initially double-headed. However, a single Crompton could handle the load, and it was one of the most unusual inter-regional diagrams at the time.
The Type 3s first appeared at Eastleigh Depot in July 1962 when 12 were transferred in to haul oil traffic from the Fawley refinery, although many more were allocated to the Hampshire depot later. In addition to the oil traffic the BRCW locos also took charge of some passenger diagrams, notably the 0722 to Waterloo (the Le Havre boat train), the 1130 Waterloo-Bournemouth and 1655 return, as well as the 2235 Waterloo to Weymouth mail train.
By February 1963 the South Western Division was using its new diesels extensively and rosters covered the area between Nine Elms, Reading, Salisbury, Southampton, Portsmouth and Chichester. Meanwhile, the Central Division began utilising the Hither Green Type 3s on freight and some passenger duties, including several peak-hour trains on the Oxted line in May 1963.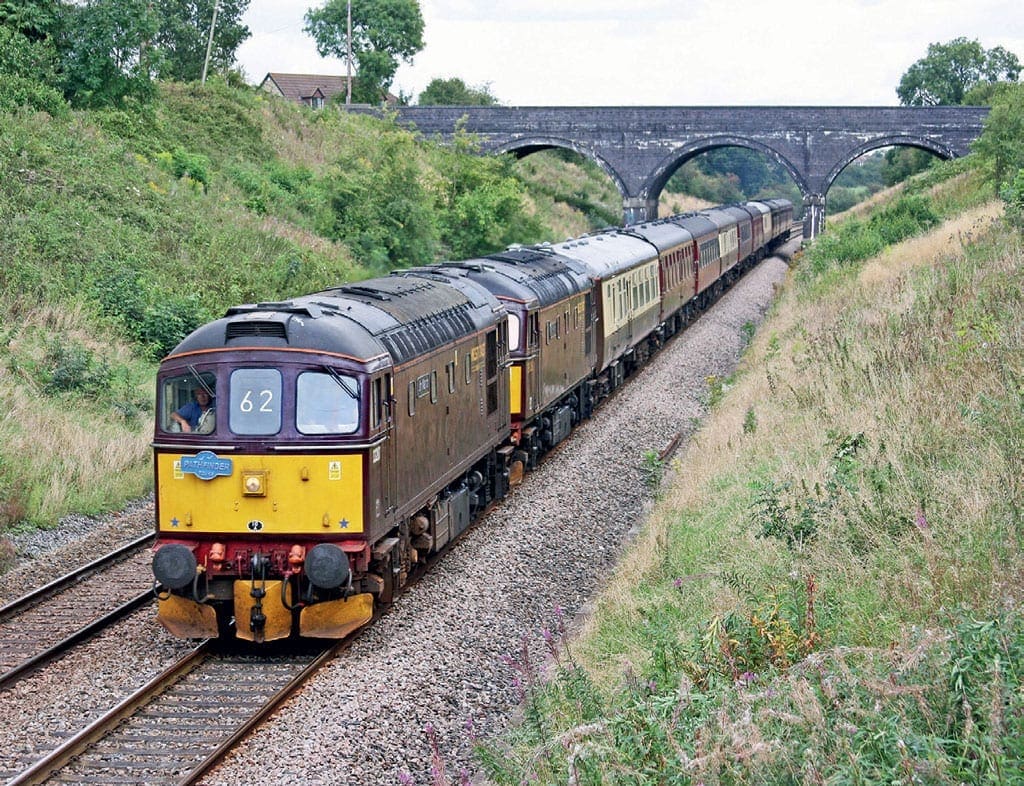 Steam was used during the winter, but it wasn't long before ETH-fitted coaches were brought in to allow the Type 3s to run year-round. That summer found up to 20 examples regularly assigned to Central Division freight and passenger duties.
The South Western Division also acquired a further 11 locos, permitting more services, including those to Lymington Pier and Swanage, to go over to diesel traction. By the end of 1964 the Type 3s were allocated to Eastleigh (27), Hither Green (58) and St Leonards (12).
Eastleigh's Cromptons were quickly diagrammed for the Saturday 1100 Waterloo to Exeter service, but they were also called upon to deputise for WR Warship diesel-hydraulics on occasion. Meanwhile, many Central and South Eastern Division turns passed to the JB electro-diesels (Class 73/1) from 1965.
As a result more Type 3s moved to the South Western Division and in the summer of 1966 virtually all Sunday Waterloo to Bournemouth trains were diesel-hauled to facilitate diversion via the steeply graded Mid-Hants or Portsmouth Direct lines double-headed.
The 4-TC sets for the Waterloo to Weymouth route started to arrive in August 1966 and from November they also served Salisbury and Basingstoke. To begin with the sets were hauled in the standard way, but when the first KB Type 3 (D6521) was delivered, its use in push-pull mode with the 4-TCs began in December 1966, working the 0930 from Waterloo.
Once the third rail reached Bournemouth on April 3, 1967 the 4-TCs could be hauled/propelled by either an electro-diesel or the new 4-REP units. As of July 10 the full service was introduced and the Cromptons powered the 4-TCs between Bournemouth and Weymouth and were also used on other duties, such as commuter services and between Clapham Junction and Kensington Olympia.
In 1976 Class 33/4-TC combinations were also used for an hourly service between Reading and Portsmouth. Class 33s with Mk 1 stock were also a regular sight on the Weymouth Quay line, powering the Channel Islands' boat train from Bournemouth from 1973.
Starting on October 4, 1971 the class took over services between Waterloo and Exeter following the withdrawal of the WR's Warships, but with less power available the trains were reduced to eight coaches in winter and nine in summer and the timings were relaxed by ten minutes.
Cromptons also worked cross-country services from Poole and Southampton as far as Reading, where a Class 47 normally replaced them. However, it was not uncommon for them to reach Birmingham New Street if a 47 was not available.
From May 1980, the Portsmouth to Bristol route was worked entirely by Class 33s and coaches and additional trains between Waterloo and Salisbury were provided by Cromptons and 4-TCs or coaches.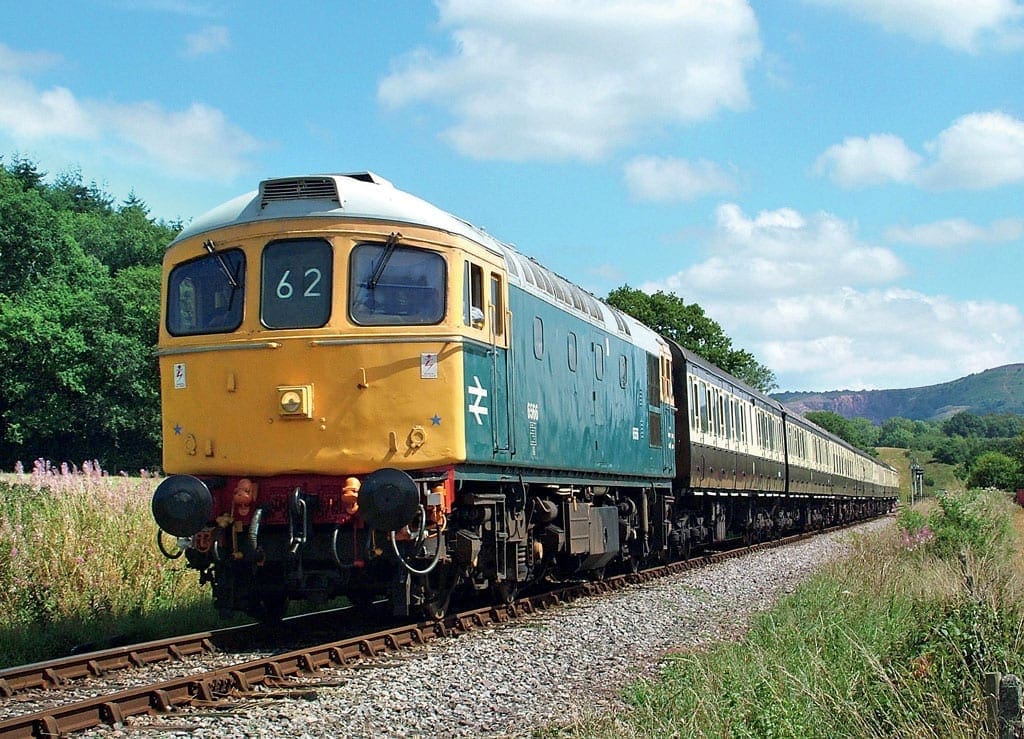 In June 1981 Class 33s replaced Class 25s on the Cardiff to Crewe route. The SR had a reduced need for the locos and so the class began venturing even further afield, reaching West Wales in May 1982 with six daily three-day cyclic Eastleigh diagrams reaching Swansea, Fishguard Harbour and Milford Haven. They were even diagrammed for regional services to Manchester and Holyhead.
Following privatisation EWS took on some Cromptons, although they were not part of its long-term planning. However, 33025 and 33030 were given a light overhaul and transferred to Inverness to work local trips, which ran between the end of 1999 and January 2001. They were also used by Direct Rail Services, FM Rail and West Coast Railways; the latter still has a handful registered for the main line. Fortunately, the preservation world has been kind to the class, with 24 examples surviving.
The Class 33 was a reliable loco and was popular with crews and maintenance staff. It proved itself to be an excellent performer, something that it still achieves today, both on the main line and at heritage railways.
---
Advert
---
Railway Reads
From the history of steam through to 21st century rail transport news, we have titles that cater for all rail enthusiasts. Covering diesels, modelling, steam and modern railways, check out our range of magazines and fantastic
subscription offers.
Get The Railway Hub Weekly Round-up
Enter your e-mail address below and you will receive weekly rail news straight into your inbox…

You can unsubscribe at any time.