Rex Kennedy, a former member of the Worcester Locomotive Society, recalls long days and amusing stories from when the WLS ran regular coach trips to motive power depots all over Great Britain, including its annual summer nine-day Scottish tour, which incorporated visits to engine sheds in northwest and northeast England on the journey to and from Scotland.
The Worcester Locomotive Society came into existence when the national Ian Allan Locospotters Club (IALSC) was disbanded locally from October 1, 1960 and its local branches became autonomous. Robert Pritchard, who eventually became the publications officer and magazine editor of the Worcester Locomotive Society's quarterly Big Four magazine, became a member of the IALSC in late 1958/early 1959, and then WLS member No 46 in 1961, joining the society with his life-long friend, Roger Lamb.
Robert tells me that the inscription on his IALSC membership card stated 'The holder is also enrolled as a member of the Worcester Group of the Ian Allan Locospotters Club', followed by the secretary's initials (GRW), for the late Gerald Wadley.
The immediate predecessor of the WLS was the Worcester Group of the IALSC, and Gerald was WLS member No 1. The IALSC also had a Gloucestershire Group, and this spawned a Worcester section that formed a fully-fledged Worcester Group before January 3, 1960, the date of Robert Pritchard's first trip.
His second trip with the WLS was to London by train in April 1960, including a visit to King's Cross depot when all of the Eastern Region Pacific tender classes of LNER heritage were represented on shed ('A1' to 'A4'), along with 'A5' 4-6-2T No 69814.
This was a joint tour incorporating both the Worcester and Gloucestershire groups of the Ian Allan Locospotters Club, and after arrival at Paddington four London buses ferried participants all around the London depots, the buses following different itineraries. A similar trip took place in April 1961 with the WLS and the Gloucestershire Locospotters Club.
Honorary presidents of the society have included three members of parliament, Sir Gerald Nabarro, Sir Peter Agnew and Peter Walker. The WLS quickly expanded its main activity of running coach trips to steam depots and locomotive works, and by 1966, when I took up membership of the society with my eight-year-old son, Ian, the WLS was one of the largest societies in the country, with over 1,000 members; the annual membership fee was five shillings.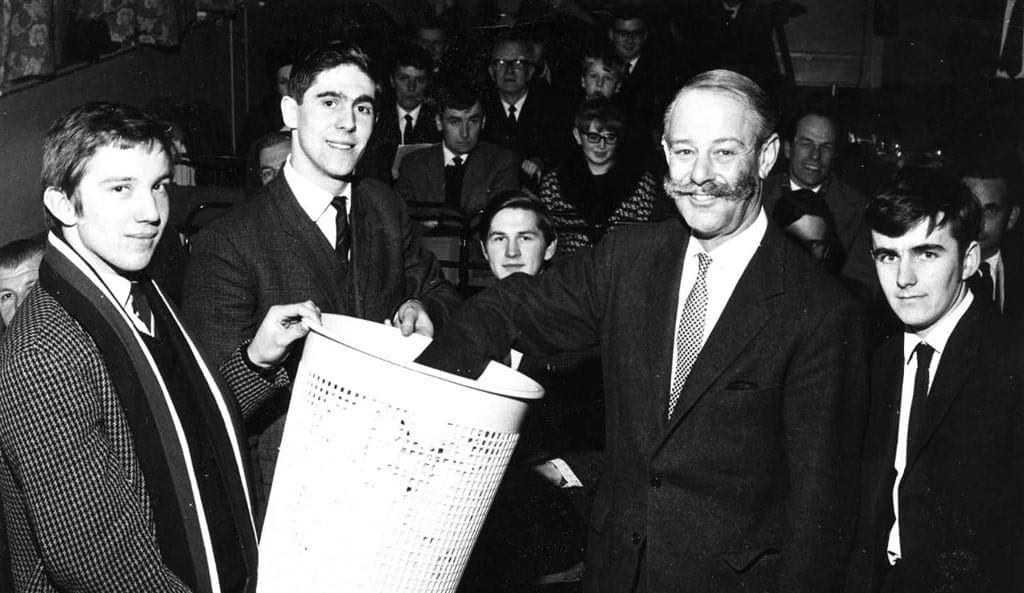 Obviously, with Ian being so young at the time he could not go on any of the WLS trips to depots unless accompanied by me. I too, had taken up trainspotting (and bus spotting) at the age of eight, and am now 86 years of age – a real lifetime's interest!
What made the Worcester Locomotive Society coach tours so attractive to steam enthusiasts were the society's ambitious and imaginative itineraries, as seen in the reproduced copy of the Society's Big Four magazine in this article. Coaches would pick up in Herefordshire, Worcestershire, Birmingham, Wolverhampton, Nottingham, Derby and London, and it was possible to see up to four coaches on one trip at times.
I remember our first WLS trip well – it was a long one-day Southern England depot tour on Sunday, October 2, 1966 that included a visit to Swindon works, with no steam of course at that time but with plenty of diesel-hydraulic 'Western' and 'Warship' locomotives.
I also recall stopping at the M4 Aust services near the Severn Bridge around midnight on the way home for a bite to eat, resulting in an early Monday morning arrival home, with Ian having to go to school that day!
There would generally be a shed visit trip once a fortnight, with alternate ones being two-day trips. Also, every August there was a 9-day Scottish trip visiting a variety of locomotive depots and sub-sheds in Scotland and the north of England, and there was even a one-day Scottish trip visiting depots in the Glasgow, Edinburgh, Dundee and Aberdeen areas. There would also be, at times, two to nine day trips to mainland Europe to see steam in action there.
Some of the one-day trips would last over 20 hours as the WLS organisers would squeeze in as many depots visits as was humanly possible in a day, and sometimes would even add an extra non-advertised location on the day, like on May 21, 1967 when, on a London trip, Guildford shed was added.
I recall this visit well as our Big Four magazine editor, Robert Pritchard, set up his tripod and camera in failing light in Guildford shed yard, with quite heavy rain falling, to photograph his last Southern Region steam locomotive – British Railways Standard '4MT' 4-6-0 No 75068. This Eastleigh-allocated locomotive remained in service until the end of steam on the Southern Region in July 1967.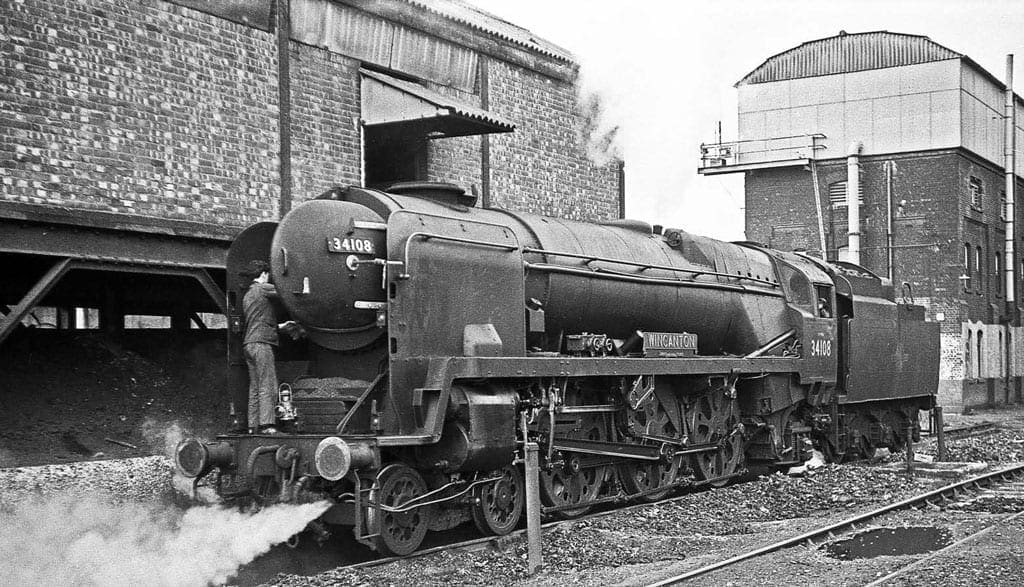 Another time that I recall when additional visits were made that were not advertised in The Big Four magazine was on a south Yorkshire trip on June 26, 1970, long after the end of steam on BR, when we called at industrial sites and collieries, and also at the very interesting Hunslet Engine works in Leeds, where 17 diesel shunters were seen under construction, for Egypt so we were told.
In addition to itineraries of forthcoming shed visits, the WLS magazine included motive power notes, such as allocation changes, and details of events organised by the society – film shows and rail tours, and talks by enthusiasts, railwaymen, and railway historians –together with short articles on railways worldwide, information regarding withdrawn locomotives and the up-to-date situation on the British preservation scene.
Reproduced here are extracts from the spring 1967 issue of The Big Four magazine, including the entire itinerary of the summer nine-day Scottish tour, detailing all the locomotive depots visited, an itinerary that included, on the tour's third day, rail journeys from Tulloch to Mallaig and from Kyle of Lochalsh to Inverness, with a steamer trip linking Mallaig and Kyle of Lochalsh –a fascinating day where seals and many Portuguese man of war jellyfish could be seen from the ship.
Due to the fact that steam in Scotland officially ended in May 1967, only 38 steam locomotives were seen in Scotland on that tour, but there were plenty in the northeast and northwest of England. Those 38 steam locomotives seen in Scotland were as follows.
Some of the photographs in this article were taken on the nine-day Scottish trips of 1963 and 1964, the itineraries for these differing considerably from that of the 1967 trip. The itineraries for the 1963 and 1964 nine-day Scottish tours were not published in The Big Four magazine, instead a separate sheet was sent out to those who had paid a deposit.
However, Table One lists the different sheds and other railway locations to be called at in the order they were visited, and the amount of locomotives seen at each. Due to the large amount of motive power depots, locomotive works, and sub-sheds to be visited in Scotland and the north, the annual nine-day Scottish tours never had exactly the same itineraries.
Cross-referencing the different itineraries visited on the 1963, 1964, 1965 and 1967 nine-day tours illustrates how the WLS always aimed at variety when organising tours, incorporating visits to as many different locations as possible each year.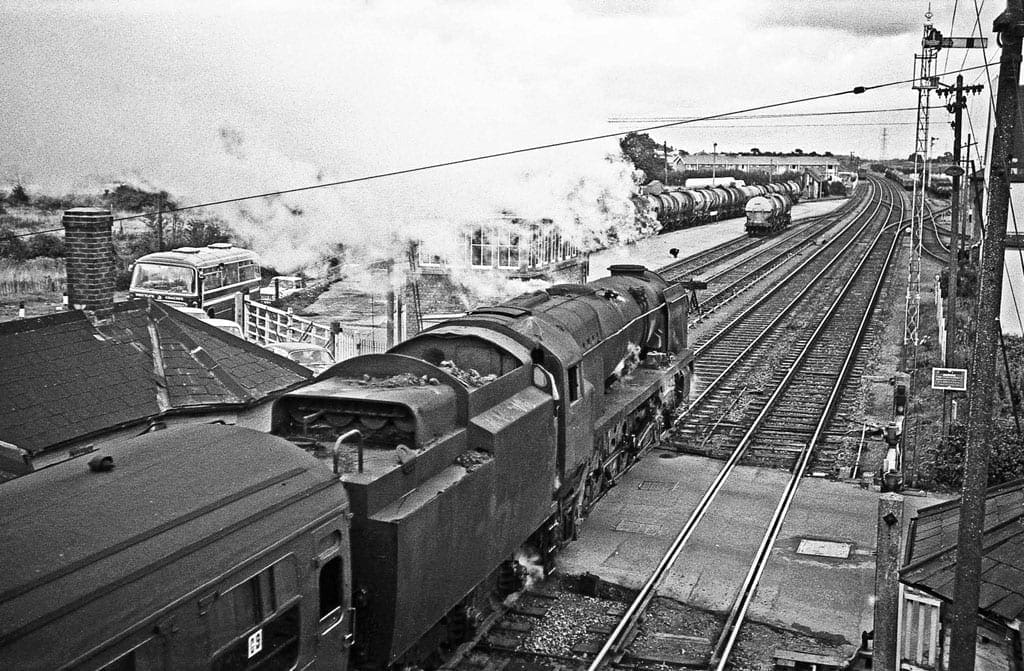 On the 1963 tour, when 2,470 locomotives were seen, the most in one place was Thornaby with 102 engines, and the most in Scotland was 92 locomotives at Motherwell.
Memories are a little vague when it comes to recalling all of the overnight stops for the 1963 tour, but participants on this trip definitely stayed at Darlington, Newcastle, Inverness, Carlisle, Preston, and Perth, Dundee or Aberdeen, and over two nights in Glasgow, and at similar locations in 1964.
The 1964 tour participants witnessed at total of 2,076 engines, the highest at any one location being 107 at Carlisle (Kingmoor), with 106 seen on York shed. The most engines seen on a Scottish shed on that tour was 79 at Glasgow's Polmadie shed.
The nine-day Scottish tours brought forth some characters – a lad turned up for the nine-day Scottish tour with just a toothbrush in his top pocket and a bag of sandwiches that his mum had made up for him for the tour, and in 1963 a man of the cloth from Cardiff joined the tour.
He was quite fond of his glass of sherry every day but decided to join some of the beer drinking lads in the evening, not realising that he could not handle it. He took ill halfway through the tour and was advised by a doctor to return home, as the doctor felt that he was heading for a nervous breakdown.
At the end of the same tour, I am told that whilst on the overnight stop at Preston some participants took the night train to Blackpool and back, and about six of them even got themselves a cab ride in the 'Black Five' hauling the train. I am also aware of tour participants going to Inverness station from their accommodation in the early hours to see the early morning and overnight workings.
In later years, one of the accommodations used at Inverness was a café near the station that also sold railway books, and where tour participants would sit up all night talking railways with the proprietor of the café who was a keen railway enthusiast.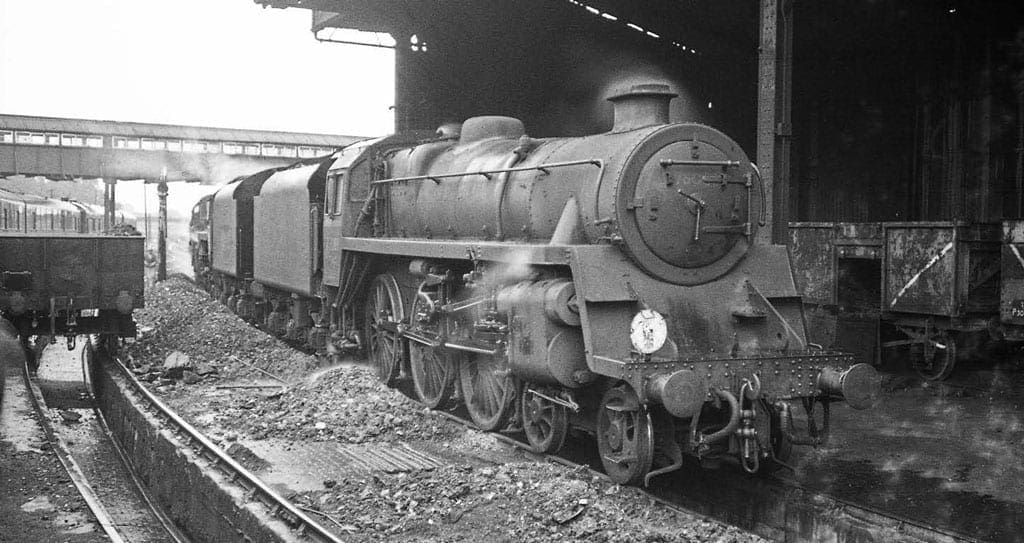 One of our WLS trip regulars, 'Birdie' Hall, who sadly died last year, took part in the nine-day Scottish tour for 1965 and when he returned home at the end of the trip he could not find his parents who had omitted to tell him that they were moving house that week, so he claimed, and he found a completely empty house. Do I sense a lack of communication here?
Calls made on the 1965 nine-day Scottish tour were as follows:
Day One: Saturday, August 7
Warrington (Dallam); Springs Branch; Central Wagon Scrap yard (Wigan); Lostock Hall; Lancaster; Carnforth; Workington; Carlisle (Kingmoor and Upperby) – Overnight stay in Carlisle.
Day Two: Sunday, August 8
Kingmoor (again); Beattock; Dumfries; Stranraer; Ayr; West of Scotland Shipbreaking Yard, Troon (only viewed from outside); Hurlford – overnight stay in Glasgow.
Day Three: Monday, August 9
Glasgow (Eastfield); Cowlairs works; St Rollox works and depot; Parkhead; Glasgow (Polmadie); Motherwell; Carstairs; Glasgow (Corkerhill); Greenock – overnight stay in Glasgow.
Day Four: Tuesday, August 10
Stirling; Alloa; Perth; Inverurie works (only viewed from outside); Kittybrewster; Aberdeen (Ferryhill) – overnight stay in Aberdeen.
Day Five: Wednesday, August 11
Dundee (Tay Bridge); Perth; Thornton; Dunfermline; Grangemouth; Bathgate; Haymarket; Dalry Road; Edinburgh
(St Margaret's) – overnight stay in Edinburgh.
Day Six: Thursday, August 12
Galashiels; Hawick; Tweedmouth; Alnmouth; South Blyth; North Blyth; Hughes Bolckow's Scrap yard, (North Blyth); Percy Main; Heaton –overnight stay in Newcastle.
Day Seven: Friday, August 13
Gateshead; Tyne Dock; Sunderland; West Hartlepool; Thornaby; Darlington (steam shed, and works); York – Overnight stay in York.
Day Eight: Saturday, August 14
Hull (Draper's Scrap yard, and Dairycoates depot); Goole depot and docks; Frodingham; Immingham; Doncaster – overnight stay in Doncaster.
Day Nine: Sunday, August 15
Retford; Langwith; Shirebrook; Kirkby-in-Ashfield; Annesley; Colwick; Coalville.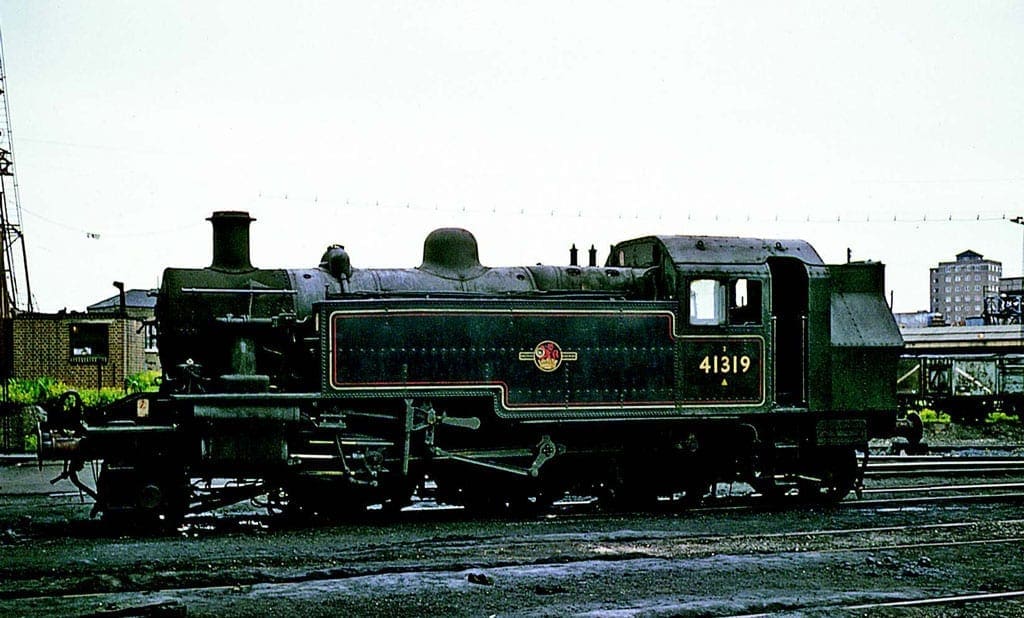 The summer 1967 tour, of course, incorporated visits to diesel depots in Scotland as, by then, steam operated by Scottish sheds had ceased, in May 1967, but some steam-hauled trains worked into Scotland from English engine sheds until the end of that year.
After the end of BR steam, most of the nine-day itinerary from 1967 was repeated, with additions being rail travel from Inverness to Wick, bus from Wick to Thurso – the 1963 Highland Omnibuses double-deck bus used in 1968, FGM12, overtaken by a hearse on that occasion – and rail travel from Thurso back to Inverness; diesel power by then, of course.
The prices charged for all the WLS coach trips were always very reasonable – true value for money – the price charged for the 1967 nine-day Scottish tour, including accommodation, being just £17.10s.0d. I personally never took part in one of the nine-day Scottish tours, but my son, Ian, did (in diesel days in the early 1970s).
My first visit to Scotland did not take place until 1969. Itineraries for other trips in July and August 1967 can also be seen in the various pages of The Big Four magazine reproduced here, including a two-day trip to South Wales in early July, where, by then, British Rail steam in the area had ended, this tour visiting 25 depots and sub-sheds and various scrap yards, all for just £3.10s.0d.
Following that was a trip to the Manchester area on July 16, and then North Wales beckoned a week later, on July 23, 1967, this trip including travel on some of the Welsh narrow-gauge railways. A two-day trip to engine sheds in East Anglia and the surrounding area followed.
A table of coach departure times appeared in each issue of The Big Four, the August 1967 tour to East Anglia, for example, setting out at 4am – you had to get out of bed very early for WLS trips!
Generally speaking, the north-bound tours started from the Cambrian Arms at Hereford, our secretary's home, at 3am or 4am, where a pair of seats was taken out of the coach to make room for refreshments, such as potato crisps, chocolate bars, Wagon Wheels, cider, beer, and fizzy drinks in glass bottles, with dandelion and burdock being the least popular.
The beer was sometimes handed out to shed staff after a visit to their shed, in appreciation of their agreement to let a large party round their shed with a permit for only a small party.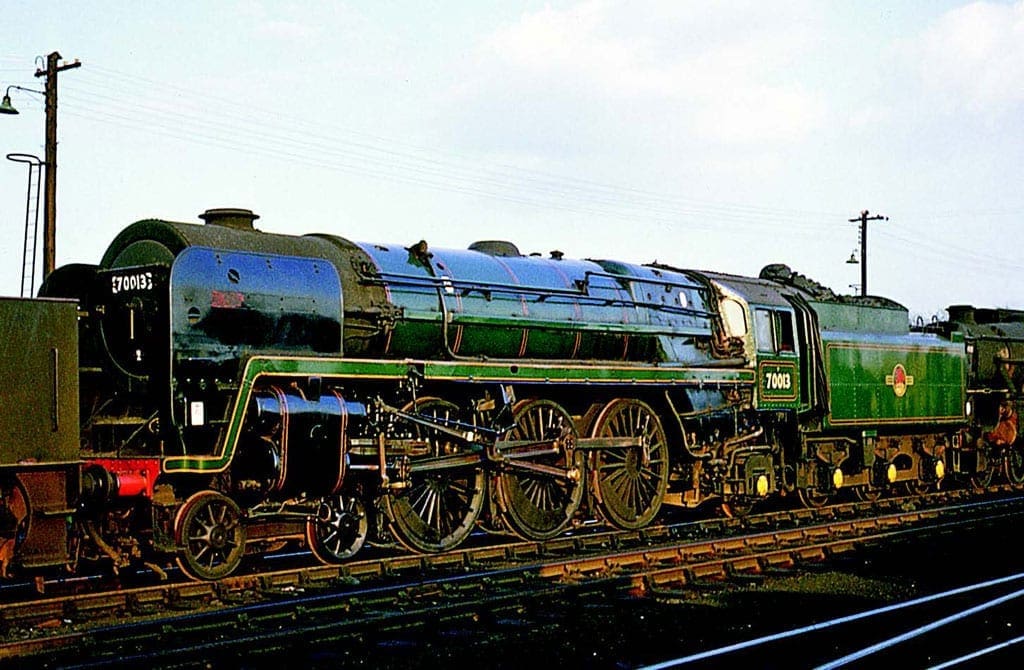 Those tours starting from Birmingham, heading for depots in the south, also started at around 4am and generally used Whittle's coaches of Kidderminster. Pick-up points for northbound and southbound tours were at Ledbury, Great Malvern, Malvern Link, Worcester (where Ian and I joined the tours), Droitwich, Kidderminster, Stourbridge and Birmingham.The northbound tours prior to 1967 used coaches from Wye Valley Motors or Yeoman's Motors of Hereford, or from Black & White Motorways of Harvington, near Evesham.
After 1967, Primrose Motors coaches of Leominster were generally used, followed later by Aston's Coaches, of Kempsey, near Worcester, and we had regular drivers that were always helpful in getting us to remote locations. Connecting train timings from London, Birmingham and Wolverhampton were also detailed in the Society's Big Four magazine.
Regarding stopping for food on these tours, due to very long days as so many depot calls were made on every trip, this often resulted in a stop at motorway services late at night or in the early hours of the morning, 60 or more trainspotters descending on skeleton kitchen staff for a large fry-up on the way home, creating mild panic!
Trowell services on the M1 motorway was always a popular choice. Another favourite place for a hot meal with WLS members, I am told, was Peter Equi's Ice Cream Parlour and fish and chip shop just outside Hamilton shed in Scotland, still there in business today, where Peter's fish and chips were second to none.
I suppose the craziest eating experience on the nine-day and two-day tours were eating competitions in Chinese restaurants, when a few participants would try to consume as many of the items on the menu as possible. I am pleased to say that I never took part in these rather crazy 'competitions'.
Our club secretary, David Wood, was always in charge of the depot permits, and David had the 'gift of the gab' as somehow he could get a party of over 60 persons round an engine shed, sometimes, somehow, even without a permit.
On one occasion, I recall David standing next to the shed official at the end of the long narrow tunnel leading to Liverpool (Edge Hill) shed, where we only had a permit for 25 persons, offering to count the 25 spotters going onto the shed (there were actually around 50), and several times breaking 'his long count to 25' while talking to the official as all 50 of us filed past!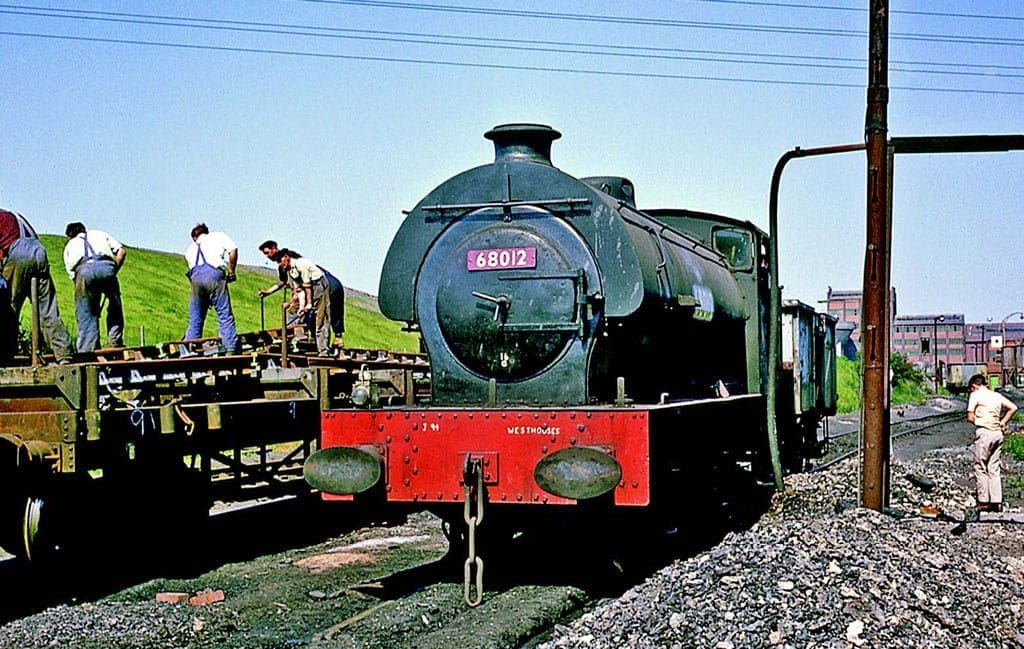 On another occasion we arrived at Leeds (Holbeck) shed, the foreman insisting that he would only allow 25 of us to go round the shed, as per the permit, and he stood there counting the 25 trainspotters in through the main gate. However, others found a hole in the fence further down the road, but they returned to the coach through the main gate, past a very puzzled foreman.
Regarding the south Wales depots, you could only obtain permits for large parties for three depots in a day, but David managed to get a party of 50 or so round all the south Wales sheds in a day. As David was getting us all organised at the depots, I recall him calling out on one occasion, after we all returned to the coach, "Who's got the numbers then?"
He had not had the time to record them himself as he was busy taking photographs and getting us all organised, while endeavouring to get a large party of enthusiasts around the shed with a permit for only 25 or so, and talking to the shed guide to achieve this feat.
Our brilliant navigator for the trips was Lyndon Knott, who had an excellent rapport with our coach drivers (we generally had two drivers per coach due to the long hours per day that we were on the road), getting them to, at times, negotiate narrow roads, some not even tarmaced. Lyndon, with the use of OS maps, was the 'master' of finding the sites of long-closed engine sheds, taking our coaches down winding dirt tracks.
I recall a couple of such occasions, a drive along a dirt track leading to Goole shed, and when approaching Staveley's Barrow Hill shed, down a narrow lane, we were confronted by a low railway bridge – to get our coach under the bridge we had to drop the toplights on the roof, and even then it was a very tight squeeze. Yes, our regular coach drivers would really pull out all the stops for us – they were brilliant!
On the few occasions when Lyndon was not available, another committee member would take over the navigating task (no sat-nav in those days), and on one occasion this happened on a Yorkshire trip.
When looking for Crofton permanent way depot, near Wakefield, our stand-in navigator asked the coach driver, with a second coach following, to turn right down this narrow track, and we ended up in someone's farmyard with two large coaches, with the farmer's wife coming out of the house to find out what on earth was going on. In fact, our navigator should have said 'turn left', not right, as he had the map upside down! He is, in fact, a reader of this magazine, so he may recall that day.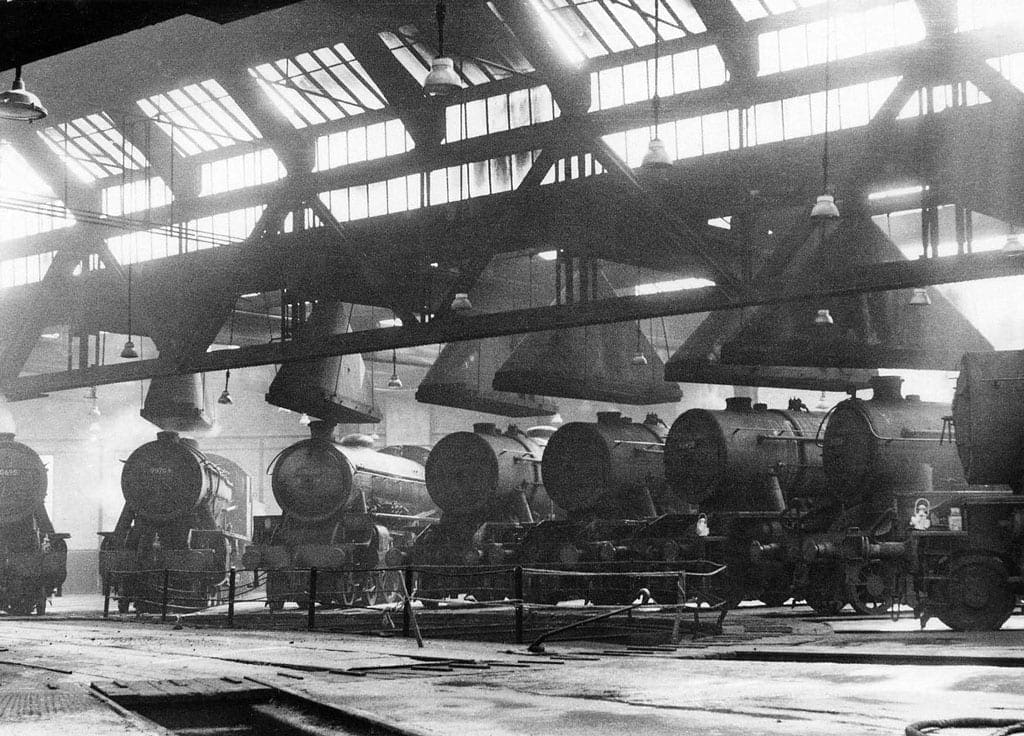 I was a member of the society's sales team for a time, selling refreshments and metal badges, on the coach, of locomotives and buses from Gomm's, these being very popular, with some participants having rows of them pinned to their jumpers or coats. I was not a very good coach traveller so this allowed me to sit in the front of the bus where I could see out of the windscreen, as travel sickness is all to do with horizons, I am told.
There were, of course, apart from committee members, 'regulars' on the frequent WLS trips, some being real characters only known by their nicknames, such as 'Isaac', 'Soft', 'Egg', 'Bird(ie)', and 'Butch', and 'London' and 'Oxford' (for obvious reasons), and 'Robin Hood', due to the hat he always wore.
There was also, 'Herbert Skinbold', 'Tealeaf ', and 'Eliot Ness' – recalling Eliot Ness & the Untouchables, a TV programme of the time with Robert Stack as the crime fighter in prohibition USA – our 'Eliot' always there with his mates in long dark coats walking in a group at the back of the tour party heading for the depot.
We even had one lad who was always first off the bus when we arrived at a depot and always last getting back to the bus. He even got left behind on one occasion (he had been warned several times), and when we arrived at our next port of call, Tweedmouth, he was there waiting, having travelled there by train, I am told – he was still last to get back to the coach at Tweedmouth, long after everyone else had returned to the coach.
At times a small group of us from the WLS would take long one-day or two-day car trips, as we did in November 1967 to Carlisle to see the last of the BR 'Britannia' Pacifics before they were all withdrawn, and another trip was to South Wales to find all the former GWR 0-6-0PTs working in the collieries. Four of us WLS members left Worcester, again with me driving, at around 3.30am, with another car following us.
In that second car were a couple of friends from London who could not understand what the attraction was in chasing trains, so we suggested that they followed for the first day to see for themselves. However, we were stopped by an unmarked police van seven miles from home, in Malvern at around 4am, and a police dog handler firstly went to the second car to ask them where they were off to at this unearthly hour.
Their reply was "Don't ask us, we are just following them in front." The policeman then came to me and asked the same question and when I said we were railway enthusiasts he said, "Just say no more and go on your way." I am sure he thought we were quite mad!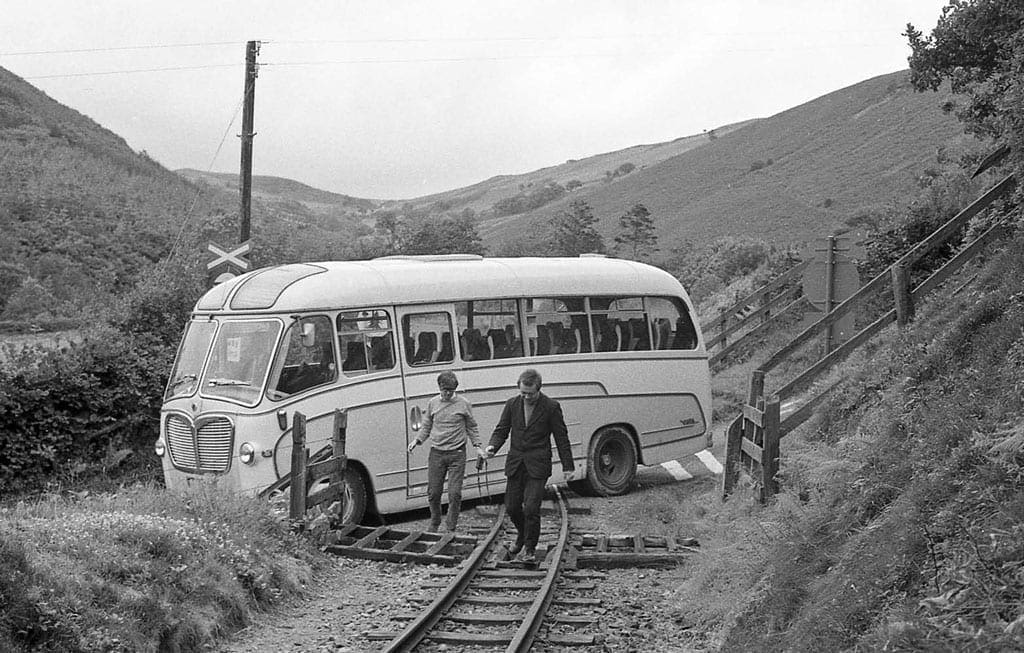 In the two years, 1967 and 1968, the WLS generated £2,000 from coach trips and fund-raising, and in 1969 the society purchased from London Transport, 0-6-0PT No L92 (ex-GWR No 5786), and from Stewarts & Lloyds of Corby, a Kitson & Co Ltd-built 0-6-0ST, Carnarvon.
These two steam locomotives were at first housed at the Severn Valley Railway's premises at Bridgnorth, where No L92 was restored as No 5786, but they were later moved to the Bulmer's cider premises in Hereford.
For additional funding, I, together with a couple of regular helpers, would also take the WLS sales stand to attend open days at places like Tyseley or Swindon works to raise money to help maintain our two preserved locomotives. Both of the WLS locomotives are now located on the South Devon Railway where members are actively involved in their maintenance and running; the Great Western pannier tank sometimes visits other preserved railways.
The WLS trips to steam depots were memorable days in many ways – days never to be forgotten. Recalling time spent on many coach trips, last of all I must mention the music. In those days there were small record-playing machines called Discatrons that played 7-inch records, and six or seven lads on the coach would have one of these machines and play 7-inch singles on the coach all day.
On one occasion they all tried to synchronise their players as they all had one particular record – Death of a clown by Dave Davies (of the Kinks). After many failed attempts they actually achieved it, all managing to match the track perfectly at the same time.
Another favourite record from those trips, and one that I still play from time to time, was that amusing record, They're coming to take me away ha-haaa! by Napoleon XIV – a favourite with our secretary and trip organiser, David Wood (need I say more?), and I recall on one trip, some participants on our coach singing along to the Beatles record Yellow Submarine with a few words of their own.
All these memories take me back, and despite the fact that it is now over 50 years ago, Lyndon, our navigator for these coach trips, still constantly reminds me which records were played the most on each specific trip – he has an excellent memory.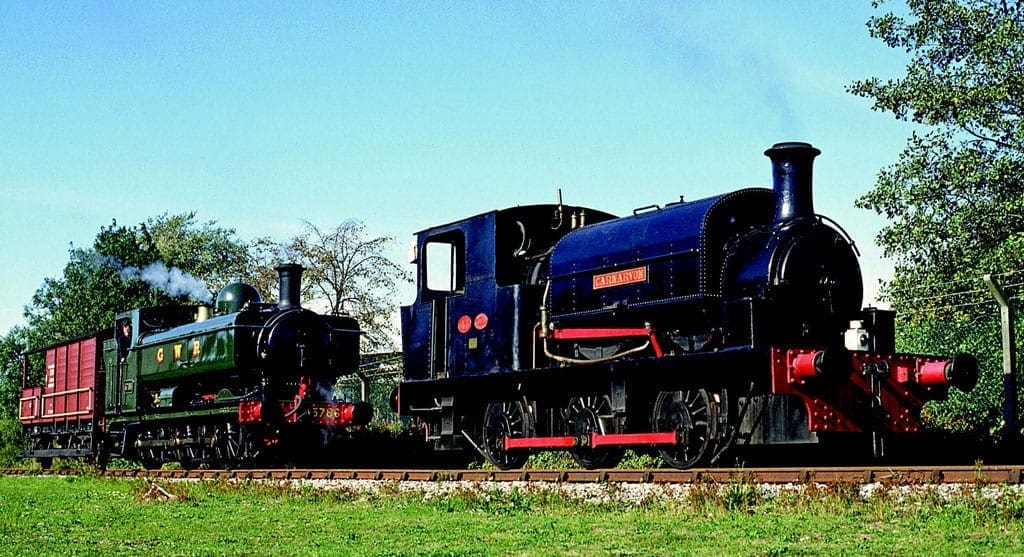 A few years ago, my son Ian compiled two CDs for my birthday present with all the music that would have been played on the coach trips that we were on, labelling the discs Have Discatron – will travel. Oh yes, these trips were not just trainspotting trips for us, they were 'fun' days too, and they were not to be missed.
As Mary Hopkin once sang at the end of her hit single, 'Those were the days, oh yes, those were the days'. It feels like only yesterday, and I have many more stories and happy memories relating to these long WLS trips that I could relate.
By joining the Worcester Locomotive Society in 1966, my eldest son, Ian, and I found friends for life, and we are still regularly in touch with them. As mentioned earlier, Ian was just eight years old when we joined the WLS in 1966.
Now 62 years of age, each month he designs Steam Days magazine, with his younger brother, Andrew (54 years old), as editor of the magazine, Andrew also producing railway videos – a real family affair, and that is special!
WLS members now regularly meet up each year in Worcester for an annual film show and to chat about the days of steam. These meetings, organised by Chris Wilkinson, a former fireman off Worcester shed, are joint events with former railwaymen from Worcester depot in the days of steam, and we often get an attendance of over one hundred railwaymen and enthusiasts there in a room where the walls are adorned with large photographs of steam locomotives pictured in the Worcester area, helping us all to recall those memorable days.
I wonder just how many non-railway enthusiast pensioners (senior citizens) are still in regular touch and occasionally meet up with friends that they have known since their teens, and how many have a route map of Great Britain imprinted in their brains?
My thanks go to David Wood, Lyndon Knott, and Robert Pritchard for supplying photographs, additional information, memories, and anecdotes while recalling the days of the Worcester Locomotive Society's organised coach trips to locomotive depots in Great Britain.
---
Advert
---
Railway Reads
From the history of steam through to 21st century rail transport news, we have titles that cater for all rail enthusiasts. Covering diesels, modelling, steam and modern railways, check out our range of magazines and fantastic
subscription offers.
Get The Railway Hub Weekly Round-up
Enter your e-mail address below and you will receive weekly rail news straight into your inbox…

You can unsubscribe at any time.