Gareth Evans talks to volunteers of the Mid-Hants Railway-based Urie Locomotive Society and learns about the group's two S15s: Nos. 506, which is set to return to action in the coming months and 499, which is currently being restored to original condition.
As in the wider world of work, some people in the heritage railway sector appear to naturally achieve great things because of sheer determination and their ability to bounce off each other.
When I met some of the members of the Urie Locomotive Society at Ropley shed, we talked over a welcome caffeine fix – laughter and friendly banter could be found aplenty. The chemistry between the volunteers was immediately apparent – a positive, welcoming environment, where the TEAM – Together Each Achieves More – culture thrives.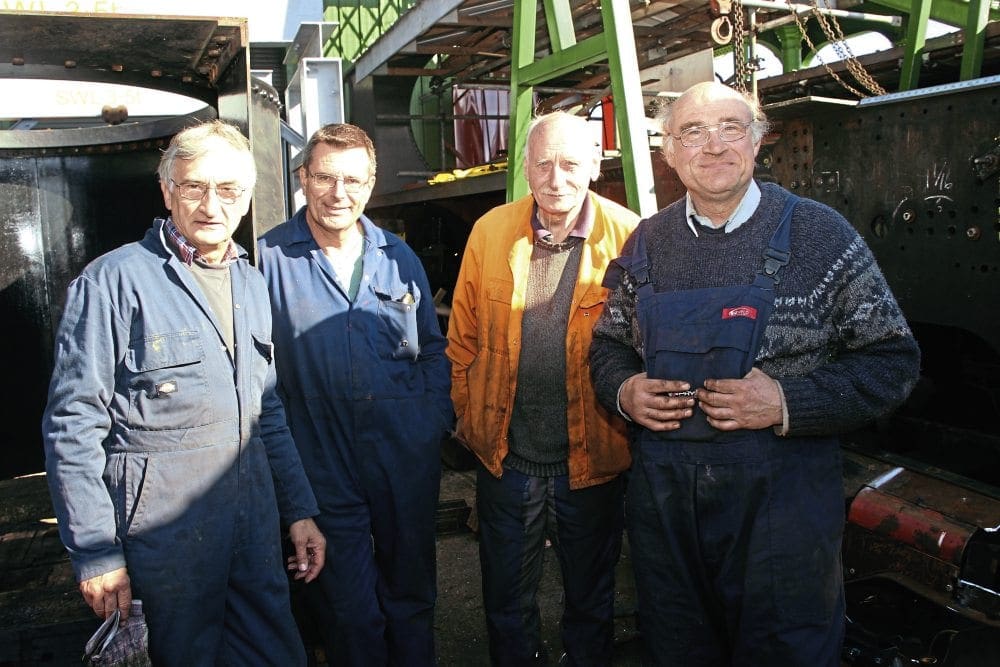 Their passion was all-too clear, being quietly proud of their achievements to date. It therefore came as no surprise to learn that one of the group's two locomotives – No. 499, once widely written off as a 'no-hoper' is on track for a return to steam.
The only two surviving Urie S15s, both No. 499 and its sister No. 506 were built in 1920. While the former is being restored to original condition, the latter is in the final throes of an overhaul, which should see it return to action at the Watercress Line in the coming months in Southern wartime black with sunshine lettering as No. 506.
Group history
The ULS was formed in 1972 – the goal being to save a Urie S15. Mark Pedley, chairman, took up the story: "At the time, there were two survivors at Barry scrapyard – Nos. 506 and 499. Three had gone down there. The other was No. 512, which it is said was in the better condition but it was the one which was cut up.
"No. 506 was bought in 1973. Additional funding had to be found by way of a loan due to the advent of VAT and steel price rise.
"No. 506 didn't have a home at that point, so members were balloted. Various railways were suggested, including the Severn Valley, but the MHR won. It arrived here in 1976.
"No. 506 became known as 'the red engine' because if you see photos of it at Barry, it was in bright red oxide. It came here on a Wynns road trailer, which of course is now historic."
It was placed alongside the goods shed at Alresford when it arrived in April 1976 and the group carried out some preliminary work for 12 months. With the opening of the MHR imminent, the 4-6-0 was moved to Ropley. The group got stuck in until the early 1980s. A huge problem was discovered in the boiler in that there were cracks in the copper crown, so the boiler was sidelined – it was effectively written off.
Mark continued: "I'm going back four or five years now, but Andy Netherwood, who was the boilersmith here at the time, had his copper welding certificate. He attempted a repair, but the cracks fizzed through. Therefore, a new crown is required, something we won't entertain just yet.
"The group obtained the boiler from No. 825 which was still at Barry – boiler No. 799, originally fitted to Sir Ironside. That boiler enabled No. 506 to enter service in 1987. There had been another period of time when No. 506 was parked up because the group overhauled National Collection-owned T9 4-4-0 No. 120."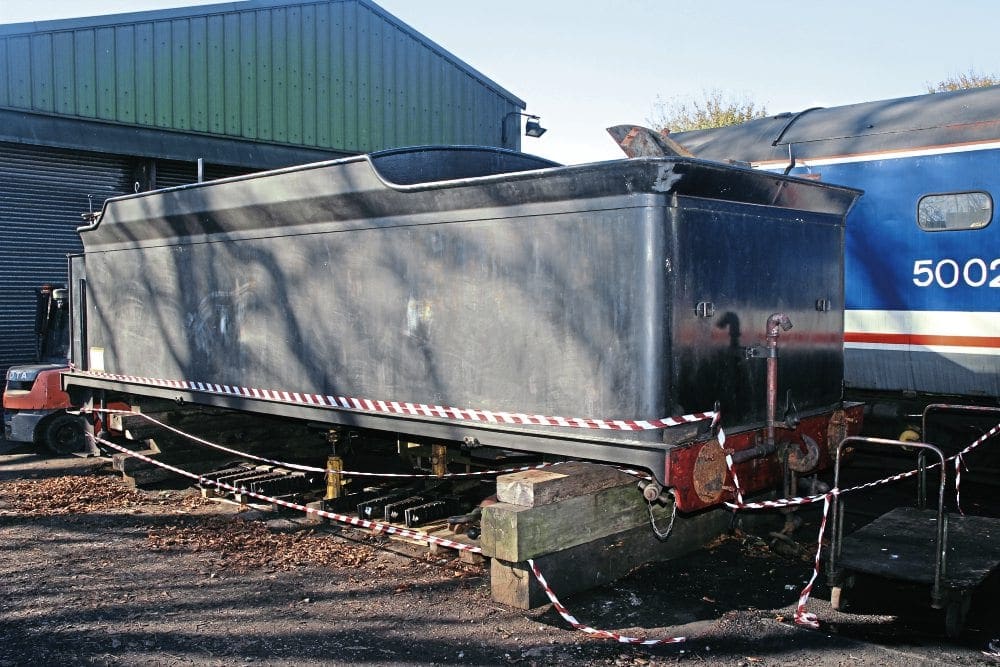 Mark mused: "That's why whenever the T9 comes to the MHR, we have to keep an eye on Barry Stratton as he gets out of control!"
Mark continued: "You will see in the records that No. 506 ran here for 14 years. That's because in the intervening period, the society had bought No. 499 from Barry scrapyard in 1986 as a source of spares. Its boiler, No. 755, originally fitted to The Red Knight, wasn't too bad.
"Both locomotives went to Rileys in Bury, where the boilers were swapped. The boiler was ticketed, giving No. 506 another period of running – until 2001, when it was withdrawn with boiler issues. That's the boiler which is almost finished and ready to be used in No. 506.
"The boiler currently fitted to No. 506 is the one which arrived here on No. 499. There are two boilers by the coaling dock in Ropley yard. The one nearest the yard is boiler No. 451, which originally arrived on No. 506, while the one nearest the field was acquired from No. 825, which will go on No. 499."
After No. 506 came out of traffic in 2001, the group stripped the locomotive fairly quickly. A lot of heavy stripping was also carried out on the boiler, saving substantial sums of money – removing the crown stays, for example.
Frame replacement
Perhaps as would be expected, the story of both locomotives in preservation is interlinked. While No. 499 was acquired primarily as a source of spares, it was quietly hoped that one day the 4-6-0 would return to action.
"We couldn't publicise that at the time in case it didn't happen," explained Mark. "No. 499 had returned from Rileys in about 2008 and was shunted into the headshunt at Alresford. In 2011, Ropley's smart carriage and boiler works was built. We took up the railway's kind offer of a piece of land in front of it, with a concrete base for us to place 499 on. The one thing the MHR lacks is shed space.
"No. 499 was pushed up from Alresford by a Class 08 diesel in 2011 – the careful journey took an hour. We kept stopping to check it and fortunately, there were no problems such as hot boxes.
"Two weeks later, the crane was on site to position No. 499 to its new home. The locomotive was lifted, turned 180 degrees and placed on its concrete plinth. The rear driving wheels are still in but the front pair were removed and are behind the locomotive.
"With No. 499 now secure, we progressed the overhaul of No. 506. In its latter stages of operation, there had been reports of knocking and bad running. Once it was stripped down, Barry Stratton, director and trustee, found the cylinder blocks were 1/8 to ¼in out from the front. The fortuitous decision was made to do something about the front. Therefore, the blocks were removed – that's a job and a half.
"Once they were off, it was found that the frame plate – bearing in mind it's about an 11/8in thick – was in some places down to ⅜in thick. Therefore, we had to replace the front 9ft of the frames. We also decided we would need to do the same thing with No. 499 as that had a crack which went top to bottom."
Barry recalled: "The frames were actually broken. It speaks volumes by the fact we didn't have to gas axe it – it just lifted off, apart from the last little bit."
Mark continued: "We ordered 9ft of new steel to be profiled but not drilled for No. 506. However, No. 499 needed 14ft of new frames, profiled and joggled – there's a kink in the frames to allow the cylinders to fit as they're so big.
"For all four frame pieces and some rivets, we've had change out of £10,000 – and that's for both our locomotives. We've done all the work ourselves, apart from the actual frame weld, which required a coded welder. He subsequently joined the society. None of us are engineers by trade – it's self-taught, led by Barry and John Fry, another trustee – and a couple more of us do as we're told."
In the spirit of the group's camaraderie, Barry quipped: "That'll be the day!"
Mark smiled and added: "We enjoy what we do here. Good-natured, friendly banter is a key part of that."
Mark continued: "We as a group rebuilt the front end of No. 506. If you look at it now, you would never know.
"The telling time was when we fitted the slide bars, which fit on the motion brackets at the back end and the cylinder block at the front end. The cylinder block is on the new frame, the motion bracket on the old. It fitted like a glove. There was a degree of caution and emotion as I don't believe any of us thought that would be the case. That's when we knew we'd done it!
"Some of the running plate is new but where we can, we've salvaged – for two reasons. One is cost – why buy new if you don't have to – and the other is originality – it's 506. Why change a part of 506 for a piece of metric steel?"
Barry agreed: "I think a pragmatic view has to be maintained. You don't want to end up with a second rate job, nor do you want to go with a blank canvas. We've tried to do all the work as close as we can to the way it was done originally. We're saving valuable heritage – they're the oldest surviving Eastleigh-built locomotives.
"The slide bar pins went in. Once we'd finished putting the main frames together, that was the end of the main structural work. Then there was the running plates and footsteps."
While No. 506 has been overhauled under contract with the MHR – changing front end sections is not part of a 'normal' overhaul, so ULS members carried out that task themselves.
"One thing about the ULS is if you want to do the impossible, just say 'you will never do that' – it's a red rag to a bull. It's all about finding ways. It's the same with the locomotives," said Mark.
Explaining how experience gained on No. 506 is paving the way for the bigger task on its sister, Mark said: "We have more to do on No. 499 – because we've had to come further back, we've had to take more off – the motion bracket being the big thing. On No. 506, the motion bracket didn't need touching.
"No. 499's frame section has been done – both pieces are now in place. We riveted on the middle stretcher in the autumn. The centre casting, a huge lump at the front, is now ready to be riveted."
Railway Reads
From the history of steam through to 21st century rail transport news, we have titles that cater for all rail enthusiasts. Covering diesels, modelling, steam and modern railways, check out our range of magazines and fantastic
subscription offers.
---
Get The Railway Hub Weekly Round-up
Enter your e-mail address below and you will receive weekly rail news straight into your inbox...




You can unsubscribe at any time.
---
---

About the Author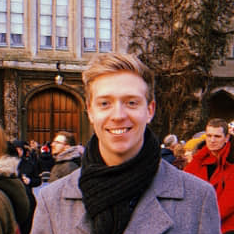 Latest posts by Sam Hewitt
(see all)