Here were three large, silent locomotives standing at the quiet country junction railway station, but the air was suddenly riven by the glorious sound of three Napier diesel engines simultaneously brought to life.
Hundreds of observers had their cameras focused on the chorus line of 'Deltics', all eager to capture the plume of blue fumes and synchronised whoop of the engines sparking into action.
The event had been carefully planned with a possession of all lines taken to allow photographers to secure the best vantage points for their 'master shots' – but there was something strange about it all. The backdrop was Horsted Keynes station on the Bluebell Railway, a former London Brighton & South Coast Railway (LB&SCR) station garbed in authentic Southern region attire and so long associated with exclusive steam operation. Yet here were three Eastern Region Type 5 express diesel locomotives, out of context but designed in the period when the Southern Region of British Railways was still running this line, and they were taking part in a gala on October 6-8 to celebrate 40 years of the Deltic Preservation Society.
The Bluebell had dipped its toes into the diesel market before, although not without objections from the purists within their vast ranks of members. The results had been outstanding successes and the creation of useful relationships, especially with the DPS, who might not have quite expected the warm welcome they actually did receive on their previous visit in April 2015.
Diesel inroads
The line followed by the Bluebell used to provide an alternative link from East Grinstead to Lewes, and therefore access to the south coast at Brighton and Newhaven. It was an early 1960s closure that prompted a group of young men to purchase the railway from British Railways and develop the asset-rich organisation into a multi-million pound business, which now employs over 50 staff and has created a leading restoration and repair business, as well as running trains.
Such an organisation needs a steady income stream from as many sources as possible. As time moves on and the age profile of the youngest who remember main line steam, let alone the line pre-preservation, moves inexorably towards the 60 mark, there are new opportunities from 'modern' traction preservationists. Even those who dislike diesels sometimes admit to being stirred by the unique sound of a 'Deltic' engine… and even more by three of them!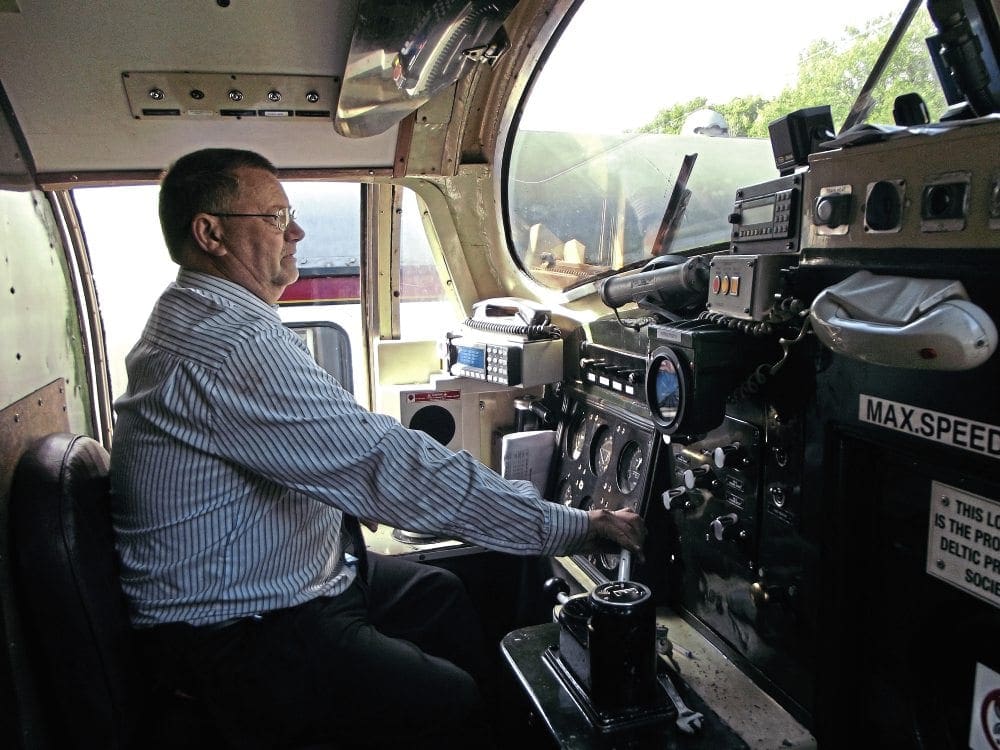 The line-up comprised Deltic Preservation Society locos No. 55009 Alycidon and No. 55019 Royal Highland Fusilier, accompanied by National Railway Museum No. 55002 The King's Own Yorkshire Light Infantry. The first two are in British Rail blue and the latter in green with its original D9002 number. An extensive programme had been devised over three days, with the peak occurring on Sunday, October 8 with 10 'Deltic' passenger train departures from Sheffield Park (supplemented by cab rides at Horsted Keynes with shunter No. D4106 each day).
Any misgivings I might have held about these 3,300hp giants performing on a 25mph railway were soon allayed when I saw the first trains in action. When they run into a station or make their usual laboured start from rest it could be anywhere, in any decade since they were built. The Bluebell is now 11 miles long and has many climbs of 1-in 75 and a few stretches even steeper than that.
Locomotive director Chris Hunford was certain that the Bluebell would leave a favourable impression with me. An invitation to accompany him for a round trip in the cab of No. 55009 on the first day of the gala was too good to miss. Alycidon had been the first 'Deltic' I had seen back in the early 1960s, and the ride would take me back to the (legal) trips I had on the East Coast in the 1970s, the first being from Doncaster to Darlington when I remember ducking my head at the first overbridge as the locos seemed so high compared with a Class 47.
From the cab
Alycidon backs down onto its six-coach 207 tonnes tare train, about 220 tonnes gross. Driver Paul Russell is the Bluebell representative and Nigel Ball is driving on behalf of the Deltic Preservation Society. Nigel is an electrical engineer and had long been fascinated by the complexities of 'Deltic' locomotives. I query why only one of the two engines is working.
One aspect of the answer is obvious I suppose – to limit costs of fuel and repairs. But it also ensures there is more opportunity to provide a spectacle for passengers and onlookers by using the one engine on full power. Departure is a gradual one and limited to 10mph (see Table 1). Nigel eases the train ever so gently off the mark, as behoves a successful 'Deltic' effort and in contrast to some that can be viewed on YouTube. I well remember 'Deltics' trying to start form Bradford Interchange (still named Exchange in 1976) on a drizzly day and taking 10 minutes to travel the first half-mile. The noise in the cab is noticeable and must have been wearying for regular 'Deltic' drivers on long runs, even after the additional sound-proofing that was installed. Nigel watches carefully to see he is clear of the restriction and approaching the 1-in-75 uphill gradient of Freshfield bank on which we accelerate to full speed with a joyous explosion of 'Deltic' power.
There is then another restriction until we start a second 1-in-75 climb to Horsted Keynes, where No. 55019 is awaiting our arrival before taking the single line token. The station here is unique in preservation as a four platform junction intermediate station. There are aspirations to reinstate the branch line leg to Haywards Heath via Copyhold Junction. There are huge obstacles (and gaps!) to overcome before that happens but it has been suggested it would be ideal for a third rail preservation stretch, which would also alleviate main line pathing problems.
From Horsted Keynes there are nearly two miles of mainly 1-in-75 adverse gradients up which driver Ball is careful to not exceed 25mph. Paul Russell reminds Nigel of a 10mph restriction in force today approaching West Hoathly Tunnel. I cannot see any restriction boards (for which the Bluebell uses old-style 'C' boards for the commencement) but Nigel sagely nods his understanding and reduces speed to 8mph. There is then a cacophonous noise as the engine is opened up to its full cry, reminiscent of just what 'Deltic' days were like on the East Coast Main Line.
Longest tunnel
The tunnel is the longest in British preservation at 731 yards and all of it is on the 1-in-75 section. Alycidon howls into the darkness in celebration of being allowed full power, albeit on one engine. The distinctive grumpy two-tone horn is sounded just before we burst back into the daylight still on single-engine full power and without having exceeded the speed limit. Now I understand why one engine works so well. Nigel remarks on the strange dichotomy that the noise of one engine seems much more than half that of two. YouTube will not let you down if you search for a video clip.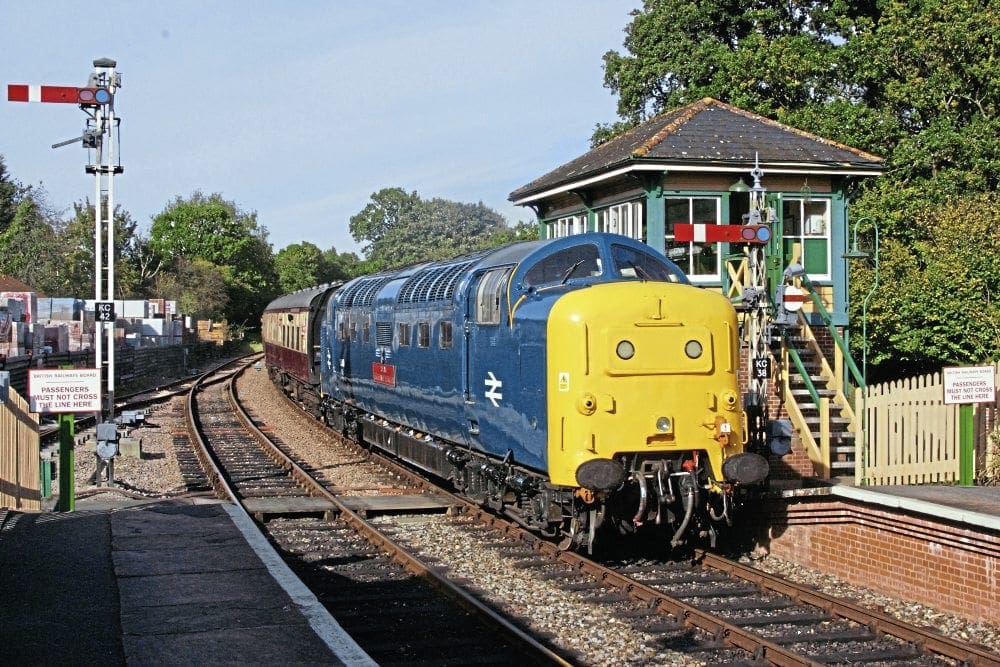 Kingscote is now a through station following the extension to East Grinstead. The work that was involved in managing this project was phenomenal, and huge amounts of spoil had to be removed with the help of GB Railfreight. Approaching the reinstated cutting I am shown two bridges that had to be excavated from the detritus, the dumping had been so deep. As a result, a compromise was made not to take the full amount of rubbish away and settle for a gradient of 1-in-55 over the top, descending at 1-in-60 down to East Grinstead over a huge brick viaduct, the maintenance of which must be daunting. The new station here is basic but in keeping with a small rural station on a secondary route.
No. 55009 runs round its train and couples on to its train again. Paul now takes the seat and drives the 'Deltic' back to Sheffield Park. Most of the gradients are favourable after the initial 1-in-60 over the former tip. This time we meet No. D9002 at Horsted Keynes and proceed to Sheffield Park just 1½min late.
110mph plus!
There is still a chance for those of a certain age to indulge their nostalgia for 'Deltics' at 100mph on the main line, but there will be many modern traction enthusiasts who never get the chance to do so. I have been trawling the Railway Performance Society archives and found some startling examples of just what the locomotives were called upon to do in squadron service – so here is a taster.
Let us start with Alycidon standing in Leeds City station at 07.25 one bright June morning in 1978. InterCity 125 High Speed Trains were being introduced to the Eastern Region and the days of the Deltic-hauled eight-coach flyers were limited. This was the prestigious 'Leeds Executive' breakfast train with two first class open coaches on which it was not uncommon to serve 80 silver service breakfasts. Unlike any of its modern counterparts, it was booked non-stop to London King's Cross and in just 2hrs 28min for the 186 miles. What is more, the maximum speed for the first 30 of those miles was only 90mph.
Noel Proudlock was on board and notes the train went out via Whitehall Junction whereas it was booked on the former London and North Western railway viaduct line and the 'new' curve at Gelderd Road Junction. Most drivers did not rush either route, and it was usual to be facing a small deficit by the time it ran through the middle road at Wakefield Westgate (signalled only for up trains in those days) but on this day there was also a 20mph temporary speed restriction (tsr) at Nostell, taken at just 15mph. Table 2 shows the run, but I have started it where the fireworks began passing through Doncaster 3min late. Sustained 100mph, so typical with this train, began at Retford and lasted until a 30mph tsr intervened over the diamond flat crossing at Newark, followed by another at Grantham.
It was not unusual for there to be so many restrictions and the three divisional civil engineers usually ensured they took their entitlement to at least one. Each engineer could use the 4min recovery allowance they were allocated and there was also 2min of pathing. Still, the train was 9min late passing Grantham not having yet recovered full speed after the tsr. The driver felt that he could make inroads on the lateness, picking up a 4min chunk of recovery as he left the Doncaster division and taking advantage of the sweeping track down Stoke bank to run at a steady 109mph with a moment at no less than 113mph (although this could be an aberration). Peterborough was taken at 109mph (it is still limited to 105mph in 2017), and the climb to Abbots Ripton was taken at a full 100mph. Now 3min late with 6min of allowances to come 'the job was in the bag'. But Alycidon had clearly got the bit between her teeth and was running hard for the finishing line. You will not find any trains doing 107mph at New Barnet nowadays.
Now 5min to the good, a signal stop outside King's Cross was inevitable but arrival was still 3½min early. Noel calculates the average speed for the 100½miles from Grantham, passed at 79mph, to Wood Green (Alexandra Palace), taken at 80mph as being a breathless 102.5mph.
Railway Reads
From the history of steam through to 21st century rail transport news, we have titles that cater for all rail enthusiasts. Covering diesels, modelling, steam and modern railways, check out our range of magazines and fantastic
subscription offers.
---
Get The Railway Hub Weekly Round-up
Enter your e-mail address below and you will receive weekly rail news straight into your inbox...




You can unsubscribe at any time.
---
---

About the Author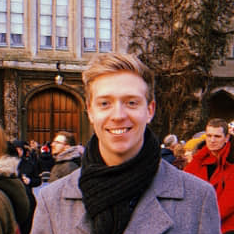 Latest posts by Sam Hewitt
(see all)