Mark Smithers visits the North Tyneside Railway and its associated Stephenson Railway Museum – and finds an interesting attraction in an area that played a vital role in the dawn of the railway.
One of the railway heritage 'gems' to be found in the north-east of England is the North Tyneside Steam Railway and its associated Stephenson Railway Museum. The museum is managed by Tyne & Wear Archives & Museums on behalf of North Tyneside Council, while the railway is run by the North Tyneside Steam Railway Association. The single-track line currently runs between Middle Engine Lane (North Shields) over a two-mile formation to Percy Main.
Situated roughly parallel to a footpath occupying a section of the former Blyth and Tyne Railway, this line celebrates a period of local railway history stretching back to the use of horse-drawn timber waggonways. The present line owes its existence to the fact that in 1975 a workshop and test track were constructed for testing stock for the Tyneside Metro system, which opened five years later. The trackbed was later used to create a heritage railway in conjunction with locomotives and rolling stock relocated from the now-defunct Monkwearmouth Station Museum, and steam passenger services began in 1991. The former workshop became the rear half of the Stephenson Railway Museum.
Museum
The waggonway phase of Tyneside's railway history is represented in the Stephenson Railway Museum by three conserved fragments of the Willington Waggonway, which were discovered in 2013 during the redevelopment of the Neptune Shipyard at Wallsend. The excavated section of track is the most complete and best preserved railway of this type anywhere in the world. The Willington line had two further important historical distinctions – namely it was the earliest known railway built to British standard gauge, and part of its formation was later incorporated into the Killingworth Colliery Waggonway upon which George Stephenson conducted his early experiments with steam locomotives.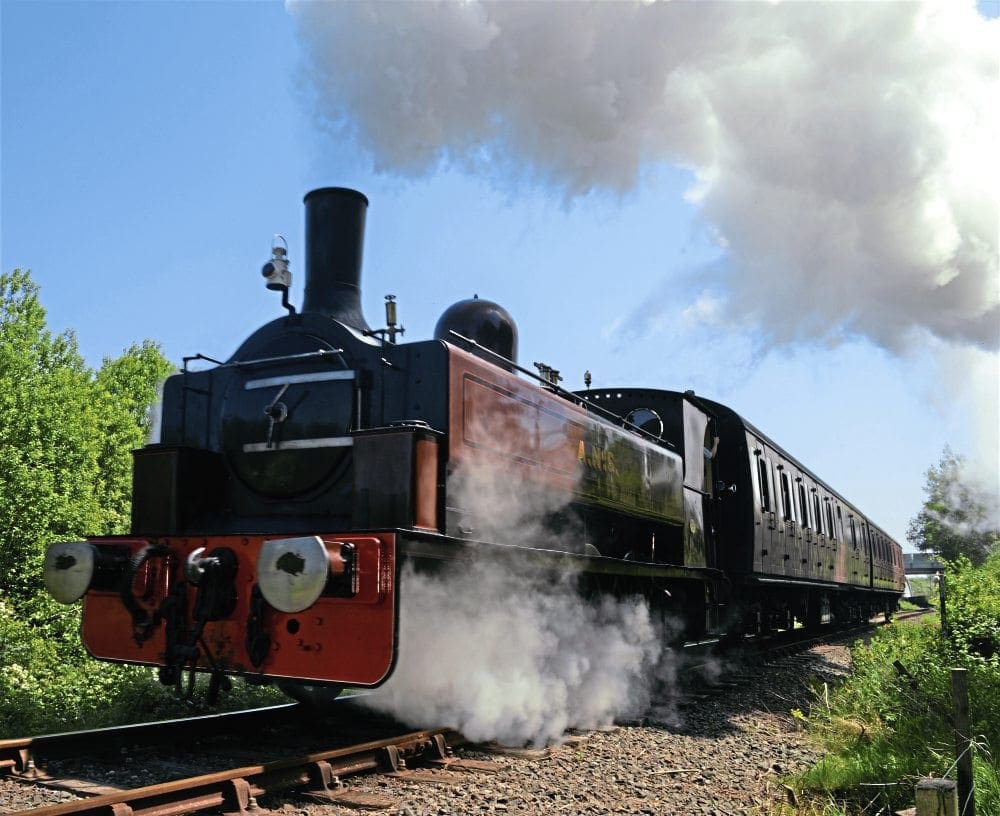 The earliest locomotive in the Stephenson Museum is the ex-Killingworth Colliery 0-4-0 Billy. A recent archaeological survey on the engine provides evidence Billy was built in 1816, 10 years earlier than previously thought, establishing it as the third oldest surviving steam locomotive in the world, as highlighted in issue 244. It is thought to have been acquired by the colliery from the Springwell Bank Foot Shed of the Pontop and Jarrow Railway circa 1863 and rebuilt at Killingworth in 1867, before being withdrawn in 1879. After being presented to the Mayor and Corporation in June 1881 to mark the centenary year of George Stephenson's birth, it was preserved in Newcastle until transfer to the museum.
Although possessing vertical cylinders and associated valves of original pattern, Billy has during its operational career acquired a multitubular boiler and conventional pattern smokebox. It is however, questionable just how many original components remain on the locomotive. Extensive rebuilding during the operational careers of colliery locomotives was a common occurrence – you only have to look at Beamish Museum's Malleable No. 5 to see a more recent example. Billy is currently displayed on a section of original ex-Stockton and Darlington permanent way, although the ballast is not authentic.
The museum appropriately contains an important relic of the Blyth and Tyne Railway. This is the cab of former Blyth and Tyne Railway 'long boiler' 0-6-0 No. 8 which, after passing though NER hands, was sold in 1907 to the Seaham Harbour and Co, in whose ownership the locomotive survived, as Ajax, until 1926.
The cab was then transferred to another ex-NER locomotive Clio, which was scrapped in the 1950s, before eventually finding its way into preservation. It is currently displayed with a 'mock up' backhead and reversing lever and makes an interesting contrast to the 'Metro' cab also on display in the museum.
Steam locomotives
Ashington No. 5 started life as one of two identical outside cylinder Peckett 0-6-0STs delivered to Ashington Colliery Northumberland as No. 1979 of 1939. This extensive system had a varied collection of locomotives, which included 'cast offs' from main line companies, but be that as it may, Ashington No. 5 remained in service on the system until withdrawn and sold by the National Coal Board to the North Norfolk Railway in 1969. In 1991 the locomotive returned to its adoptive county of Northumberland in the form of the NTSR and was re-painted in the livery it originally carried at Ashington. Currently operational, it now carries the name Jackie Milburn after the Newcastle United football hero of the 1950s.
A classic representative of post-Second World War Tyneside industrial locomotive building is currently to be found on display in the museum. This outside cylinder 0-6-0T was constructed at Forth Bank Works, Newcastle by Robert Stephenson & Hawthorns Ltd in 1951 as works No. 7683. This chunky design was a standard type used for the haulage of coal wagons between power station exchange sidings and the boiler feed coal bunkers.
Supplied new to Meaford Power Station in Staffordshire, it made its first move into preservation to the East Lancashire Railway, where it hauled the earliest of the preservation body's trains at Bury. Following overhaul, the locomotive was transferred to the NTSR in 1996 and it now awaits another overhaul before it can return to service. It is currently painted in a dark blue livery as No.1 and carries the name Ted Garrett, JP, DL, MP. This locomotive makes an ideal companion for Jackie Milburn as a similar design, albeit with larger coupled wheels, saw use at Ashington Colliery.
During the post-Second World War period, attempts were made to update the basic specification of the industrial steam locomotive in an effort to stave off competition from the emerging threat of its diesel competitor. The most advanced design in this field came from W G Bagnall & Co Ltd in 1951 with the delivery of three 0-6-0STs (Nos. 2994-6) to the Steel Company of Wales at Margam as Nos. 401-3. These locomotives were required to haul a load of 450 tons up a 1-in-70 gradient and around curves of 165ft radius.
Weighing 52.5 tons in working order and with a 180PSI boiler pressure, all three were equipped with 18in x 26in cylinders; 4ft 3in wheels, a wheelbase of 11ft and a tank capacity of 1500 gallons. The cylinders were of the outside variety, while unusually for an industrial locomotive, outside Walschaerts valve gear was used.
Several (for the period) 'state of the art' technical innovations were employed, including self-aligning roller bearings for the side rods, 'big ends', eccentric rod return cranks and axleboxes (the latter being of the double row variety); needle roller bearings for the remaining motion bearings; piston valves; rocking grates; hopper ashpans; self-cleaning smokeboxes; Owen balanced regulator; Lambert wet sanding; balanced reversing gear; manganese steel hornguide liners; and grease or mechanical lubrication for all moving parts. Although at first sight for such a relatively advanced locomotive, it would appear superheating was not employed, it was apparently felt any efficiency savings obtained during the relatively short runs undertaken by the locomotives did not justify the cost of installation and maintenance of the relevant components.
Despite the impressive performances put up by the three Bagnalls at Margam, the lower costs attributed to diesel operation ensured their disposal in 1957. No. 2995 passed, via a scrap dealer, to Ogilvie Colliery, in the Rhymney Valley, where it was withdrawn in 1967 with boiler problems, possibly caused by the design's use of a steel firebox and tubes. After an abortive scheme to fit a GWR-pattern boiler and pannier tanks – which would have been a very late manifestation of the Churchward/Collett rebuilding programme for both standard and 'constituent' GWR saddle tanks – the engine was scrapped.
Nos. 2994/6 were sold to Austin Motor Co at Longbridge, Birmingham, where they continued their revenue-earning careers until sold into preservation in 1973 – initially at the West Somerset Railway. Eventually displaced on the WSR by larger ex-main line locomotives, No. 401 (2994) was acquired by the Stephenson Railway Museum and painted in a style similar to NER livery and named Thomas Burt. The locomotive operated until 2009, when it was taken out of service awaiting an overhaul entailing extensive boiler and firebox work and the renewal of the tyres. This is now nearing completion and Thomas Burt's return to service is eagerly anticipated as it would make an interesting contrast with A No. 5.
Diesel and electric
The Harton Coal Co Ltd preferred to use overhead electric motive power rather than steam and three examples of its double bogie steeple-cab locomotives have survived. Two of these are located in County Durham (at Beamish Museum and on the Tanfield Railway), but the third, 1909-built E4, is to be found on the NTSR.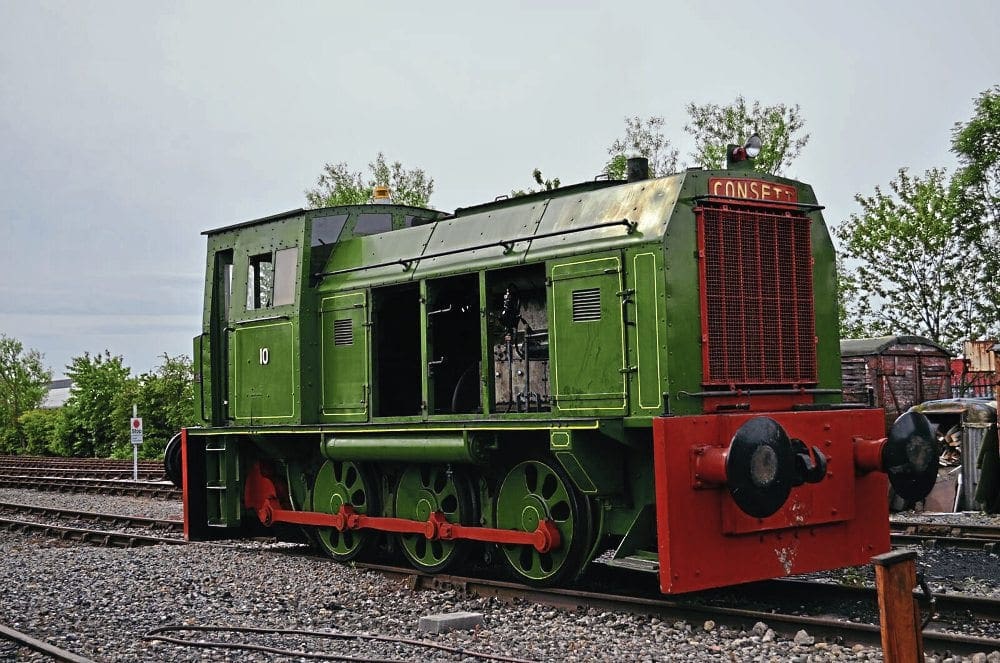 Built by Siemens, this locomotive cannot nowadays take its current from an overhead supply (there being none available on the line), so another solution has been adopted. When the museum took over the formation of the Metro test track, it also 'inherited' the 1927-built chassis of an industrial tank wagon (once registered for working over LMS metals). This was converted into a four-plank wagon and used to house the batteries that nowadays constitute the power supply for E4.
Three diesel locomotives are to be found on the NTSR. Two of these are ex-BR types, namely Class 08 No. 08915, which was once stationed at Allerton Depot. This has been restored in BR blue livery with wasp stripes and is a useful standby unit for the steam locomotives. Class 03 No. 03078 was formerly based at Gateshead Depot and in preservation carries its original number D2078 and the cabside crest of North Tyneside Council.
The line's third diesel locomotive is of special interest. Consett Iron & Steel Co No. 10 is a user-built locomotive, a 0-6-0 300HP specimen with mechanical transmission constructed in its owner's Templetown workshops in 1958. The general styling of the loco, with its flat-fronted bonnet and inwardly tapered upper sides, shows clear Hunslet influences.
Eventually supplanted by diesel-hydraulics, No. 10 was presented to Tyne & Wear Museums by the British Steel Corporation in 1976 and it now sees occasional use on the NTSR. An item of particular interest displayed in the museum is the sole surviving item of rolling stock from the NER's Tyneside Electric Suburban Network – No. 3267. On loan from the National Railway Museum, the 1904-built vehicle started life as a motor parcels van, constructed by the NER at York using components supplied by British Thompson-Houston and Westinghouse.
It was originally equipped with driving cabs at each end, and in addition to its normal goods duties, saw employment on some passenger duties. Taken out of normal service in 1938, No. 3267 lost its motors and became a de-icing van, before eventually being rescued for preservation and restored to NER livery.
Carriages & wagons
The vehicles used for normal passenger operation on the line are three BR Mk.1 carriages originally preserved by the Bluebell Railway following withdrawal during the 1970s and acquired by the Stephenson Railway Museum in 1986.
These were all built at Doncaster: the earlier pair (dating from 1954), being respectively, No. 43010, a diagram 313 non-gangway composite and No. 43172, a diagram 371 brake second. The remaining example, constructed during the following year is No. 48015, a diagram 330 lavatory second open.
The remaining passenger vehicle currently on site is No. 70754, an ex-LNER gangway passenger brake coach of Gresley design, but built at York in 1943 under the Thompson regime. This carriage was used for the transport of racing pigeons during its career and currently awaits transfer to the North Yorkshire Moors Railway in exchange for other items. There is also a variety of non-passenger rolling stock, ranging from a 1956 vintage Metro Cammell ballast wagon to a Smith Rodley 10-ton, six-wheel diesel crane constructed during the following year.
Recent developments
Passenger numbers on the NTSR have increased slightly in recent years and this has been aided during the current year by adding a Thursday service during school holidays to the usual Sunday and bank holiday workings.
The on-site cafeteria is now being run by enthusiastic North Tyneside Railway Association volunteers and has been rebranded the Waggonway Tearoom. As with most heritage railways, however, ambition is constrained be limitations on resources and the availability of the required number of skilled volunteers. While there has always been the hope of extending the NTSR to Royal Quays, it is unlikely therefore in the foreseeable future. Despite this fact, the Stephenson Railway Museum and NTSR have much to offer the casual visitor and enthusiast alike and they are appropriately situated in an area which had a crucial role in the wider sphere of railway history.
For opening times, visit stephensonrailwaymuseum.org.uk
Railway Reads
From the history of steam through to 21st century rail transport news, we have titles that cater for all rail enthusiasts. Covering diesels, modelling, steam and modern railways, check out our range of magazines and fantastic
subscription offers.
---
Get The Railway Hub Weekly Round-up
Enter your e-mail address below and you will receive weekly rail news straight into your inbox...




You can unsubscribe at any time.
---
---

About the Author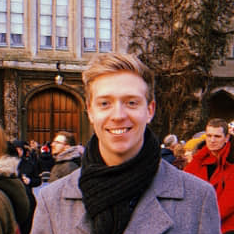 Latest posts by Sam Hewitt
(see all)