There are some useful tools needed to make a start in the hobby. Nigel Burkin describes 12 items he uses regularly in day-to-day modelling.
You don't need a lot of tools to make a start in railway modelling. Cutting, drilling and finishing tools together with a cutting mat and a pair of flat-nose pliers will set you on your way.
It won't be long before you have to set up a workbench of some description allowing you to undertake some simple modelling tasks. Those tasks may vary from assembling a plastic kit to making minor repairs to your models.
Finding a basic set of tools is very straightforward because most model shops and online traders offer the essentials needed to make a start on putting a toolbox together and many useful tools are sold under various brand names such as Javis, Gaugemaster, Expo and Shesto.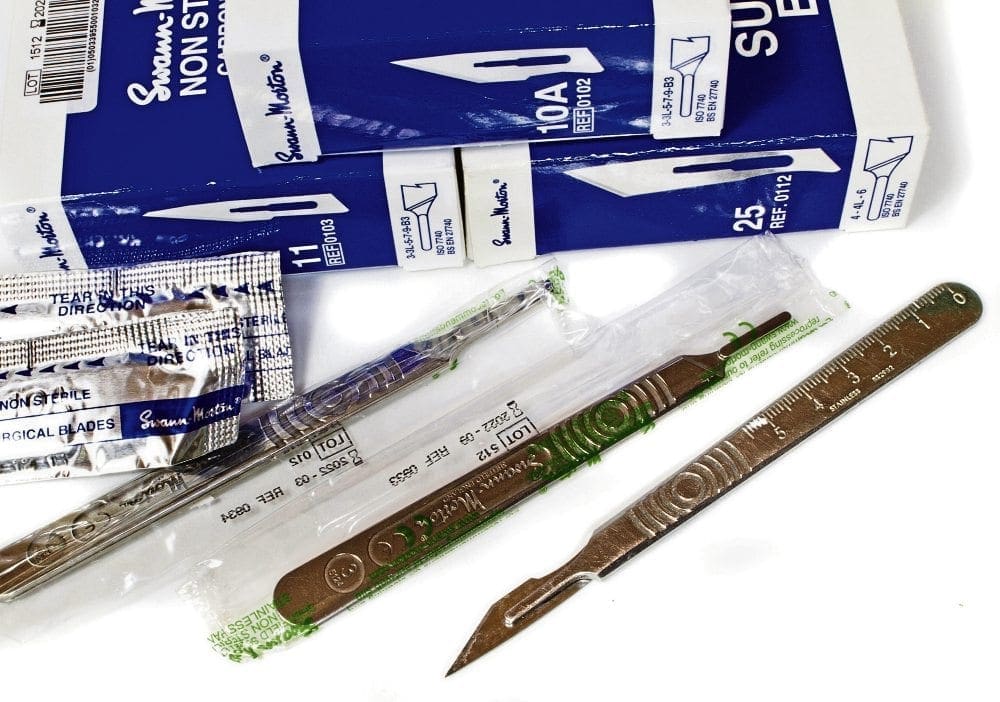 A workbench does not have to be located in a permanent place if space is tight. Setting up a table solely for modelling is not always an option and a simple tray placed on the kitchen table is just as good, as long as you are warm, comfortable and nothing in the domestic environment is likely to be affected by your modelling activities. Suitable coverings to protect furniture and the table top from glue and paint spills are essential.
A method of quickly setting up for a short modelling session or clearing away once you have finished is also important if a dedicated place is unavailable.
Safety is an important consideration. When modelling in 'public' rooms of the home, you need to be sure that adhesives, chemicals and sharp tools are stored out of reach of young children or are left somewhere where they will not be accidentally tipped over. Work pieces also need to be protected from accidental damage, which may destroy hours of work. Cats are particularly adept at pushing things to the floor.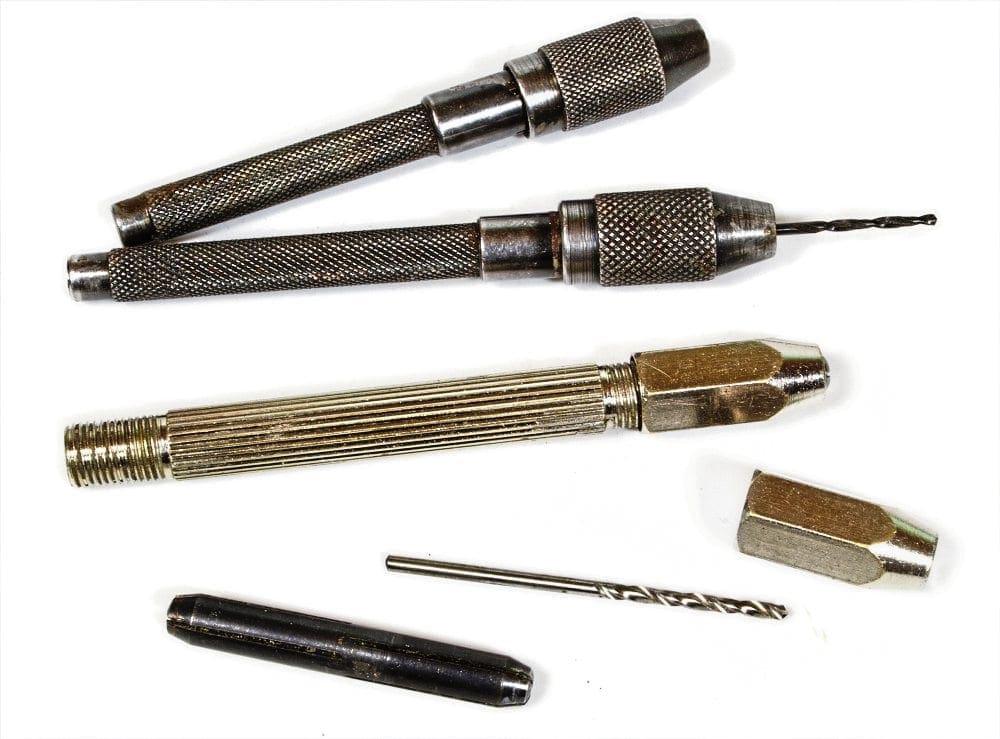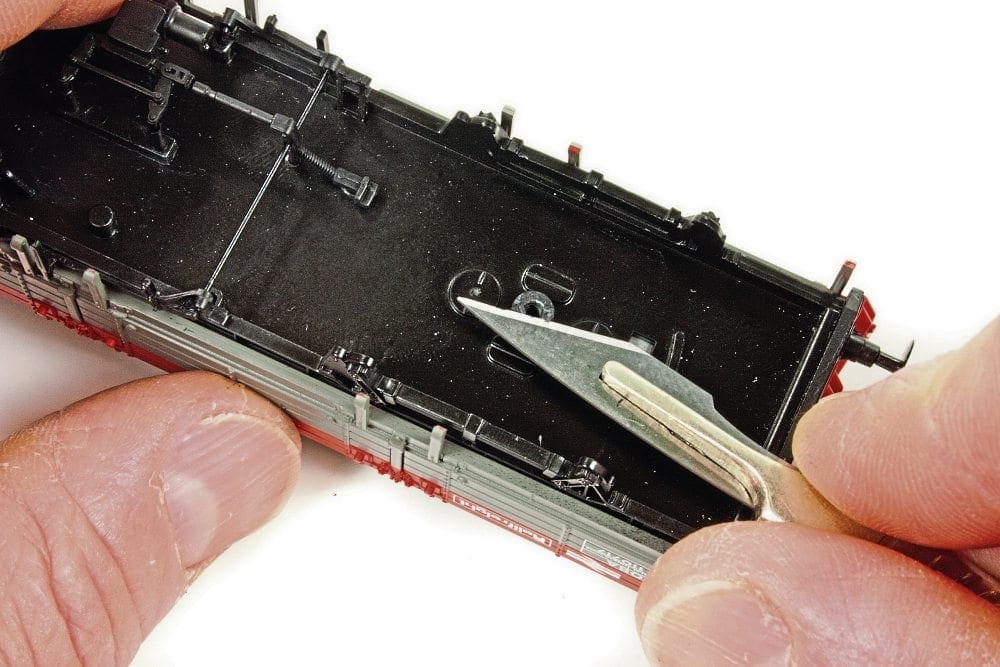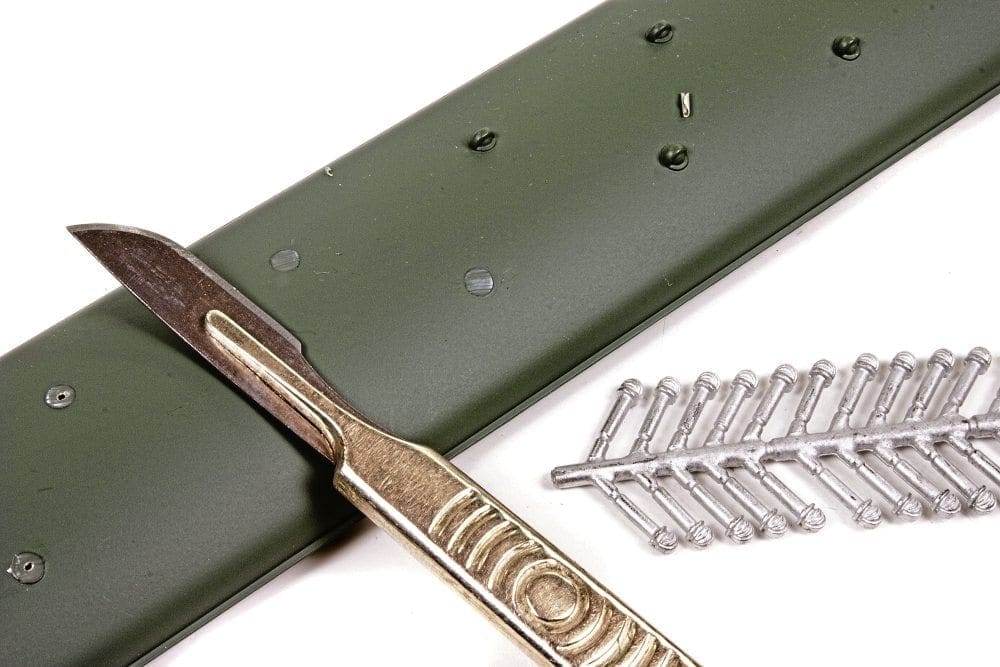 Tools should be kept in good condition and blunt modelling knife blades replaced as soon as they are less than efficient. Nothing turns like a blunt blade and they will cut fingers as keenly as a sharp one. Files should be cleaned of sward with a wire brush and tools cleaned after every modelling session. It pays to buy good-quality tools that you take good care of.
Anyway, to 12 essential tools every modeller should have on their workbench (or toolbox). On a personal note, I find that I turn to these tools more than any other for kit building, assembling small models and repairs.
Modelling knife (and spare blades)
Top of the list is a modelling knife or two. In fact, cutting tools are invaluable for tasks ranging from preparing sheet material such as styrene card for building all manner of models and structures to removing parts from sprue when assembling plastic kits. Have one knife for fine work and one with a stronger handle and blades for heavier cutting work.
My preference for light work is a Swann Morton surgical scalpel handle and blades. A No.3 handle and No. 10A and No. 11 blades are ideal for light and fine work. A No. 4 handle is larger and capable of heavier cutting work when combined with the larger blades designed to fit it.
Very heavy cutting of thick plastic sheet materials, thin plywood, balsa wood, acrylic sheet and other similar materials are best done with a DIY knife such as a Stanley knife. Choose the right blade and handle for the job and neat, safe work will be the result.
Cutting mat
As expensive as cutting mats appear to be, they are an essential part of setting up a workbench. Available in different sizes and colours, it is useful to have more than one to hand. Choose a size to fit your modelling area, be it a tray, portable work surface or a table-top. Buy a smaller one in addition to the larger one, which should be kept clean for use when preparing small components.
Cutting mats will protect the surface of your workbench and also prevent premature dulling of modelling knife blades. Cutting mats are self-healing in that small cuts and marks will seal themselves up, meaning that the mat will last a long time. I have a large A3 size mat on my workbench, which has lasted for years, but could do with being replaced in the next six months or so!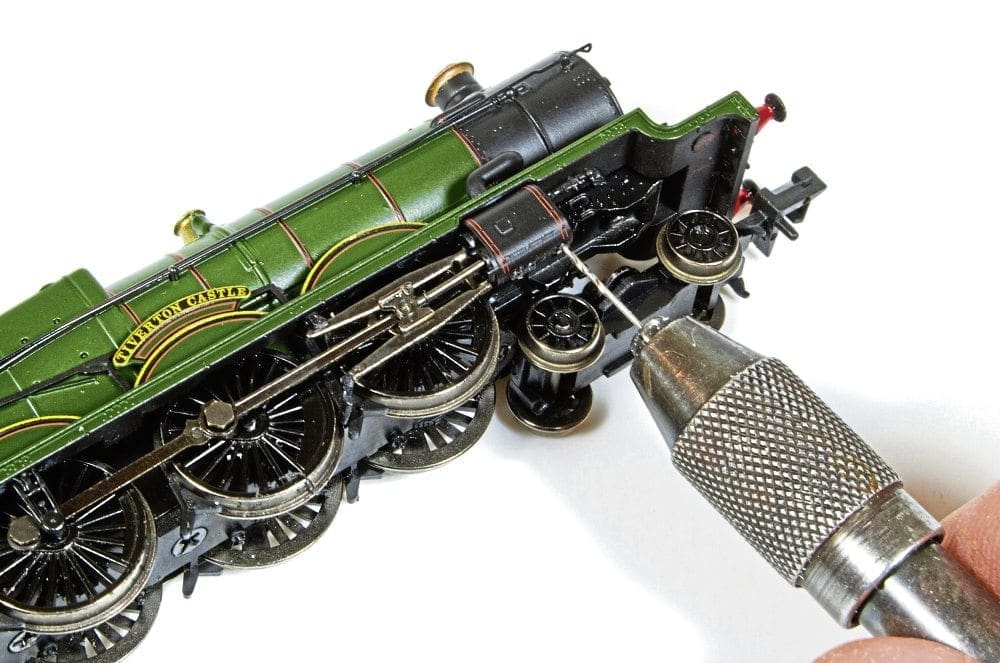 Steel rule
Cutting straight lines in sheet material as well as being able to take accurate measurements is essential to good modelling. A steel rule is the best thing to use when cutting modelling materials because it will not become damaged by modelling knife blades when used as a straight edge, unlike a wooden or plastic one. Have both a 150mm and a 300mm long rule to hand on your workbench.
Needle files
Available singly or in packs of mixed profiles (round, oval, square and flat); small needle files are essential for fine modelling work such as finishing areas of a model that have been filled or need cleaning of etched tabs, plastic sprue tabs or roughness from cutting and shaping.
One set is probably all you will need to start modelling. However, having two sets to hand is useful: one for filing plastic and dedicated to that purpose and one for other work such as filing metal, solder and harder materials. Keep them clean with a wire brush.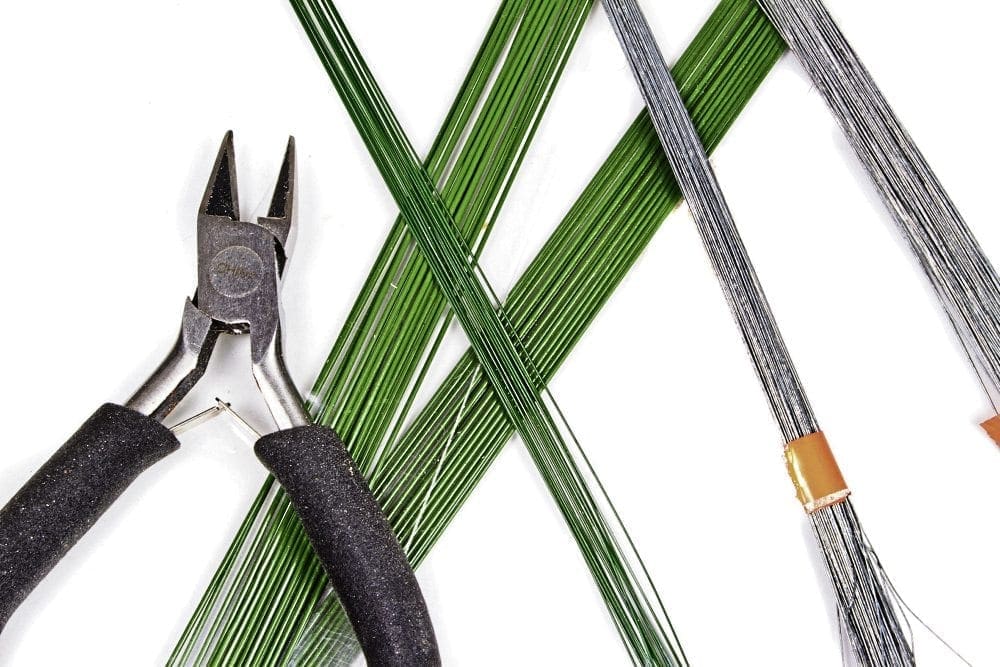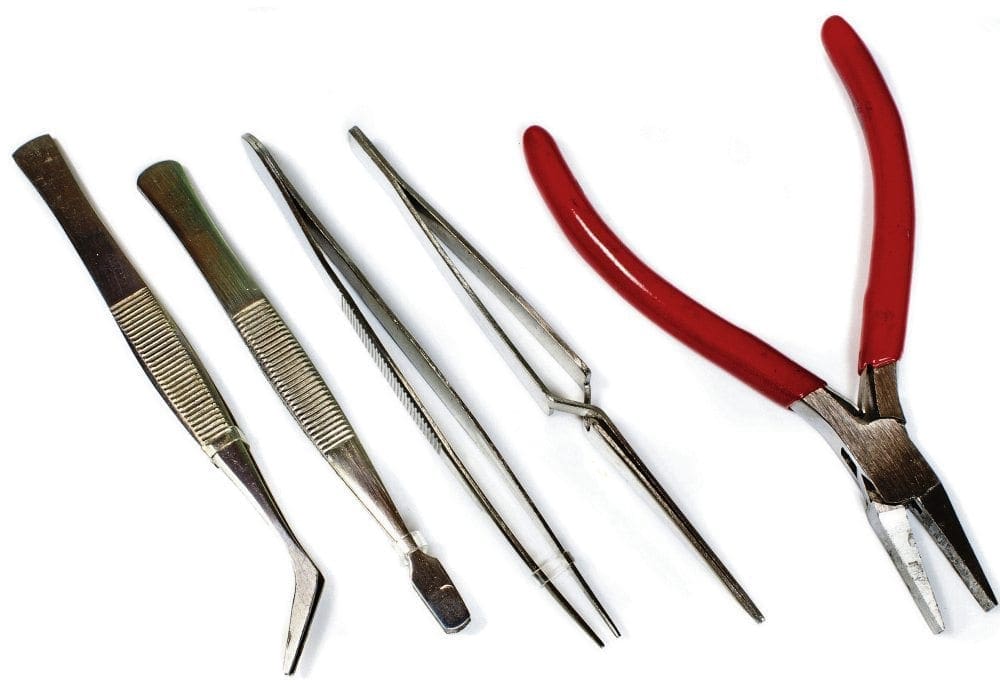 Coarse files
Larger files for coarse work may not be absolutely essential for some modellers, but may save your needle files from excessive wear when filing thick sheet material, wood, metal rod, rail and plywood. Choose files with a 'safety edge' where there is no cutting surface on one of the edges of the file. You will need a handle for them too and a wire brush to clean them after filing work is complete. Choose fine-cut and medium-cut files, which will work on both wood and metal. They will save a great deal of time over using needle files for big jobs!
Pin vice and micro-drill box
One of my favourite tools is the pin vice. It is a simple hand-held drill chuck that can be used to hold quite tiny HSS twist drills and is perfect for drilling tiny holes with great control and precision. There are two types I use on a regular basis: the English Pattern pin vice, which is supplied with different-sized collets to hold various size ranges of drill up to 2mm in diameter. The double-ended pin vice has four collets in two chucks, which may be changed around depending on the drill size to be held. One chuck with double-ended collet is fitted at each end of the pin vice.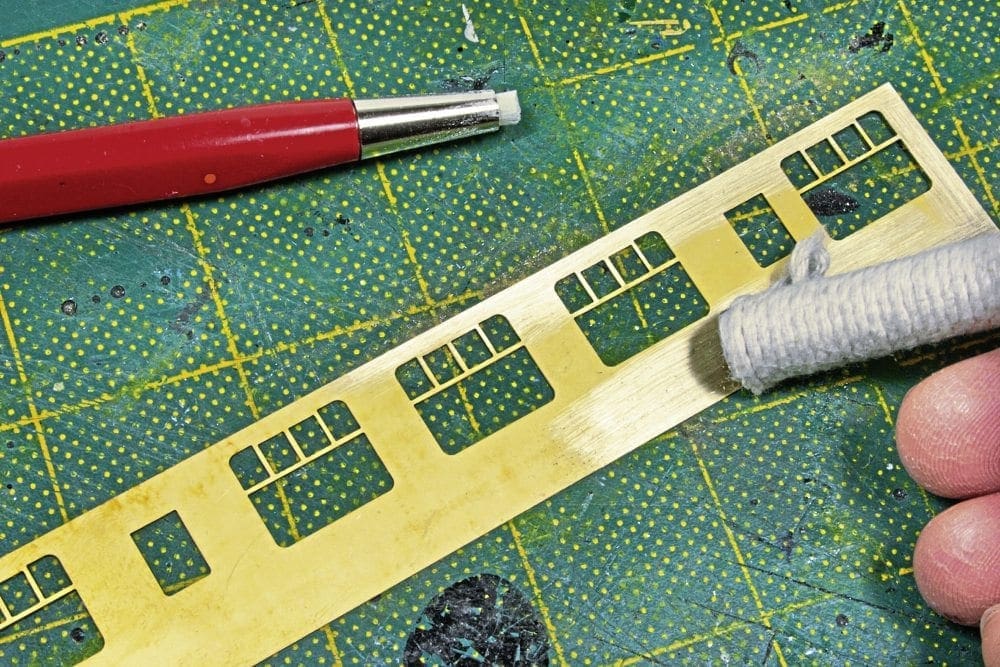 To go with a pin vice, you will need a 'micro-box' of HSS twist drills of various sizes. A typical drill box for modelling use will hold a range of drills from 0.3mm diameter to 1.5mm diameter. It is also useful to have a couple of 2mm and 3mm diameter drills in the toolbox too.
Flat nose pliers
There are a number of different types of plier that could find their way on to your workbench including fine-nose, chain-nose and round-nose pliers. When starting out, buy a small pair of flat-nose pliers for bending metal strip and modelling wire and be prepared to spend a little more for quality. They can be used to hold small work pieces when filing and a host of other uses. Make sure they have comfortable handles and have a spring return to spring them open.
Side cutters
Side cutters are ideal for snipping modelling materials to size including wire, rod and strip. However, the typical side cutters offered in plier sets or sold individually (usually for jewellery making) are not ideal for cutting nickel-silver rail nor will they cut steel wire. Special cutters are needed for both rail and steel.
Soldering iron and stand
A soldering iron and stand becomes an essential workbench item as soon as you start layout building, wiring and making repairs to models. Some decoder installation requires a soldering iron. Buy a stable matching stand and add a soldering sponge for tip cleaning to the shopping list. Look for a mains soldering iron that offers a range of interchangeable tips of various sizes such as the Antex range and choose one with a decent level of power of at least 25W.
Fibre scratch pencil and sticks
One of those tools I recommend for your toolbox is a propelling fibre scratch pencil and some refills. This tool has a multitude of uses in wheel cleaning, burnishing metal components before burnishing metals to remove tarnish such as copper-clad materials for clean soldering when completing electrical projects. A fibre scratch pencil should be used to gently clean small areas on rail before soldering wiring to it. The same propelling handle can also take brass wire brushed for heavier burnishing tasks.
Fibre scratch sticks are string-bound versions of the same thing favoured by etched and cast-metal kit builders for cleaning parts of tarnish and for the removal of excess solder and casting flash. Invaluable items for the workbench – you won't know how you managed to model without them!
Jewellers' screwdriver set
Simple boxes of jewellers' screwdrivers are available for both slotted and crosshead screws, which are perfect to release the screws holding model bodies in place. You will need a set for decoder installation (to release body screws) and to make basic repairs. They are ideal for screw connectors and other similar applications. You can also buy similar tools for removing small nuts from steam locomotive valve gear and similar assemblies. They are an invaluable addition to the workbench.
Tweezers
Securely holding small components during assembly is important for good modelling and electrical work. Select a pack of mixed stainless-steel tweezer types including fine-nose splinter tweezers and consider a couple of pairs of 'reverse' tweezers, which work in the opposite way by springing shut when pressure is removed. They are ideal for holding small components while leaving your hands free and holding small parts together for gluing and soldering.
You get what you pay for
Buy the best that you can afford, because good tools will last a very long time if cared for and kept clean. Resist the temptation to save money by buying the £6 triple pack of pliers when you should be spending around £10 or more for a pair of quality smooth-nose pliers alone! Files are the same – a pack of 10 needle files for £3 is not going to last very long. Spend more if you can.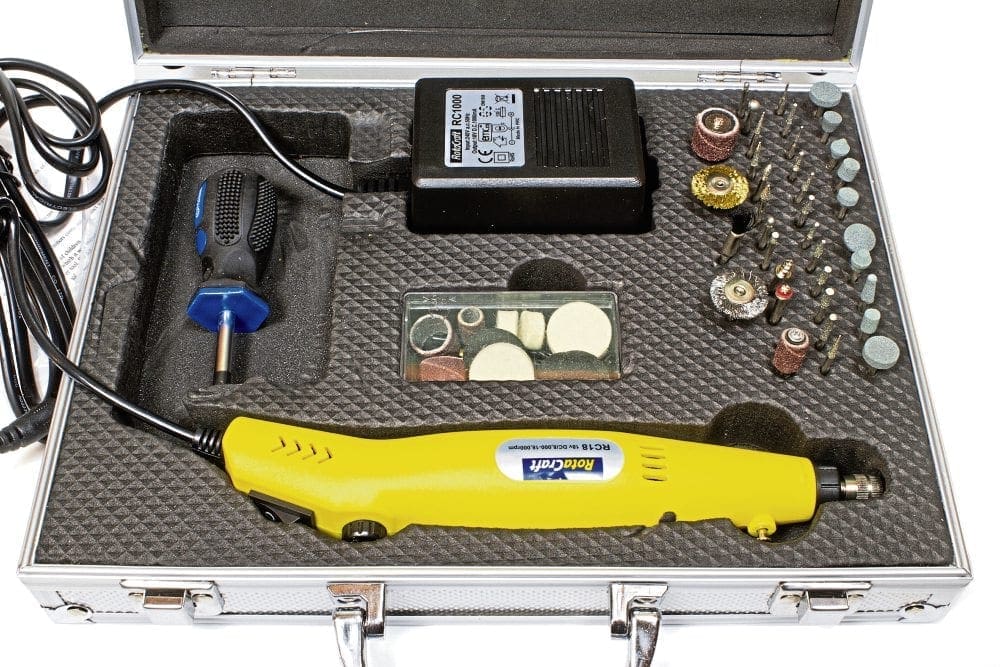 Adding to the toolbox
Once you have the basics in place, you can add some household items to the toolbox, which will help with your modelling projects. Clothes pegs make perfect clamps – wooden ones are best. Make a glue stand from an offcut of planed wood to prevent glue bottles from tipping over. Lolly sticks, cocktail sticks, scissors and cotton buds all have uses for modelling.
If you have a little more money to spend on tools and, let's be honest with ourselves, collecting tools is a fun part of the hobby, you could buy a lovely mini-drill set, quality track cutting and laying tools, and a razor saw together with a wide variety of clamps and cutters. You could go to town on tools but don't forget safety at any stage of setting up your workbench. Have some vinyl gloves and eye protection to hand for those messier jobs. 
---
Advert
---
Railway Reads
From the history of steam through to 21st century rail transport news, we have titles that cater for all rail enthusiasts. Covering diesels, modelling, steam and modern railways, check out our range of magazines and fantastic
subscription offers.
Get The Railway Hub Weekly Round-up
Enter your e-mail address below and you will receive weekly rail news straight into your inbox…

You can unsubscribe at any time.