Words & photography: Maurice Burns
The Settle and Carlisle line remains one of the great railway journeys in England and anyone who has been there will have their own memories.
Maurice Burns has documented his memories of visiting the line – including 100-mile round trips by cycle – to record BR steam in a new book called A Passion for Steam on The Settle & Carlisle Line, which not only coincides with the 50th anniversary of the end of BR steam, but also reflects on the post-steam era.
It had been my mission, like many enthusiasts at the time, to photograph the last days of steam on British Railways as it came to an end.
The Settle & Carlisle Line for me was special perhaps because in the early-1960s, I always travelled there by cycle. My first trip was at the age of 14 and involved a 100-mile round trip from my home to reach Kirkby Stephen, armed with just a Brownie camera. What happened on this and so many other adventures – as that is what they were – are part of a new book, A Passion for Steam on The Settle and Carlisle Line.




Total gridlock on the road to Ais Gill summit, where Oliver Cromwell and its train made a brief photo stop on August 11, 1968.





'The Fifteen Guinea Special' makes a brief stop, with enthusiasts allowed to go where they pleased – all within sight of the signalman.
The book also covers the amazing period in 1967 when immaculately preserved steam engines worked alongside work-stained BR steam, prior to the steam ban on December 1, 1967. In addition, there is a detailed review on how the steam operation has changed on the Settle and Carlisle line over the last 40 years since the return of steam in 1978.
'The Fifteen Guinea Special'
It is worth recalling what exactly happened nearly 50 years ago. British Rail itself organised the last train, which ran from Liverpool to Carlisle via the S&C – 'The Fifteen Guinea Special'. It was billed as the last mainline steam passenger train in Britain and ran on Sunday, August 11, 1968.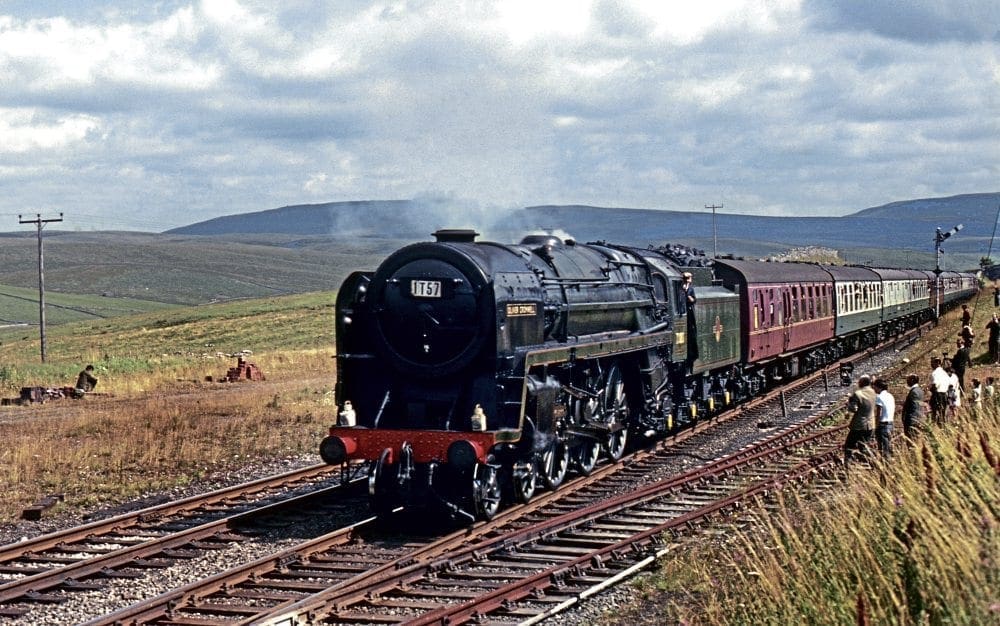 I had planned many trips to photograph BR steam, but how does one plan to photograph what was billed as the last steam passenger train? I decided to first travel on the Saturday to Carnforth, the day before the special, to see 'Britannia' No. 70013 Oliver Cromwell and take some final pictures, my favourite being after dark, viewed from the roof of Carnforth shed.
The engine later that night moved to Lostock Hall shed, then on to Manchester to pick up the special – diagrammed 1T57.
On Sunday, I opted to see this train purely on the S&C, at my favourite photographic locations. As the special was not due at Blea Moor until 13.24, there was time to meet old friends in the Station Inn, Ribblehead, for a pint to mark the end of BR steam.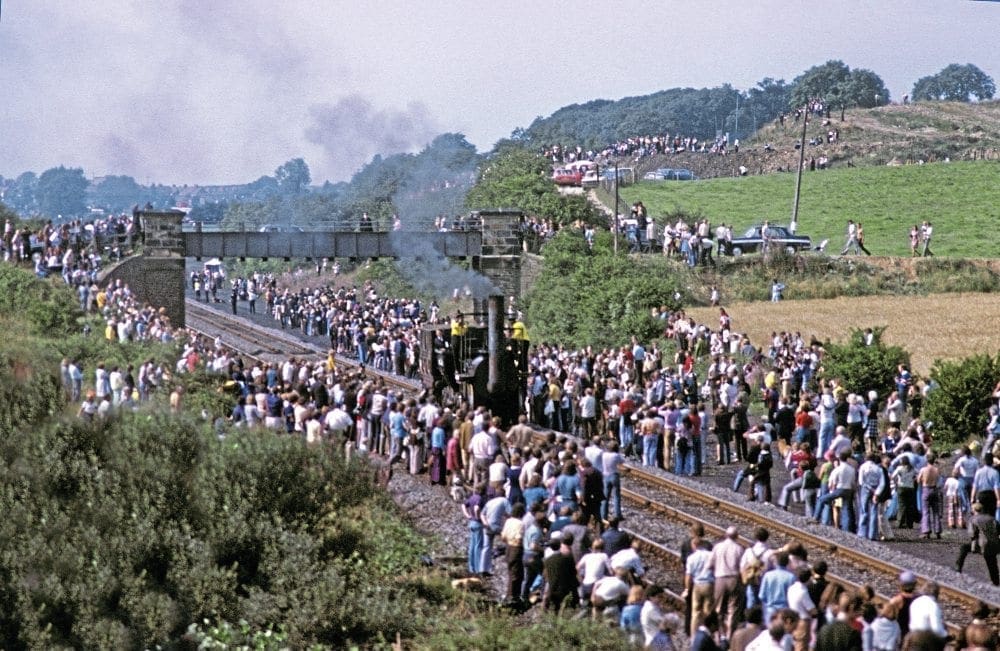 These were special friends, who had gone to great lengths to clean many engines in their final hour.
Mass of people
Watching the special near Selside, running 34 minutes late, when No. 70013 came into view even the sun was out too!
Back in the car, it was nose to tail traffic as the convoy headed north. Everyone knew the special was scheduled to stop at Ais Gill Summit. Whether this was for press purposes, or for passengers to get out, use steps, and take pictures, no one knew, but everyone was heading for the same place – the summit! When I reached the bridge and looked down, there was Oliver Cromwell surrounded by enthusiasts at every advantage point.
Around Ais Gill signalbox, where I had spent many a happy, peaceful day in the past, was now a mass of people with no apparent police presence. After 'The Fifteen Guinea Special' reached Carlisle a quick detatching of the 'Britannia' and coupling up of the two Class 5s at the other end, saw the stay at Carlisle reduced to 14 minutes.
On time, 'The Fifteen Guinea Special' departed Carlisle hauled by 'Black Five' Nos. 44871 and 44781. They, like Oliver Cromwell, carried no headboard or wreath to mark the occasion, but the simple train reporting number on a board – 1T57 – mounted on the smokebox. After seeing the two Class 5s had passed, back at the car, I packed away the cameras and drove through scenic Wensleydale. During the journey home to Stockton-on-Tees, I reflected on the passage of time for the previous eight years: every Saturday I'd been out with my camera.
Now, British Railways steam was no more and life would never be the same. I had visited the Settle and Carlisle Railway so many times, but after the 'Fifteen Guinea Special' every enthusiast thought we would never see steam over the Settle and Carlisle again.
Steam preservation history, from the 1967 steam ban, leading up to the return of steam on the S&C, was a time of developments on a big scale. With new preserved lines such as the North Yorkshire Moors Railway, the Severn Valley Railway being developed and the Keighley & Worth Valley having opened, the only operational mainline locomotive allowed to run, because of a clause in its contract, was Alan Pegler's Flying Scotsman, but after the NELPG 'North Eastern' railtour on June 29, 1969, that locomotive went to America.
Determination
I was fortunate to meet Alan at that time and show him NELPG's (North Eastern Locomotive Preservation Group) newly purchased 'Q6' 0-8-0. Such a great man, and one who should never be forgotten, for he not only had the vision to save an 'A3', when those in charge of the National Collection did not think it was important, but also showed that, with determination, running mainline steam could can be done.
The preservation movement, in addition to Alan Pegler, has seen many great people who have shown drive and determination for projects they were passionate about.
At the end of steam in the North West in August 1968 one person who lived near Carnforth decided to buy the complete Carnforth Motive Power Depot, with the vision to run tourist trains to Ulverston and then transverse the branch to Lakeside on Windermere.
That person was Dr Peter Beet. He not only saved Carnforth loco shed, coaling stage and turntable from being demolished, but was also instrumental in finding buyers for several 'Black Fives'. With the help of dozens of volunteers, he turned a BR shed at Carnforth into Steamtown Museum.
Carnforth then became the 'Mecca' for all enthusiasts. In addition to a fine array of locomotives, they had an excellent narrow gauge steam railway and standard gauge track for steam passenger rides. The site was home to Selside signalbox, saved from the Settle and Carlisle Railway, and in its new location was made fully operational. Steamtown Museum also had an excellent museum of artefacts, a cafe and picnic area.
While external events determined Carnforth Steamtown and the Lakeside branch would go their separate ways following a road scheme that cut off the branch, Carnforth Steamtown thrived, with annual attendances of 80,000 people. I had many dealings with Peter Beet leading up to the movement from Carnforth of LMS 'Black Five' No. 44767, then owned by Brian Hollingsworth, prior to its movement to Thornaby for restoration by NELPG volunteers, and excellent co-operation was always received.
Turning point
After two and a half years of no mainline steam in the UK, pressure on the British Railways Board saw the steam ban lifted on October 2, 1971, when GWR 'King' class No. 6000 King George V worked a train from Hereford.
It is hard to believe in the early-1970's there was no national organisation regulating mainline steam because, until then, it had never been required. A key turning point was the Stockton and Darlington Railway '150' celebrations, which saw many engines move under their own power from all over the UK to Shildon for the Grand Cavalcade in 1975. This event was witnessed by 350,000 people.
It was a major boost for steam and in the same year the Steam Locomotive Operators Association (SLOA) was formed. This body brought together steam loco owners to share information and have one body to negotiate operation with BR.
SLOA started to run a limited number of railtours and it was only a matter of time before it was announced steam was to return to the Settle and Carlisle after an absence of 10 years.
'The Norfolkman' Railtour was hauled by Gresley 'V2' No. 4771 Green Arrow and ran on March 25, 1978. Not only was it a celebration of steam returning to the Settle & Carlisle Line, it was a tribute to D W 'Bill' Harvey for his contribution to steam preservation.
Carnforth Steamtown became one of the centres of mainline steam operations and the loco roster board on the shed indicates how important and busy it was. In 1982, eight different engines were rostered in just a four-month period, many in the attractive original liveries, and included No. 5690 Leander, 34092 City of Wells, 4498 Sir Nigel Gresley, 2005, 5407, 13809, 777 Sir Lamiel, and 46229 Duchess of Hamilton.
Regular trains over the Settle and Carlisle were a dream come true for mainline steam loco owners and enthusiasts. Passengers had two 'legs' of steam, the first from Carnforth to Hellifield and the second from Hellifield to Carlisle.
Run past
In addition, there were run pasts at Wennington and Garsdale. For those who have never seen a run past, it involved all passengers leaving the train, the train reversing then charging through the station with all passengers a safe distance away taking pictures. It was an exciting time, with many volunteer-run loco societies getting involved, and passengers certainly had value for money. The locomotives for both legs were prepared at Steamtown, coaled using the original BR coaling plant that was then maintained in working order.
In the early-1980's the National Railway Museum was a major supplier of main line steam power. John Bellwood, who was their first chief mechanical engineer, must have taken great delight in returning Evening Star, Hardwicke, 'Midland Compound', Green Arrow, Duchess of Hamilton and Mallard to mainline condition, in addition to the Stirling 'Single' and Henry Oakley, for operation on preserved lines.
The system of operating over the S&C, starting with the Carnforth to Hellifield leg, continued for many years, but Privatisation allowed more open access. A new rail tour operator called Days Out, run by Mel Chamberlain, successfully organised the return of steam over Shap in September 1994 with The Railway Magazine-backed 'Shap trials', featuring 'A4' No. 60007 Sir Nigel Gresley, BR 'Standard' No. 71000 Duke of Gloucester and No. 46229 Duchess of Hamilton. This has paved the way for today's operations going over Shap in one direction and the S&C in the other, rather than using the Carnforth to Hellifield leg.
In these early days of mainline steam rail tours coaching stock was hired from BR, which had excursion stock at various cities waiting to be used. These carriages were progressively phased out by 1992, and it was fortunate other initiatives took over the excursion stock, maintained it and made it available for hire.
These included Intercity Special Trains, Flying Scotsman Services, Scottish Railway Preservation Society, West Coast Railways, Riviera Trains, and Train Tours. Riviera Trains eventually bought some of the assets of Inter City and Flying Scotsman Services. West Coast Railways also expanded its coaching fleet, and today Locomotive Services Ltd has joined coaching stock ownership.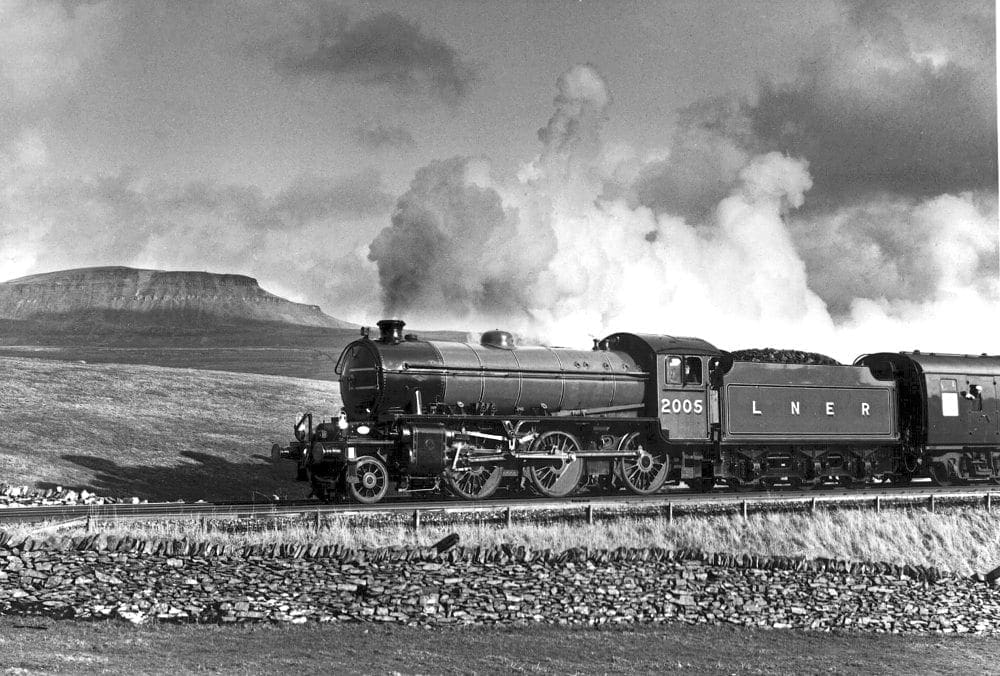 The supply of a qualified footplate crew to operate the vintage steam locomotives was easy in the 1970s and 80s, with an abundance of steam men still working for BR, but driving diesel or electric trains. After Privatisation the responsibility for sourcing steam crews passed to Rail Express Systems (RES). As steam men retired, firemen had to be passed out as drivers and this resulted in an initiative by charter train director David Ward in 1992 when BR Standard 2-6-4T No. 80080 worked a series of footplate crew-training stopping trains from Carlisle to Kirkby Stephen.
I recall many locomotive owners were concerned whether steam would survive, especially as footplate crews were becoming fewer in number, and in some cases less experienced.
This was brought home to me personally after major parts of the motion of 'A2' Blue Peter were wrecked at Durham in October 1994 after a massive wheelslip, which is fully detailed in the NELPG book Keeping North Eastern Steam Alive. Salvation came after the privatisation of BR, when in 1998, the West Coast Railway Company became the first privately owned company to obtain a train operating licence. Since then, they have provided their own footplate crews and have done so for 20 years – exactly the same number of years British Railways and British Rail did. Today, steam footplate crews are also provided by DB Cargo and Locomotive Services Ltd.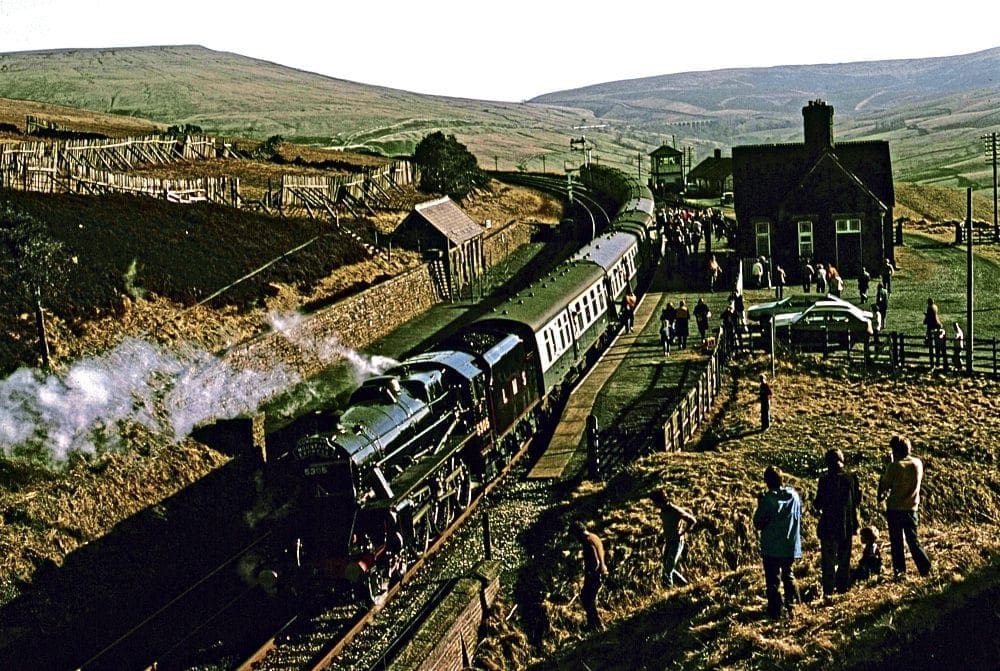 Memories
At Steamtown in the 1990s the late Bill McAlpine, who did so much for the steam preservation movement, and who had a major share in Carnforth and by then owned Flying Scotsman, sold his major share to David Smith.
Because of the condition and cost of repairs needed to the shed buildings, the Steamtown Museum was closed at the end of 1997, with the site then being used for locomotive and coach restoration. Many enthusiasts will have fond memories of Steamtown and their popular managers, George Hinchcliffe and Ian Atkinson.
With the absence of water columns and Garsdale troughs removed in the late-1960s, the watering of the steam engines operating over the S&C was used initially at the dairy, just south of Appleby station, and the original water supply at Garsdale was restored by Steamtown Museum, which took over responsibility for watering engines. One of the helpers was Bill Allan, who lived at Sedbergh, and because he was close to Garsdale, with the help of his two sons Andrew and Mark, supported by wife Ann, they took over responsibility of the Garsdale watering from 1983. The first engine they watered was for the NELPG 'Cumbrian Mountain Pullman' railtour on January 22, 1983, hauled by 'K1' No. 2005.
In the early days of steam operation, especially when the line was threatened with closure, Appleby and Garsdale signalboxes were switched out because of only having two trains each way per day. In the early days there were photo stops for passengers with Dent station, a popular stop northbound, and Ribblehead station southbound.
The announcement, after years of speculation, that British Rail intended to close the Settle and Carlisle route came as a body blow to rail enthusiasts, tourists and local people. The Friends of the Settle and Carlisle was formed in 1981 to save the line, while steam specials continued. It was a relief it was reprieved in 1989, and perhaps the steam railtours made a contribution to the cause.
Because of the infrequency of traffic, photo run pasts were allowed for passengers. However, an increase in train services after the line was reprieved in 1989, as well as health and safety issues, saw the run pasts curtailed.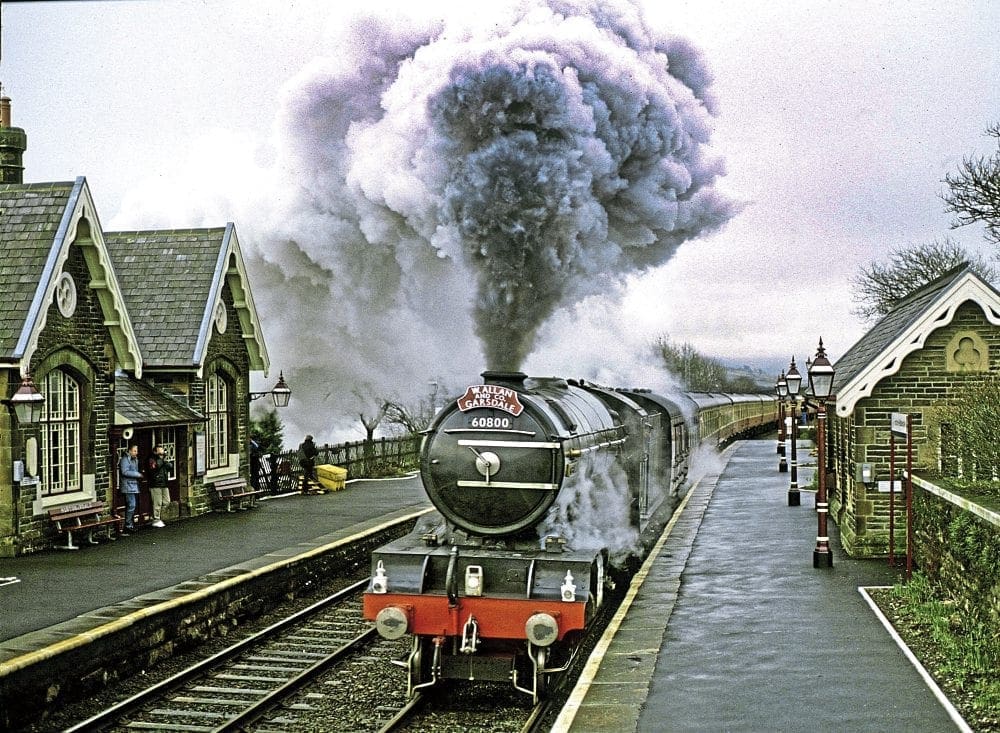 The watering of engines still continued at Garsdale, with Bill and his family retiring from water duties in 2004 after 20 years assisting steam over the S&C, for which the preservation movement was most grateful.
As steam specials became more regular Appleby Round Table launched an appeal to rebuild the station water tower. This they did with the help of a local farmer and it was brought back into operation in 1991. Today, the locomotives take water at Hellifield and Appleby, and the once-popular Garsdale stop is no more.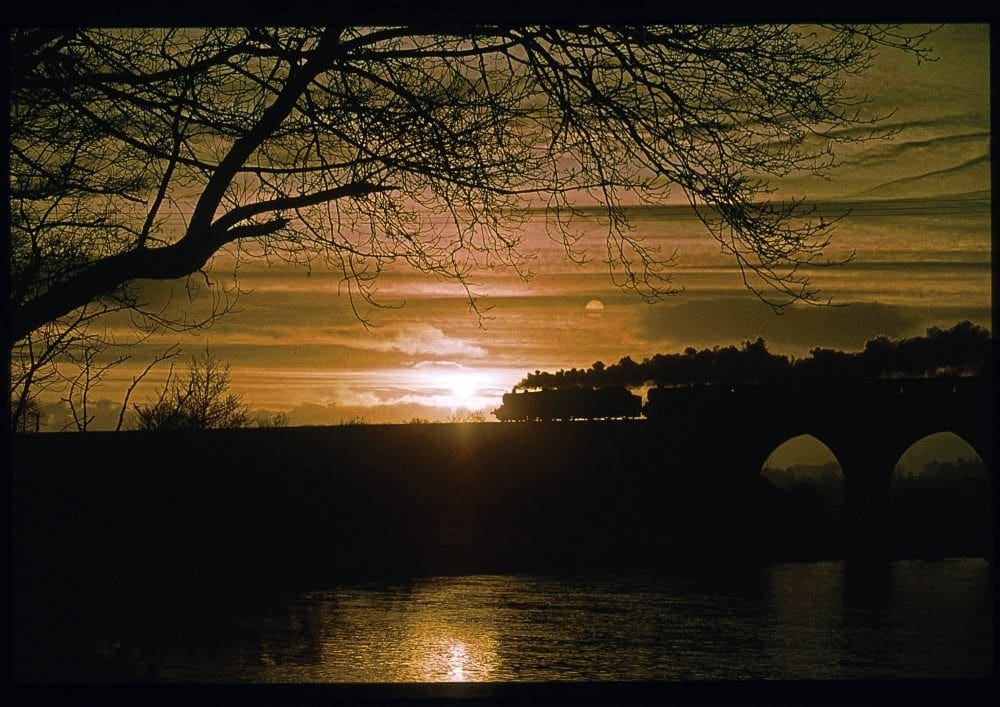 Steam engine performance, especially on the rising grades of the S&C in the early days, saw lots of enthusiasts with heads out of the windows. The names of the footplate crews were legendary – drivers such as Willie Alexander, Willie Milne, Davy Gardener, Jack Eden, Kenny Stubbs, and the Hayton brothers. They were backed up by skilful firemen, who later became drivers themselves, including Brian Grierson and Gordon Hodgson.
Evaded closure
It is now 40 years since BR first allowed the return of steam over the Settle and Carlisle Line, and in that time there has been a rich variety of steam power over the route, some of which we may never see again.
Although this feature is a taster for A Passion for Steam on The Settle & Carlisle Line, it is my own journey, through some wonderful years spent on the Settle and Carlisle, as well as helping NELPG to restore 'Peppercorn' Pacific No. 60532 Blue Peter and 'K1' 2-6-0 No. 62005 to operate over it.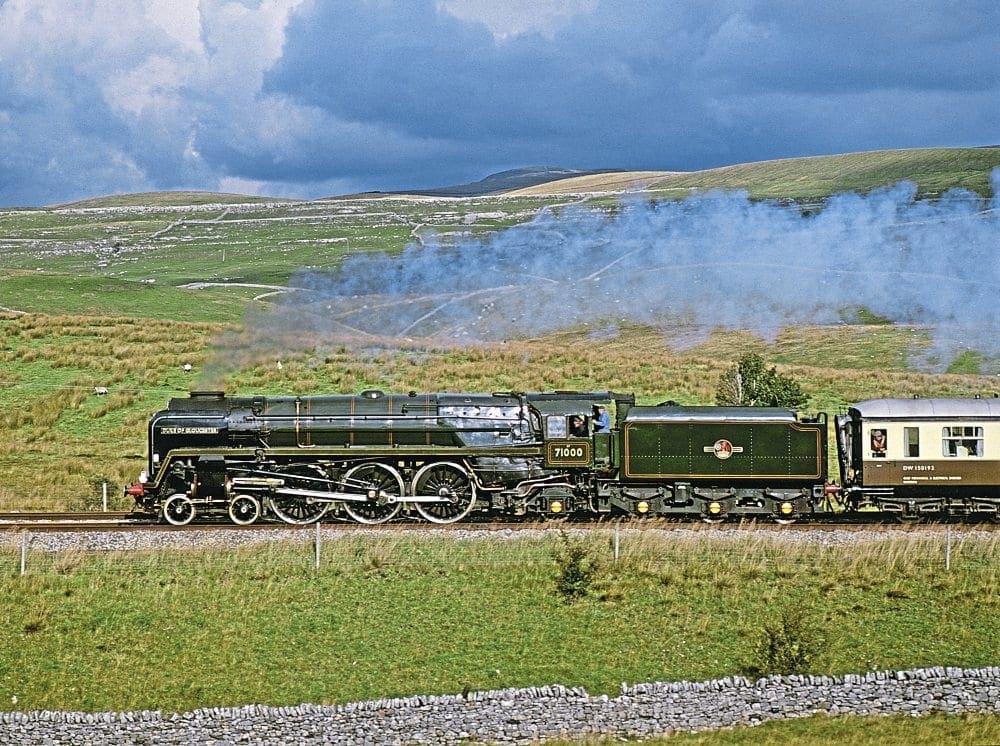 Today, the line, which has remarkably evaded closure, could not be in better shape, thanks in a large part to the support from the Friends of the Settle and Carlisle. There is a large number of people we have to be thankful to over the last 40 years.
---
Advert
---
Railway Reads
From the history of steam through to 21st century rail transport news, we have titles that cater for all rail enthusiasts. Covering diesels, modelling, steam and modern railways, check out our range of magazines and fantastic
subscription offers.
Get The Railway Hub Weekly Round-up
Enter your e-mail address below and you will receive weekly rail news straight into your inbox…

You can unsubscribe at any time.