The Ffestiniog Railway is famous as the only place in the world where the legendary double Fairlie articulated 'back-to-back' steam locomotives can be seen in action. They were the product of a mid-Victorian inventor who sought to increase the versatility of steam locomotives, and for a time found a market for them in several countries overseas, too.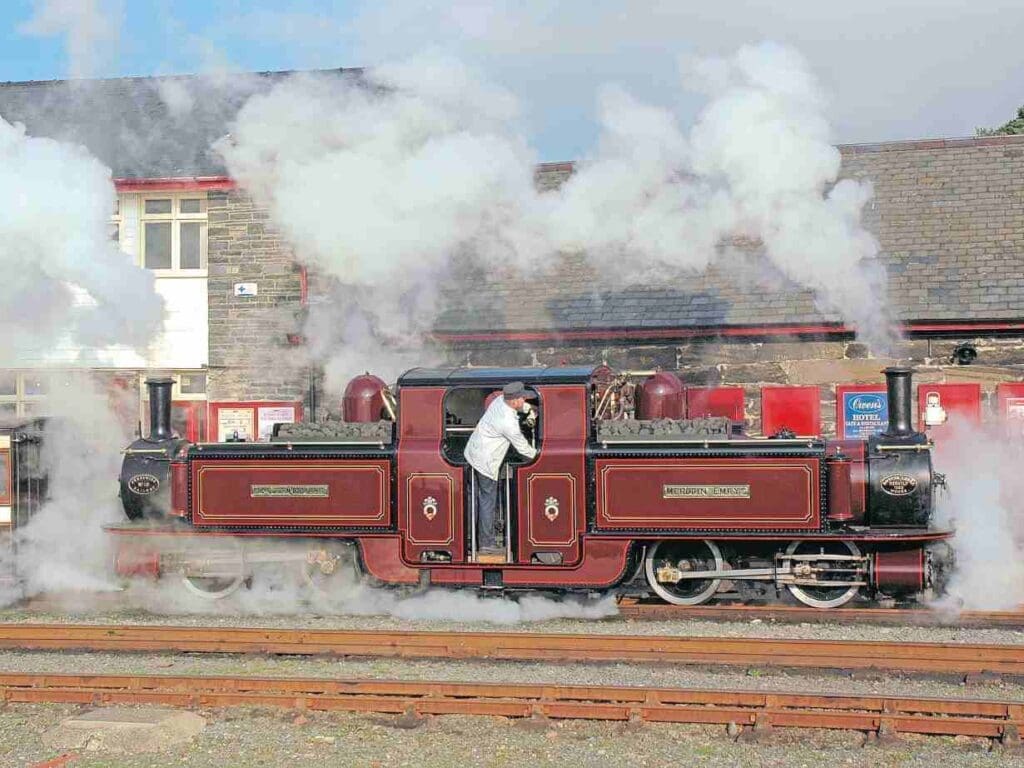 This is just one of the many in-depth features found in the new book by Robin Jones, Legendary Locomotives, available now from Classic Magazines.
From the outset, the railway concept has an inherited disadvantage over the road alternative. A horse and cart, and later a motor vehicle, can easily be turned so it is facing the right way. Not so easy for a classic steam locomotive. When it reaches the end of its route, it either has to be reversed via a turntable, or run backwards. Either way, a loop is needed for it to run round its train from one end to another.
They would have been an object of wonder when they were first introduced, and probably at first glance an object of ridicule, but inventor Robert Francis Fairlie's famous design showed what seemed in effect was two ordinary tank locomotives surgically stitched back to back.
It was in 1869 this revolutionary design first manifested itself on the Festiniog Railway in Snowdonia – and even though that line has long since spelt its name with two 'fs', (its name was changed in the heritage era to include both 'fs' in the name of the locality, an omission from the original Act of Parliament, which empowered it in 1832), they are still very much in evidence there today, as trademark locomotives of the line.
The Festiniog was originally a horse-drawn affair, laid to carry slate from the quarries at Blaenau Ffestiniog to the harbour at Porthmadog. However, in October 1863 steam locomotives were introduced, to allow longer slate trains to be run. This move also facilitated the official introduction of passenger trains in 1865, and in doing so it became the first narrow-gauge railway in Britain to carry passengers.
Fairlie was a business associate of George England, who supplied the first steam engines – 0-4-0 saddle tanks – to the Festiniog in 1863, from locomotive building company in New Cross, Surrey.
Fairlie trained in the railway workshops at Crewe and Swindon before becoming locomotive superintendent at the Londonderry & Coleraine Railway in 1852. Four years later he joined the Bombay, Baroda & Central India Railway, before returning to Britain.
His first double Fairlie was The Progress, an 0-4-4-0T built in 1865 by James Cross and Company of St Helens for the Neath & Brecon Railway. It proved a disappointment: having the draught from both halves of the boiler through one firebox was unsuccessful.
Cross built a second double Fairlie in 1866, Mountaineer, for the Anglesey Central Railway. There followed a trio of 3ft 6in-gauge 0-6-6-0Ts for Queensland in Australia, but they were rejected as being overweight, and returned to England, regauged and re-sold.
Little Wonder, built by England in 1869 for the Festiniog, was a different matter, and brought its designer overnight fortune and fame.
England retired in 1869, and Robert Fairlie joined with England's son and J S Fraser to take over his works and to form the Fairlie Engine & Steam Carriage Co. England junior died within a few months, and the works were sold, with all locomotive production ceasing at the end of 1870. However, the Fairlie Engine & Rolling Stock Co continued as an office for design and for the licencing of Fairlie locomotive manufacture.
On February 11, 1870, Fairlie invited locomotive engineers from all over the globe to the Festiniog Railway to see Little Wonder in action, and railway companies from as far away Russia, Mexico, Turkey and Sweden were represented.
The event was a huge success, and left Fairlie with a bulging order book: not only that, but it did much to promote narrow-gauge steam, demonstrating it was a credible alternative to standard gauge in hill terrain. The Fairlie design meant the fireboxes and ashpans were not restricted by frame or track width, but only by the overall loading gauge.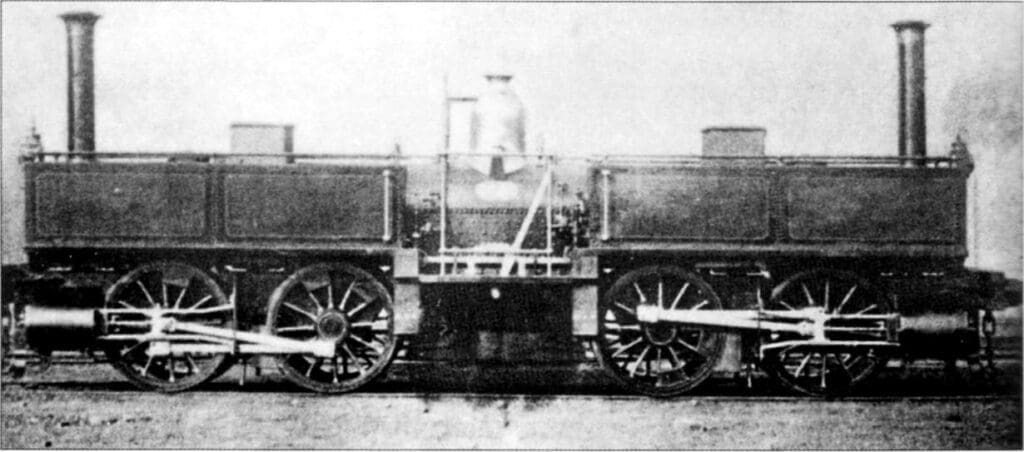 By 1876, 43 different railways had operated his engines. However, the only railways where the type was truly successful in the long term was Mexico, New Zealand and the Festiniog. More than 50 Fairlies were supplied to Mexico over four decades, including 49 massive 0-6-0+0-6-0s, which remained in use until the 1920s.
The problems many of the buyers found were the limited capacity for fuel and water caused by the lack of a tender, the flexible steam pipes being prone to leakage and wasting of power, and the absence of unpowered wheels, which on 'normal' types of steam locomotive act as stabilisers. Early Fairlies had a tendency for rough riding and were more susceptible to derailments: Little Wonder was worn out and replaced by the Festiniog after less than two decades of intensive use.
Fairlie also produced 'single' versions, resembling 'normal' locomotives. Effectively, a double Fairlie cut in half, they had a single articulated power bogie combined with an unpowered bogie under the cab, maintaining the ability to negotiate sharp turns. Popular in the USA, a single Fairlie 0-4-4 tank ran on the Swindon Marlborough & Andover Railway and three 0-6-4T were bought by the North Wales Narrow Gauge Railways, predecessor of the Welsh Highland Railway.
Fairlie gave the Festiniog Railway Company a perpetual license to use the Fairlie locomotive patent without restriction in return for using the line to demonstrate Little Wonder, which became the first of six to be owned by the company.
George England died in 1878 and Fairlie on July 31, 1885.
The Ffestiniog is one of Europe's most spectacular heritage railways, weaving its way through Snowdonia's slate country, and one of its trademark features is the regular use of double Fairlies.
Indeed, in modern times, it has made the type its own.
The second double Fairlie to arrive was James Spooner, which became the line's No. 8. It was supplied by Avonside, and lasted in service until 1933 when it was scrapped, the fate which befell Little Wonder in 1882.
The line's third double Fairlie – No. 10 Merddin Emrys, named after the sixth century Welsh poet – was delivered in 1879, and is still in service today. It underwent a major rebuild in 1987/8 with new tanks.
No. 11 Livingston Thompson was built at the line's own Boston Lodge works in 1886. Now out of service, it has been restored for static display, and is a star exhibit in the Great Hall at the National Railway Museum in York.
The Festiniog Railway fell into disuse after the Second World War, but following the success of the Talyllyn Railway revival in 1951, which kick-started the volunteer-led-operation heritage railway movement, the Ffestiniog was next to be tackled by enthusiasts.
The moribund line was taken over by volunteers in 1954, under the leadership of businessman Alan Pegler, who in 1963 bought Flying Scotsman from British Railways. The revivalists began to reopen the railway in stages from Porthmadog Harbour station and finally reached Blaenau Ffestiniog on May 25, 1982, the 150th anniversary of Royal Assent to the Festiniog Railway Act of 1832. In reopening the 13½-mile line, the revivalists needed to build a deviation around the Central Electricity Generating Board's hydro-electric power Llyn Ystradau reservoir, which had flooded part of the original line.
The deviation included a spiral loop unique in Britain, and is considered one of the greatest achievements of the preservation era.
As the revived line grew longer, the preservationists needed more motive power for bigger trains. They turned to historic Boston Lodge Works to build their own – and chose a double Fairlie design!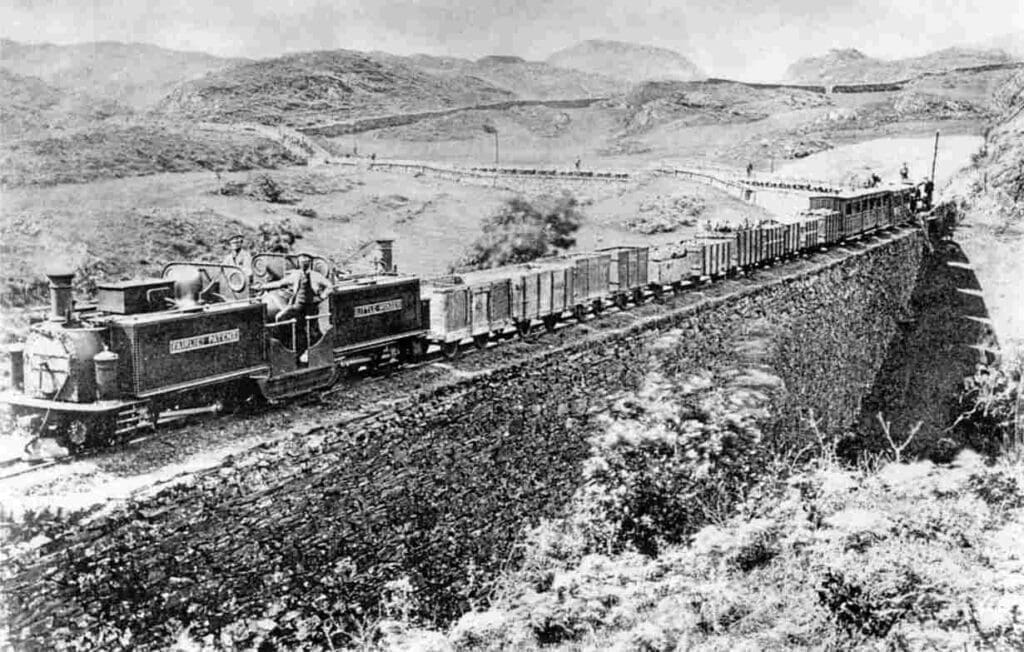 The second Earl of Merioneth
The new double Fairlie would be the second locomotive to carry the name Earl of Merioneth. The first, originally named No. 3 Livingston Thompson, subsequently named Taliesin, was renamed Earl of Merioneth in 1961.
Furthermore, the project was a major landmark in the history of Britain's new-build locomotives, for the new double Fairlie was the first new full-size engine built for a full-size heritage railway.
It was built under the Fairlie patent, to which the Ffestiniog, as stated above, has a licence in perpetuity to use.
Some may argue new locomotives built previously for the 15in-gauge Ravenglass & Eskdale Railway should instead be regarded as the 'first'. However, these engines, like those on the Fairbourne, Cleethorpes Coast Light and Romney, Hythe & Dymchurch railways, are in so many respects 'halfway houses' between miniature railways and narrow gauge, and in effect are scaled-down replicas, based on main line types.
However, Earl of Merioneth is not a replica of any previous double Fairlie, but one which was built to a modern updated design of the Victorian concept, with sloping square tanks.
Building work for the new double Fairlie – the third locomotive to be turned out from Boston Lodge – began in 1972 following delivery of the boiler. They were designed like the original Fairlies for coal burning, with oil tanks and oil burning equipment fitted in 1978 before the boiler was first steamed.
It incorporated the power bogies and some other parts from Livingston Thompson, while the superheated boiler was made by Hunslet of Leeds. New steel wheels were cast by British Rail Engineering at Crewe, and the axles and wheels were machined by JIP Engineering Ltd of Willenhall, Staffordshire, for assembly at Boston Lodge.
Carrying the name Earl of Merioneth in English on one side and Iarll Meirionnydd (in Welsh) on the other, it made its first trip out of the works and across the Cob on June 12, 1979.
On Saturday, June 23 that year, it was formally named by the railway's late general manager Allan Garraway at Porthmadog Harbour station, with older sister Merddin Emrys in attendance alongside, carrying an 1879-1979 headboard. Five days later, the new locomotive hauled a 12-coach test train to Tanygrisiau.
The new locomotive hauled its first passenger train on July 19, 1979, and was then rostered for two trips a day. It showed exactly what it could do on August 12, when following the failure of another locomotive, it hauled 12 trains up the line without any difficulty.
The new Earl of Merioneth was not to everyone's liking. Its angular appearance with rather utilitarian modern box-like side tanks led to it being nicknamed 'The Square'.
Accordingly, at its first 10-year overhaul in 1989, the opportunity was taken to attempt to soften its appearance by fitting brass dome covers and copper-capped chimneys, both of which were formerly fitted to Merddin Emrys prior to that locomotive's 1988 rebuild. The livery was also adjusted to include more traditional lining.
In 1992, Earl of Merioneth was found to have serious cracks around the boiler throatplate, reportedly because of a design-flaw in the two 1971-built Hunslet boilers.
At the same time, the railway was building a second new double Fairlie – No. 12 David Lloyd George – also at Boston Lodge, but to a far more conventional appearance. This particular project began at the same time as a proposal to build a new boiler for Earl of Merioneth – but got carried away with itself so much so that a new locomotive appeared. Indeed, it was decided to withdraw Earl of Merioneth and use its bogies and other components to complete the new locomotive.
David Lloyd George, grant-funded by a development programme known as the INcreased CApacity (or INCA) project, was designed to match the appearance of the 1880s Fairlies, but with many improvements to performance and range, including a completely new tapered boiler design with higher degree of superheat, Earl of Merioneth was then stored as a kit of parts until 1995/6, while repairs were made to the boiler.
However, the same problems were also being experienced with the boiler on Merddin Emrys, which resulted in it being withdrawn in 1996.
So as to keep two double Fairlies running, Earl of Merioneth reappeared in 1997 with bogies and burners from Merddin Emrys, and also new round smokeboxes, which further 'smoothed' its appearance.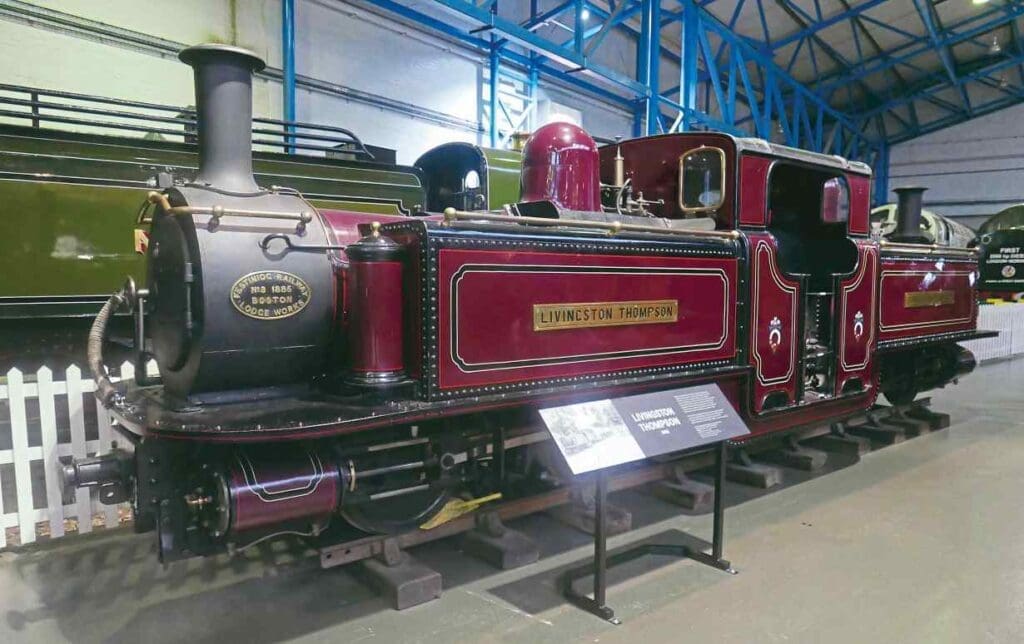 Despite being built as an oil burner – the Ffestiniog started converting its engines to oil firing in the early-1970s in a bid to reduce lineside fires in the Snowdonia National Park – Earl of Merioneth was converted to coal firing in 2007, because of the by-then significant difference in the prices of oil and coal. As a coal burner, it re-entered traffic on May 27 that year.
In 2012, Earl of Merioneth hauled a special train to commemorate the 20th anniversary of the line reopening to Blaenau Ffestiniog.
Regarding David Lloyd George, because its boiler is designed to operate at a higher pressure and has a greater degree of superheat than any other double Fairlie example, it is the most powerful steam locomotive to run in normal service on the Ffestiniog. It is able to haul 12 coaches efficiently and economically, and was designed from the outset to be oil fired. It was named after David Lloyd George, the Liberal party prime minister who grew up locally and travelled on the line.
On May 28, 2012, David Lloyd George headed a 'special' carrying the Olympic torch.
An appeal had been launched in 2010 to build two new bogies to fit beneath No. 12. Its bogies were removed in February 2013 and fitted to Earl of Merioneth, and the boiler was stripped, retubed and converted from oil firing to coal.
During the winter of 2013 and early-2014, the locomotive was reassembled with both of its bogies on their wheels and valve gear fitted, and new taller chimneys installed. No. 12 returned to service in May 2014.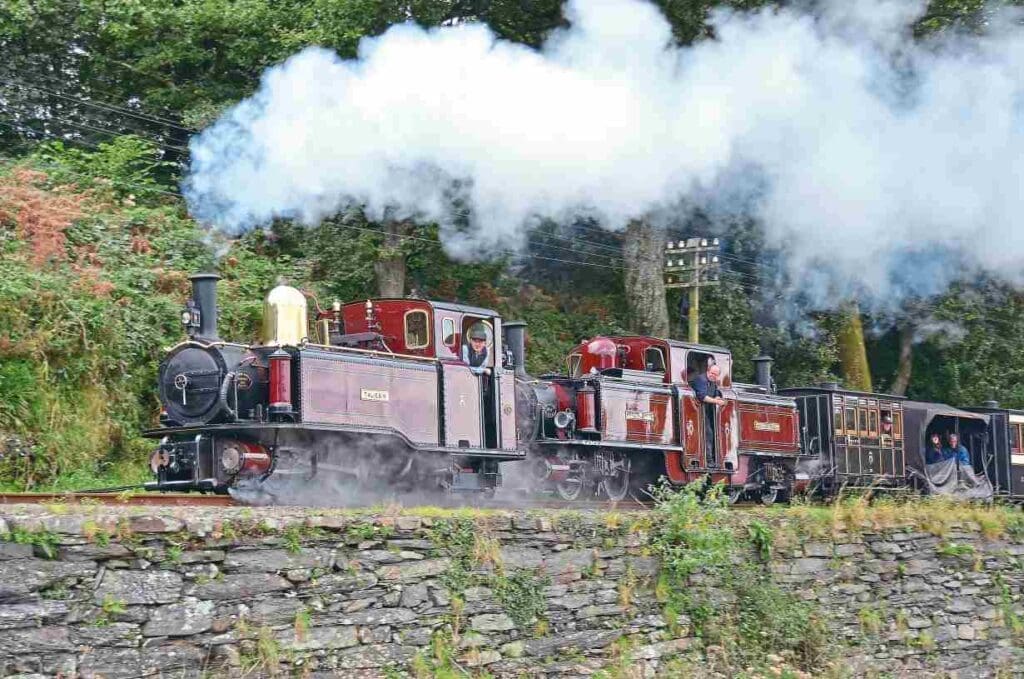 A Seventh Double Fairlie In The Offing
In April 2016, the Ffestiniog Railway announced that Earl of Merioneth would be withdrawn and replaced by a new double Fairlie, to be named James Spooner.
Only its power bogies, built in 1986, were serviceable, and they are in need of heavy overhaul and new tyres. The decision was made by the railways' board that building a new locomotive was the best approach rather than patching up one that is effectively life-expired. The bogies and expensive fitting, such as pressure gauge, water gauges and injectors from the 1979 new build, were set to be removed for use on the new locomotive, with the rest of the body being left intact on its original bogies. That would allow for the 1979 locomotive to be restored in its own right in the future.
In December 2016 a fundraising appeal was announced for all new components for James Spooner.
Earl of Merioneth bowed out of service on Sunday, April 8, 2018. Its last train was a staff and volunteers' evening special, with proceeds from the ticket sales being donated to the local air ambulance service. Donations and the auction of the special headboard raised £3200.
Soon after its withdrawal, Earl of Merioneth's bogies were exchanged as planned. Since then the locomotive has been dry-stored at the back of the Boston Lodge heritage carriage shed.
A long-time favourite of the operating staff, there are various unofficial plans to return it to service using either its original boiler, the second of the two new double engine boilers, or using Merddin Emrys's boiler after it has finished its current 10-year ticket.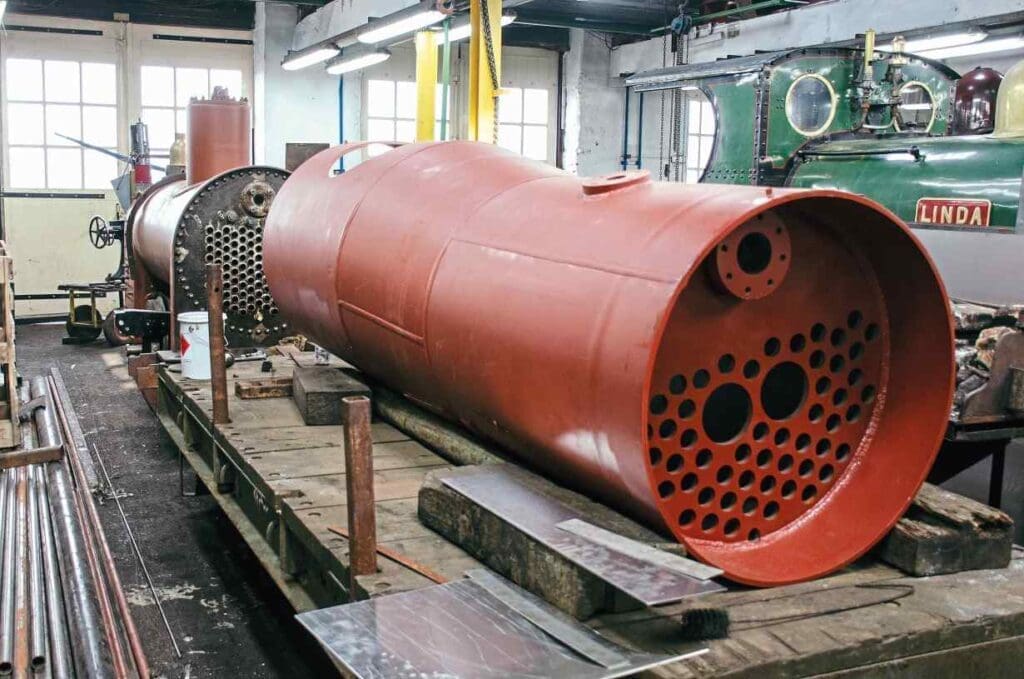 The new James Spooner will carry the number 8, as did its predecessor. It will have a traditional appearance, yet will be clearly identifiable alongside Merddin Emrys and David Lloyd George, with stovepipe chimneys and a removable cab roof centre section reminiscent of Merddin Emrys, as originally built. It is hoped some original components and design details will be incorporated into the new locomotive.
It is planned that the new James Spooner will enter traffic in 2020, in time for the 150th anniversary of the Little Wonder trials in 1870, when the world's first successful double engine hauled a train of 111 slate wagons, six carriages, 60 passengers and 12 goods wagons, 1350ft long.
The Festiniog also owned a single Fairlie, the 1876-built Taliesin, which was scrapped in 1935. A replica was built at Boston Lodge in 1999, using some parts from the original: there are those who would therefore like to consider it a 'rebuild' rather than a copy.
What of the Fairlies that served abroad?
Josephine, a double Fairlie, is preserved in New Zealand's South Island at Dunedin, and a 60cm-gauge double Fairlie tramway-type engine that ran on a French narrow gauge line is at the Dresden Transport Museum in eastern Germany.
Until recently, it was thought there were no other double Fairlies or remains thereof surviving in Britain.
However, in June 2004, Heritage Railway magazine revealed two boilers from scrapped standard-gauge double Fairlies had been rediscovered in Burry Port, South Wales. The discovery was made by the Gwendreath Railway Society, which wants to reopen the Burry Port & Gwendreath Valley Railway, on which they ran.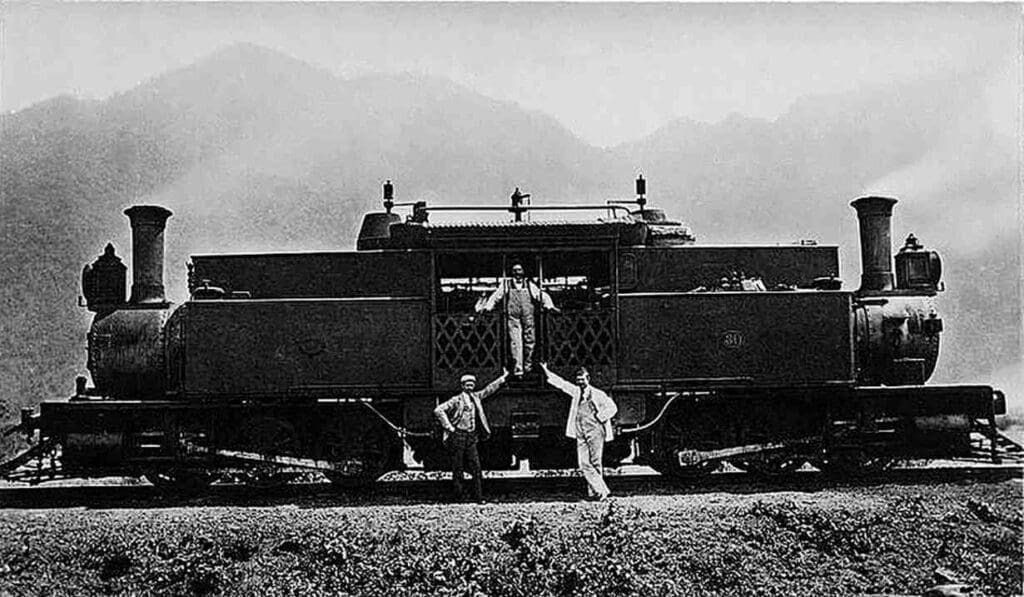 It is believed one of the boilers belonged to an 0-4-4-0T, originally named Pioneer, but later renamed Mountaineer, and which in 1869 was only the second engine to be built by the Fairlie Steam & Carriage Company.
The other boiler is believed to come from 0-6-6-0T Victoria, one of the aforementioned early Fairlies returned from Queensland, and later sold to the Burry Port line. The boilers were scrapped around the turn of the century, and are now 6ft underground – in use as stormwater culverts!
The society has made the local authority aware of its interest in the boilers, which are said to be in reasonable condition, taking their use for the past century into account.

Undoubtedly, they are historically valuable artefacts, and will be retrieved if ever the chance presents itself. They could not be considered themselves as the basis for any new-build locomotive project, but could be used as a template to build a new boiler, or two.
To summarise, Fairlie's invention may seem weird by comparison with other steam locomotives today, but he was not far wide of the mark. Most main line diesels and traction units today have cabs at either end and turntables are a scarcity on the national network.
In hindsight, the double Fairlies, or at least the thinking behind their design, might therefore be seen as light years ahead of their time.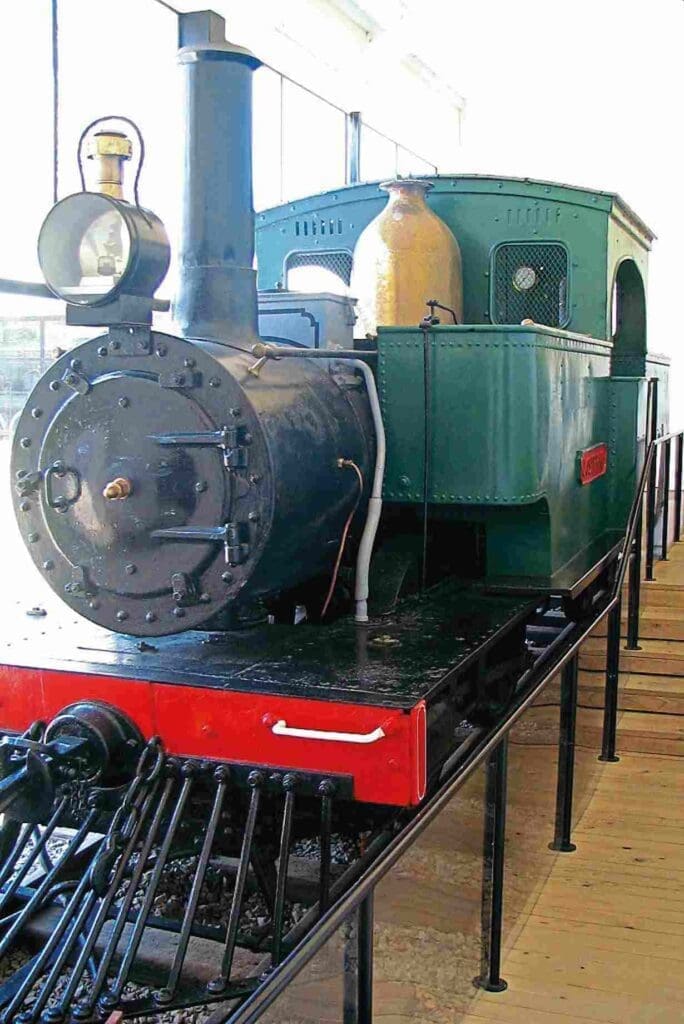 ---
Advert
---
Railway Reads
From the history of steam through to 21st century rail transport news, we have titles that cater for all rail enthusiasts. Covering diesels, modelling, steam and modern railways, check out our range of magazines and fantastic
subscription offers.
Get The Railway Hub Weekly Round-up
Enter your e-mail address below and you will receive weekly rail news straight into your inbox…

You can unsubscribe at any time.