Despite a difficult 2021 with new models delayedby a variety of challenges relating to the global economy, Hornby looks ahead with new innovations and up-to-date models.
Global shipping crisis, component shortages, manufacturing capacity issues and Covid19 aside, Hornby painted an upbeat picture for its 2022 range, with new innovations and models sprinkled throughout. Established models are upgraded whilst others are either augmented with new trailers or are completely reworked from the rails up.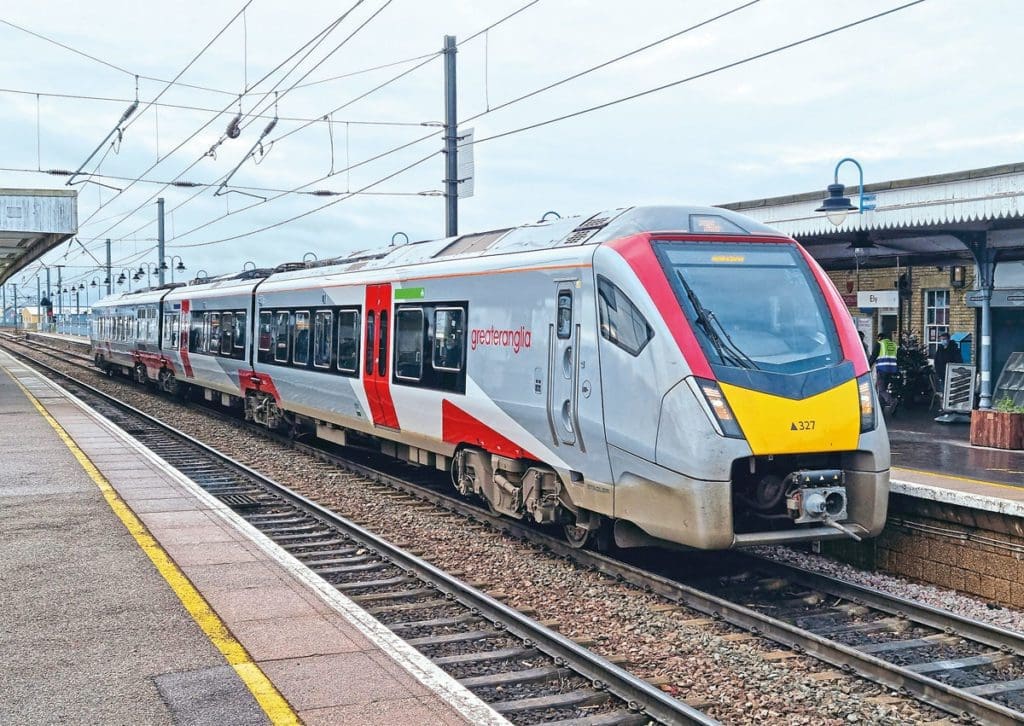 New innovations include development of simulated steam for steam locomotives which is synchronised with sound decoders, whilst 21-pin DCC interface circuits are fitted to existing main range diesel-electric locomotive models together with development of a new matching 21-pin locomotive decoder.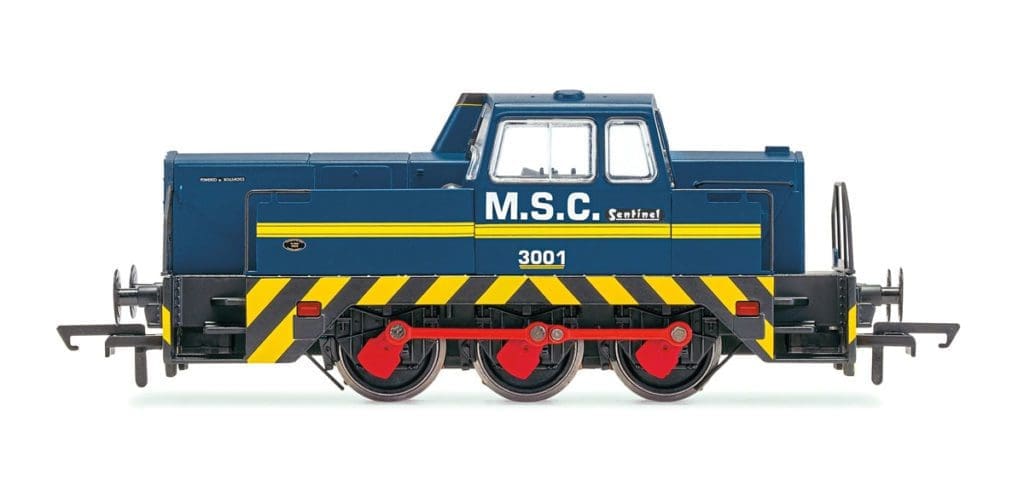 Magnetically controlled interior lighting will be made available for newly tooled Mk.3 coaches, whilst one new model will require a completely redesigned coupling system which is subject to a patent application. Given the number of models from the 2021 catalogue remaining to be released, the breadth of the new range is better than one might have expected, with something for almost every D&E modeller.
Stadler 'Flirt'
Complete with their 'vroom cupboards', the Class 755 'Flirt' bi-mode multiple units have captured the imagination of enthusiasts. The separate power module brings back the essence of Mk.1-based DEMUs and Class 210 where the engines are separated from the passenger environment.
Hornby revealed Greater Anglia Class 755/3 three-car and Class 755/4 four-car Flirts for a planned release in December 2022. The power module (or 'vroom cupboard', as enthusiasts like to refer to it) has articulated bogies which has led to a new coupling design. Hornby was reluctant to reveal more about the coupling at this stage. Nonetheless, such an up-to-date train model is a welcome addition to Hornby's range of train packs.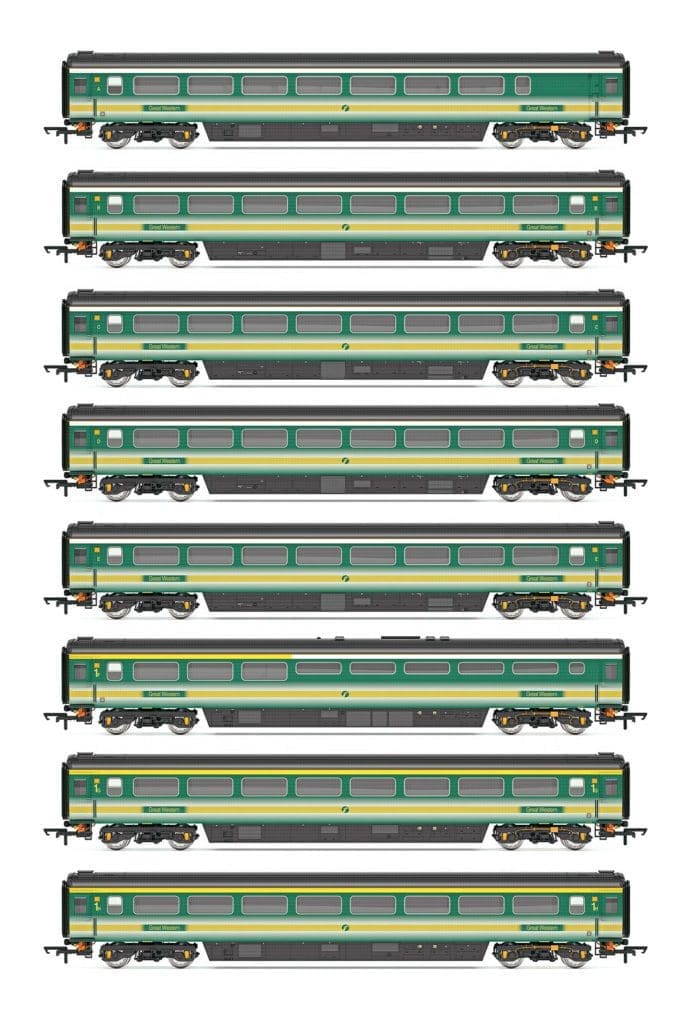 HST upgrade
The current range of Mk.3 HST trailers was updated around 1999, and consequently Hornby has recognised that the models no longer match the standard achieved with the new Mk.3SD stock released a couple of years ago. Brand-new tooling will cover the principle slam-door HST trailer types and will be designed with the new magnetic switch interior lighting system in mind.
At the same time, the HST power car pack, with its powerful motor and twin flywheel drive, is upgraded with a 21-pin DCC interface socket and close coupling cams to match the new Mk.3 trailers, which will have matching close couplings.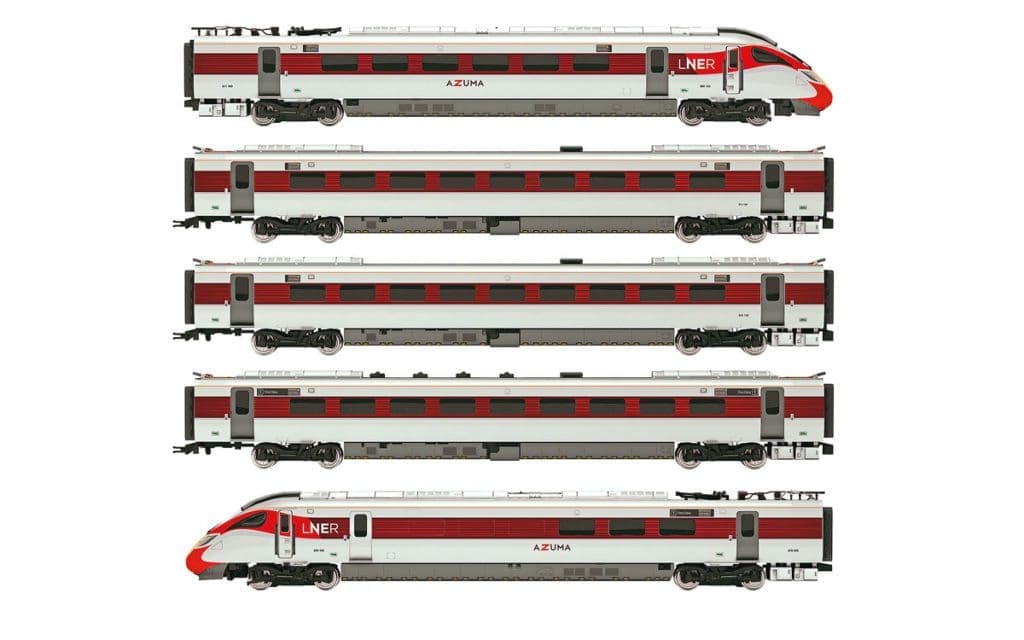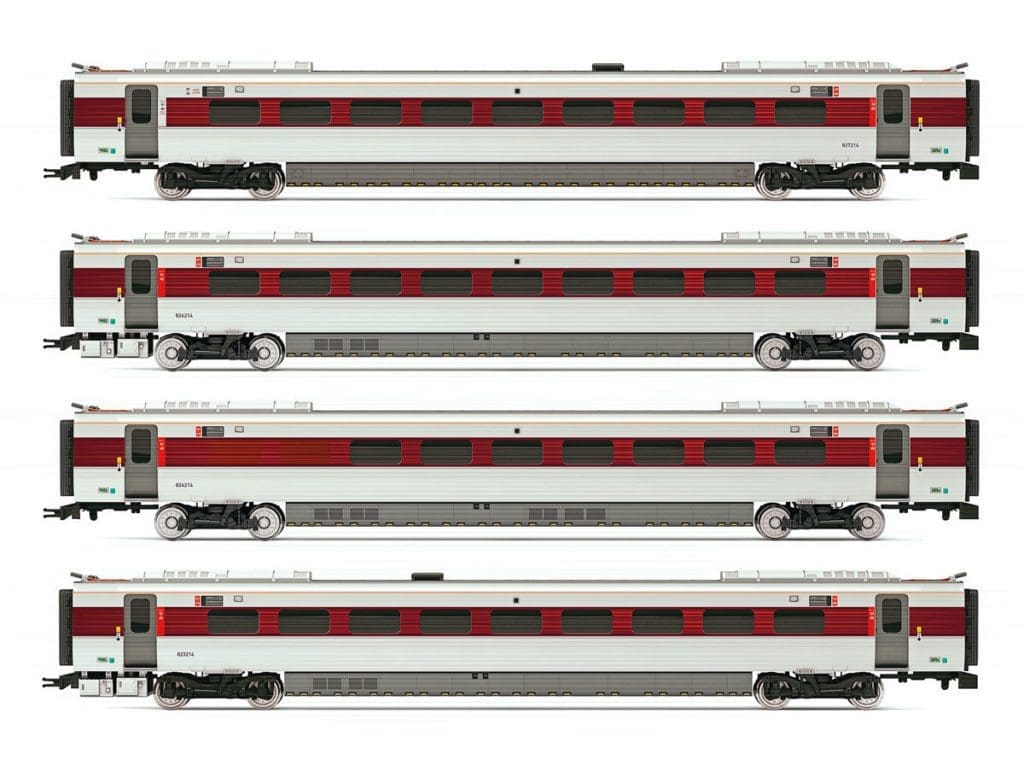 The revised HST power car packs comprising of one motorised car and one trailing car are to be issued in East Midlands Trains, RailAdventure, First Great Western, Great Western 'Castle Class' and East Coast liveries priced at £362.99, together with sufficient matching trailers (£44.95) to assemble complete train sets.
Hitachi units strengthened
Azuma units appear once again with a five-car Class 801/2 train pack finished in LNER livery alongside brand-new tooling for a four-coach add-on pack comprising of the additional cars required to make it up in to an authentic nine-car set for those with the room. East Coast Main Line operations are further represented with a five-car Class 803 finished in Lumo blue, along with a much desired Transpennine Express five-car bi-mode Class 802/2 'Nova 1' unit.
A Great Western five-car Class 802/1 model intended for strengthening with a four-car add on coach pack is included in the catalogue with indicated retail prices for the five-car packs being £502.49 and the add-on packs priced at £264.99.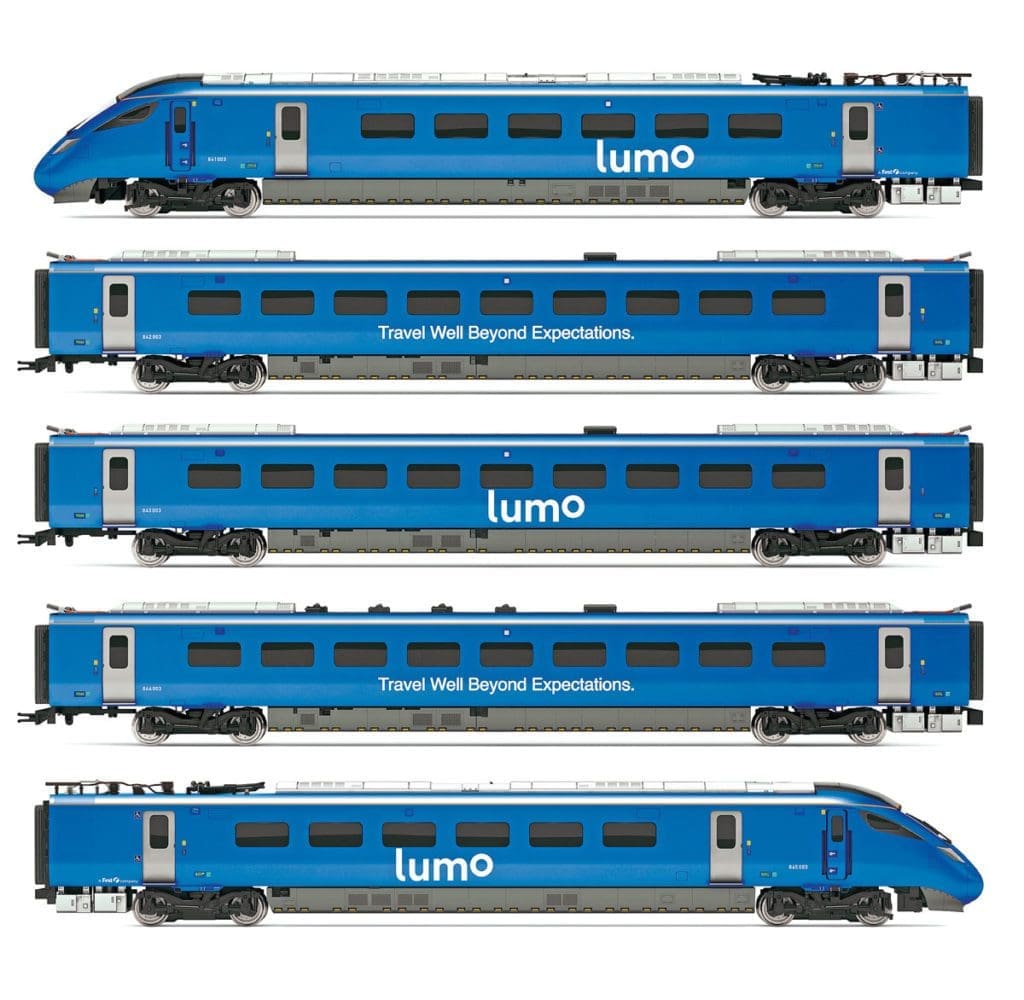 A new industrial
The popular Hornby Sentinel 0-4-0 diesel shunter is supplemented with a brand-new model of the 0-6-0 version with a completely new tooling, a development which will add to the appeal of industrial railway modelling. Three liveries are applied with Port of Bristol, Manchester Ship Canal (MSC) and NCB being represented. Whilst an indication at this stage, the suggested price is £108.99 with a spring delivery slot.
Welcome old favourites
Class 66s do not feature as much as in past catalogues. They are represented by four models covering DRS No. 66432 and GB Railfreight No. 66748 in plain grey; No. 66793 in heritage Trainload Construction livery and No. 66793 as The Green Progressor.

Railroad Plus models include 12 models with Class 31s returning in heritage InterCity livery as Fragonset No. 31454 The Heart of Wessex and RTC No. 97203. Two Class 40s also appear with BR green No. D232 Empress of Canada and departmental BR blue No. 97407 making the catalogue. Both 'Whistlers' will provide options for detailing and upgrading for cost-conscious modellers. Two Class 67s including Colas Rail No. 67023 Stella; Class 47/57s and two Class 37s are included in various liveries with a price tag of £96.99 being indicated.
Main range locomotives Two Class 91s and an additional APT-P NDM vehicle to match a further run of the APT-P train packs are added to the range. The Class 91s are finished in both LNER 'Flying Scotsman' vinyls as No. 91101 and Battle of Britain Memorial Flight No. 91110 (£223.99 each).

Representing the introduction of the Class 60, two models are released in original Trainload Freight liveries as No. 60001 Steadfast and No. 66002 Capability Brown. At the opposite end of the scale comes two Ruston 48DSs as Gower Princess and GCR(N) No. 1 Qwag (£108.99). Remaining on the shunter theme are three Class 08s in BR blue as No. 604 Phantom; BR black No. 13709 and up-to-date Loram No. 08632 for £185.99 each.
BR green 'skinhead' Class 31 No. D5500 (£217.99) and BR blue No. 31139 are slated for delivery in the summer. Two more Class 50s should appear in the summer too, decorated as Network SouthEast No. 50044 Exeter and BR large Logo No. 50042 Triumph. All of the Co-Co diesel electric locomotives in the main range are upgraded with 21- pin DCC interface sockets and priced at £223.99, except No. D5500.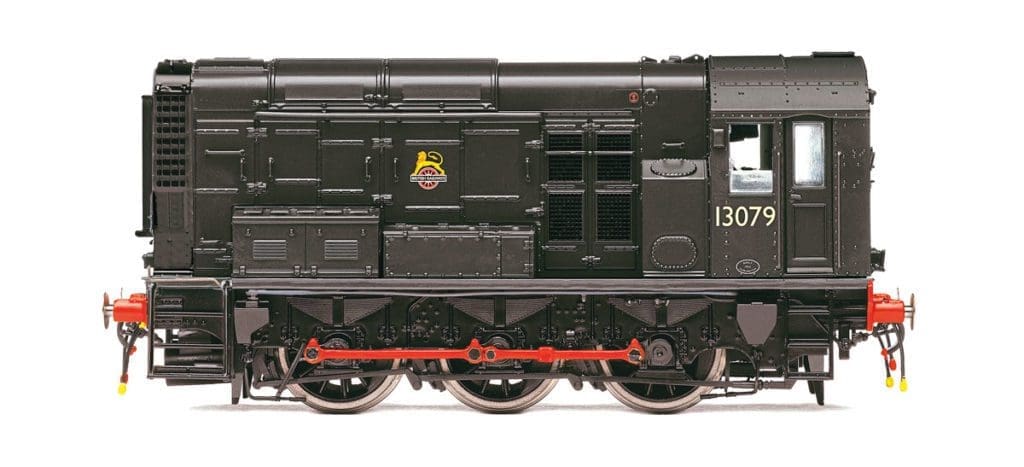 Coaches
Apart from the new Mk.3 HST trailers, all coaching stock models are reissues. A Mk.4 DVT is added to the range to match LNER Flying Scotsman No. 91101 (£84.99). DRS Mk.2 coaches are added to the range with two Mk.2e and three Mk.2f TSO coaches with various running numbers (£44.99). Two Caledonian Sleeper Mk.2 RLO vehicles are also included, with blanked windows (£45.99).

Mk.1 coaches include catering coaches in BR livery as RBRs and two BCK coaches in BR crimson and cream. Departmental Mk.1 stock continues to feature in the range with Balfour Beatty BSK No. 977165; BR BSO No. ADB977135 together with RTC laboratory and test coaches including No. RDB975280 Test Coach Mercury. All Mk.1 coaches are priced at £44.99 and will be available in the winter of 2022.
Wagons
Wrapping up this gallop through Hornby's new 2022 catalogue are those wagons which will be of particular interest to readers. The MHA ballast/ spoil wagon is reissued, both as singles (£25.49) and triple packs (£72.99). An ex-LMS departmental van as RTC No. 975667 is a colourful addition (£29.49) alongside the old VDA van which appears in two liveries (£31.49).
Mail and parcels traffic is covered by two Mk.1 GUVs in BR rail blue (£48.49) and a potential repainting subject: a Southern Railway luggage van. Brake vans feature too with BR 20t brake in grey (£36.49); former LMS 20t brakes in S&T livery – as well as an LMS brown one – (£29.49) and a 'Shark' in LoadHaul orange and black as No. DB993826 (£42.49).

New tooling is being prepared for the GWR 'Loriot Y' wagon which is offered in two forms, one of which is BR grey with ZXP TOPS code applied which will appeal to collectors of departmental wagons of pre[1]Nationalisation origin (£38.99).
Finally, Hornby added further KFA container wagons to the collection with four new versions in blue, three of which are loaded with a combination of 20-foot and 40-foot containers (£53.49). One is empty (£35.49) for those modellers choosing to buy one of the three new container packs (£20.99) which cover shipping companies as diverse as Maersk, Hanjin, Genstar and DAL. Two sets of 20-foot container tanks with colourful liveries covering Concisca, Hoya Odfjell and Bulkhaul also appear (£30.49).
The range certainly covers a lot of ground when added to the rump of the 2021 range yet to be released, including Class 91s and Mk.4 stock; the APT-P train packs and various locomotives and coaches. Some Mk.3 stock has been held back pending developments with new tooling including the Midland Pullman stock which will now be produced with the new tooling and features.

Despite the on-going challenges, Hornby continues to invest in new trains and technology with the Greater Anglia 'Flirt' unit being the surprise of the 2022 range.
Special Editions
A small number of models are being marketed by Hornby in a different way with some models appearing as exclusives to the Hornby website, including the Rail Charter Services' staycation HST set. The power cars and trailers will be sold for the same price as the main catalogue items. DB Cargo Class 66 No. 66185 Climate Hero is also added to the web-only specials list for £96.99. A small range of models are allocated for retailing through Hornby's Tier 1 customers, including the DRAX IIA biomass wagons of which two models will be produced with Northern Powerhouse markings (£49.99). The second model to be issued for Tier 1 customer network is Fastline Class 66 as No. 66301 for £96.99.
---
Advert
---
Railway Reads
From the history of steam through to 21st century rail transport news, we have titles that cater for all rail enthusiasts. Covering diesels, modelling, steam and modern railways, check out our range of magazines and fantastic
subscription offers.
Get The Railway Hub Weekly Round-up
Enter your e-mail address below and you will receive weekly rail news straight into your inbox…

You can unsubscribe at any time.