Creating a business converting former BR Mark 1 (Mk.1) coaches for residential and leisure purposes was always going to be a challenge, but Armin Obrecht has almost completed his first conversion. Andy Coward met the Iconic Railway Coaches founder to find out more.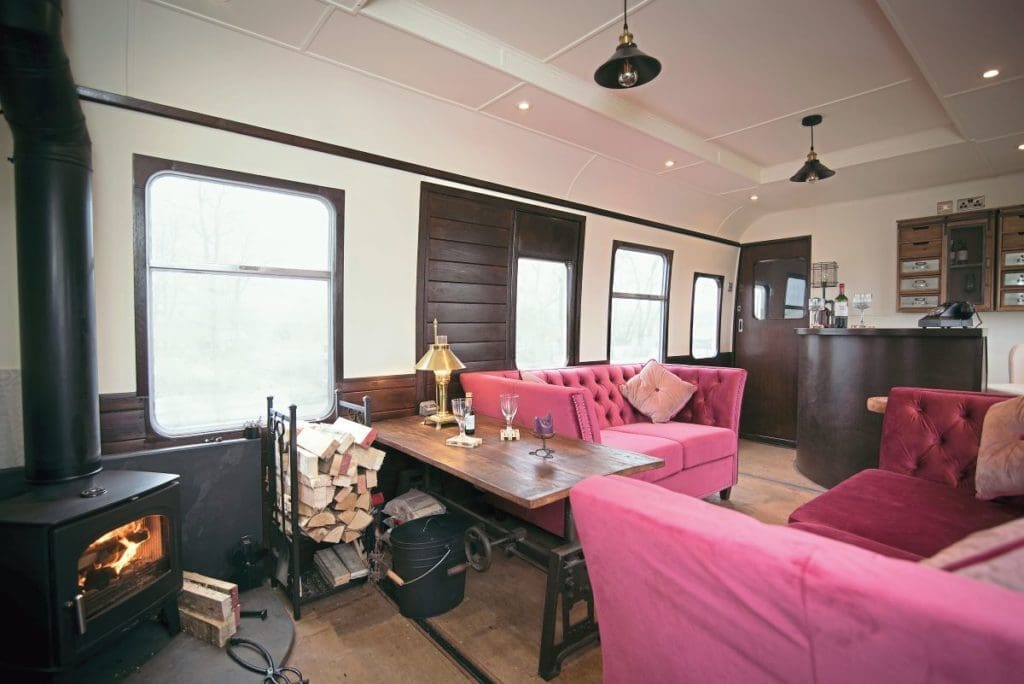 All Photographs: Iconic Railway Coaches / Paul Mason
All around the country at heritage lines and on some private sites are derelict British Railways Mark 1 (Mk.1) coaches, patiently awaiting the call for restoration or scrap. These coaches, which were built in their thousands, are an instantly recognisable part of our railway history.
I travelled to Hemel Hempstead to meet a man who aims to breathe new life into unloved, derelict Mk.1 coaches – converting them for the private luxury market rather than for operation on heritage railways – and his enthusiasm shines through.
"The Mk.1 coach is as iconic as the Routemaster bus and is an instantly recognisable classic British design," explains Armin Obrecht, the founder of the aptly-named Iconic Railway Coaches, who is showing me around the first such carriage that his company has re-purposed into an attractive home.
This coach, BR Mk.1 Brake Corridor Composite (BCK) M21240, is the company's showpiece, where potential customers can see just what can be achieved. With a number of orders for similar conversions in the pipeline, it looks like Armin may have struck on a winning formula for his burgeoning heritage business.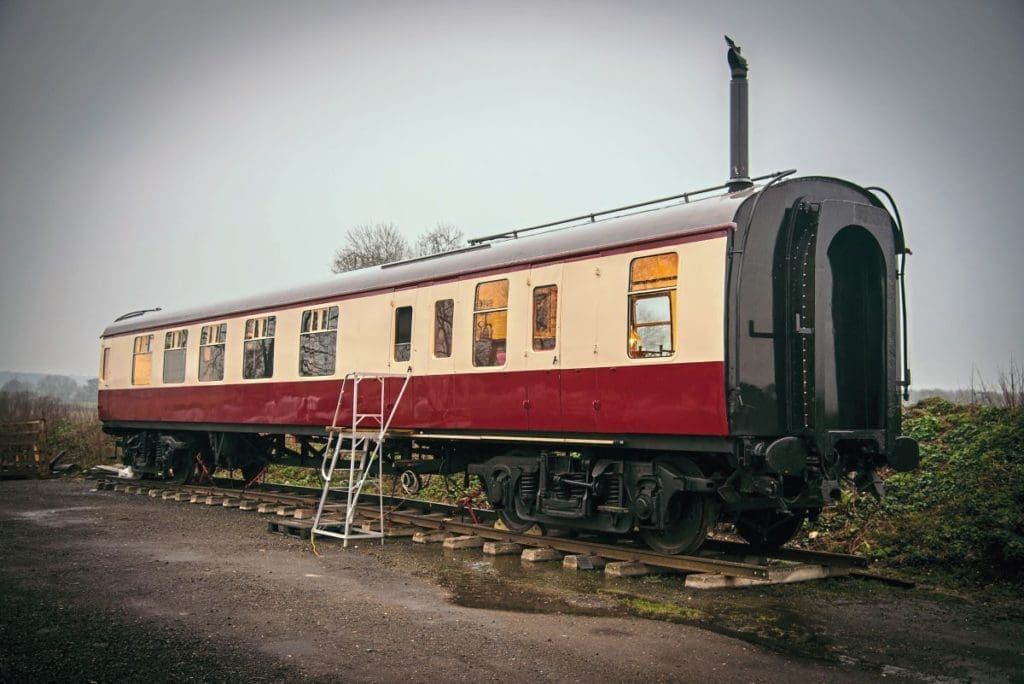 I'm sitting in the former guard's brake and parcels area of the BCK, which now forms an attractive living room – complete with its own bar, two large comfortable sofas, an armchair, table, and welcoming wood-burning stove in the corner. It's incredibly cosy on a sunny but cold morning.
The vehicle originally contained three standard class compartments, two first class compartments, and a toilet at each end of the passenger accommodation, with a guards office and parcels area at the other end of the coach.
The BCK featured more passenger accommodation than the more numerous BSK design (which had four standard class compartments and a larger parcels area), but the design of the vehicle has allowed for a surprisingly roomy conversion to be carried out without ruining the feel of the carriage, and the living area doesn't feel cramped.
Work isn't quite complete, but it is clear that the finishing line is well in sight. The corridor and compartment area has been retained, with one of the first class compartments transformed into a smart and functional modern kitchen containing space-saving appliances, a built-in fridge, and plenty of cupboard space.
The other first class compartment now contains a fold-out table, with wall lighting and mirrors in a similar but more contemporary style to those that would have been fitted when in BR service; overhead luggage racks remain to be fitted to add to the authentic feel, but they are ready to be installed. The seating in this room, too, is not yet complete but will provide a cosy a dining room to comfortably seat six people.
Two bedrooms have been created – a former standard class compartment is fitted with single bunk beds, while the other two standard class compartments have been knocked into one to create a double bedroom, complete with built-in cupboards. At the far end of the carriage is a spacious bathroom, complete with a tiled wet room. Again, the utilisation of the former toilet and corridor section has provided plenty of room for a bathroom that defies the available space.
Ceilings have been lowered in parts of the coach, while LED lighting and other modern fixtures give a high-quality finish.
Due to the steel construction of the carriage, Armin was well aware that without decent insulation, it could be freezing cold in winter and sweltering in summer, so insulation has been fitted throughout in the ceiling and walls. The concrete floor in the parcels area was removed and replaced with a wooden one.
Underfloor heating elements are still to be laid before the final flooring is installed, and there are a few other minor tasks to finish.
The design is clever and practical while sympathetic to the heritage. It is clear that Armin has put a lot of thought into what people might want from a railway coach converted for living accommodation.
While the rooms created from compartments are limited in size, they don't feel as cramped as they probably should. This could make a comfortable home, even though it has lost very little of its railway origins.
While it would not suit everyone's tastes, I am suitably impressed by what has been achieved and could picture myself living in such surroundings.
The coach is currently located on a small industrial estate on farmland in a rural area midway between Hemel Hempstead and Berkhamsted on the West Coast Main Line. With all the external windows retained, it feels bright and airy, with views across the adjacent fields on one side.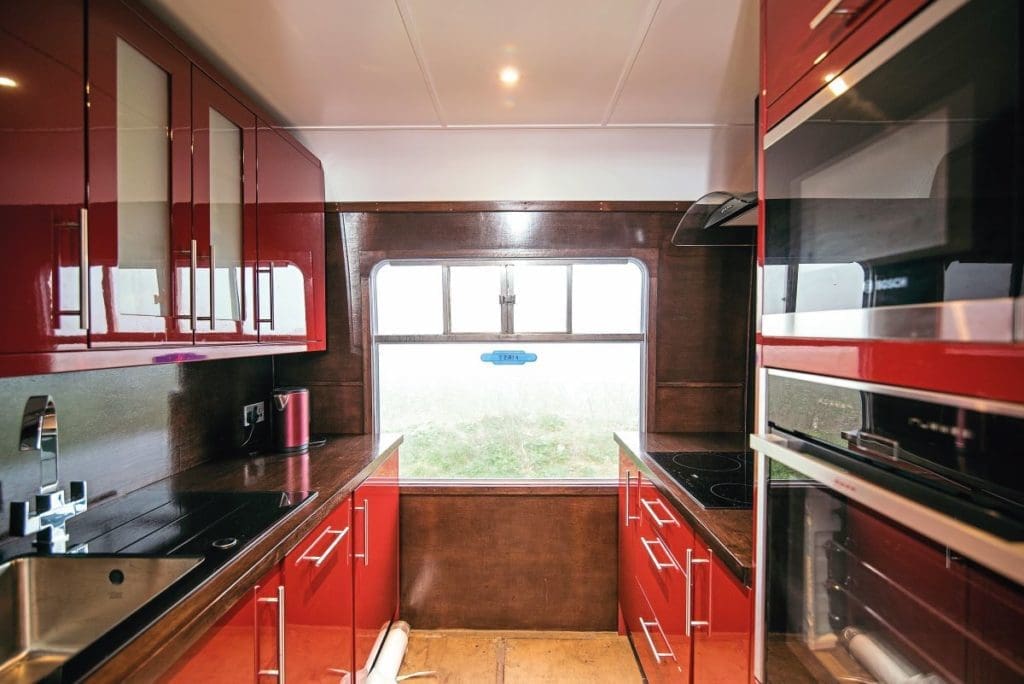 Large number
Built in huge numbers between the 1950s and 1960s, there are still a large number of Mk.1 coaches in service in 2022, both on the main line with the likes of West Coast Railways, the Scottish Railway Preservation Society, and Riviera Trains, as well as being the bedrock of operations for the majority of our heritage lines.
There are probably hundreds of Mk.1s stored out of use in varying conditions, from those awaiting a light overhaul, repaint, and return to service to ones in a derelict condition with, seemingly, barely a chance of being restored in the future.
It is the coaches falling into the latter category that are of interest to Armin. He has identified a number around the country that are ideal for conversion into living accommodation or whatever purpose his clients wish for them. He has reservations against a number of coaches and is hopeful that his business will get the chance to re-purpose a good number of them for alternative uses.
He explains: "The first coach is designed to show how a Mk.1 can be converted into a comfortable home, holiday let, or luxury guest accommodation, but there are so many possible alternative uses – garden offices, a home cinema, games rooms, glamping accommodation, or anything that can be created within the footprint."
Converting old railway coaches for other uses is nothing new and there are a number of very good quality restorations dotted around the country in use as camping coaches, holiday lets, or in private ownership. However, Armin is firmly aiming at the luxury end of the market and has identified a number of possible clients who have expressed an interest in the work he has done on the first coach, although delays getting it completed and the coronavirus pandemic have meant his business has had a somewhat difficult birth.
Armin is a chocolatier by trade and has worked with a number of high-end luxury chocolate companies and brands throughout a successful career, but the lifelong railway enthusiast had long harboured an ambition to own his own Mk.1 coach and convert the interior into a home.
"I was born in London to an English mother and a German father, but as a child I spent a number of years living in Germany and vividly remember spending a lot of time travelling on the German railways, which gave me a lifelong love of the railways.
"In the 1980s I was living back in the UK and I can remember thousands of Mk.1 coaches being scrapped at Leicester, thinking what a waste it was for these vehicles to be cut up with plenty of life left in them.
"A Mk.1 could be bought very cheaply then, but regretfully I couldn't afford it at the time. I think that's when the seed of the idea was first planted."
A keen O gauge modeller, Armin has scratch-built many model railway locomotives and coaches over the years and also had a live steam garden railway in his home next to the River Thames at Marlow.
However, his ex-wife didn't share his enthusiasm for having a full-size railway coach in the garden of their home, so it remained an unfulfilled ambition.
It was during a visit to a heritage railway with friends that he saw a number of semi-derelict Mk.1 coaches rotting away in sidings and his interest was rekindled. Having enjoyed a successful career and believing there was a market for transforming derelict Mk.1s for alternative uses, Armin was convinced the concept could be successful.
He explains: "I mentioned the idea to a few people and they all agreed that it could be successful, even if it is slightly niche, but I did have a Plan B in case the business wasn't successful. Once the conversion was complete I could always hire the vehicle out as a rental home or for holiday lets."
One of the first people Armin discussed his idea with was the late Sir William McAlpine, whom he had known for a number of years through his chocolatier business. He was a regular visitor to Sir William's private estate at Fawley Hill, and Sir William was full of encouragement and support, telling him to 'go for it'.
One of Armin's biggest regrets is that Sir William passed away before his first coach was complete.
Six years ago he purchased the 1961 Swindon-built Mk.1 BCK M21240 and moved it from the Weardale Railway to a workshop in Shildon, where contractors were employed to carry out the transformation.
"The coach wasn't in great condition and had a lot of the bodyrot problems that are common with Mk.1 coaches," Armin explains.
"However, it was always my intention to carry out the restoration to the highest standard and I planned to completely re-skin the vehicle in a thicker grade of steel, so the poor condition of the coach didn't put me off."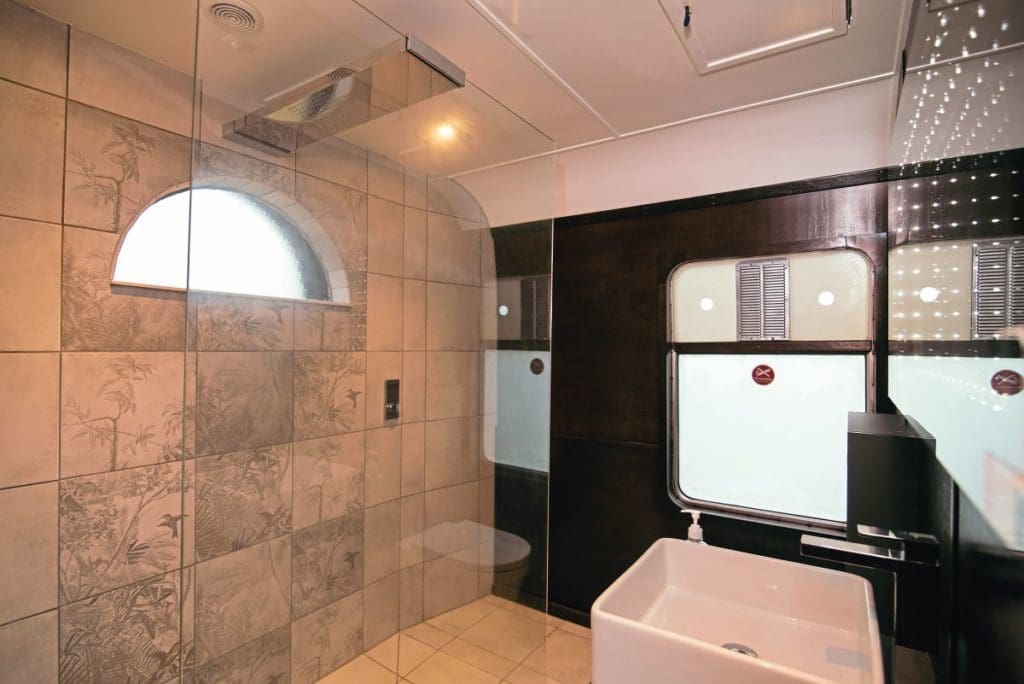 Quirky nature
His home conversion idea for the coach was picked up by the television production company producing George Clarke's Amazing Spaces show on Channel 4. It shared Armin's vision as to how a carriage could be transformed from a derelict hulk into a comfortable home; the rather quirky nature of the project was an attractive prospect.
The production company began visiting Shildon on a monthly basis to film the various stages of the rebuild, but a lack of progress by the contractors Armin had employed was becoming noticeable and causing concern, resulting in filming being stopped and the decision taken to drop the conversion from being featured on Amazing Spaces.
Armin was disappointed as the show had the potential to showcase his project and business. He was forced to take action against his contractors and this caused delays to the project as work came to a standstill.
He managed to salvage the project thanks to two industry-served coachbuilders who had done some work for the original contractors before that relationship soured.
"I was cautious at first after the problems I had suffered, but these guys turned out to be saviour of the project and I am so pleased they picked the job up. They were fantastic."
Having managed to get things underway, Armin was faced with a problem no one could ignore – the pandemic. By this stage, work on re-skinning the coach was progressing well and much had been done on refurbishing the underframe and supporting structure. As Armin says: "By the time the coach was painted, beneath the paintwork the structure was probably better than when it was new."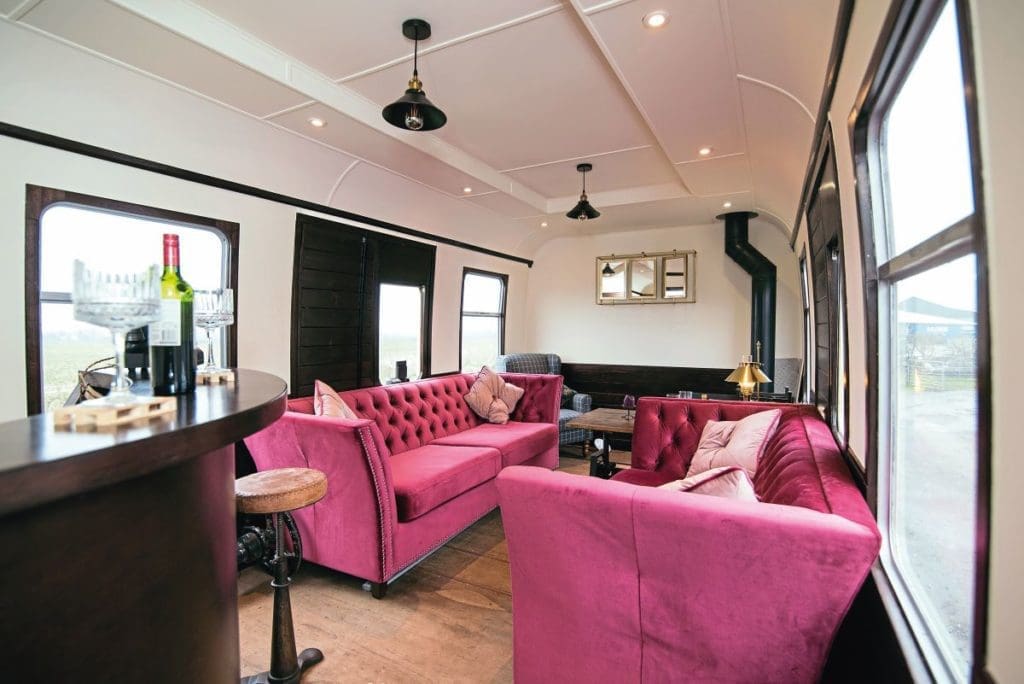 When Covid-19 restrictions allowed for work to be carried out on the vehicle, Armin employed his contractors for 25 hours a week and asked them to keep going. This turned out to be great decision; by the start of 2021, work was reaching the stage where the coach could be moved to its current home, close to where Armin now lives.
Speaking of the restoration and build quality of the coach, he is animated in his praise for the craftsmen who built Mk.1s for British Railways in the 1950s and 1960s. "When you look at these vehicles, the build quality is fantastic. It's essentially a postwar product, but the quality of the woodwork and construction is unbelievable and has really stood the test of time.
"Yes, it's true that they tend to suffer from corrosion and bodyrot, but when you consider how long it is since they were built, the design has certainly proved itself."
The bodyrot Armin mentions will be familiar to anyone who has worked on Mk.1 coaches. They are notorious for corrosion around the windows, coach ends, and structural crash pillars. Armin's vehicle has been completely re-skinned with a thicker grade of steel (making the coach slightly heavier than it originally would have been), prior to it being sealed, primed, undercoated and painted in a high-quality paint.
M21240 has been outshopped in BR carmine and cream (more commonly known as blood and custard), although it is still awaiting the application of lining, fleet numbers, and BR coaching stock crests – work which is due to be carried out imminently.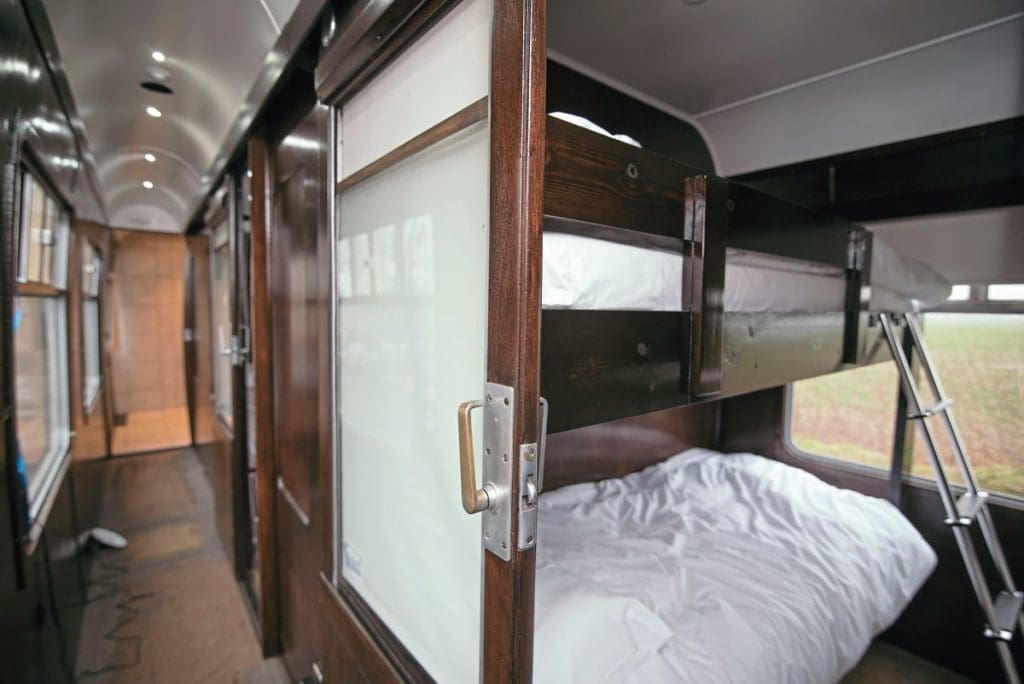 Interestingly, M21240 is the BCK modelled in N gauge and OO gauge by Trix models, and appeared in model form both in maroon livery as well as blue and grey colours. Armin was unaware of this link when he purchased the coach for conversion and was amazed when a friend presented him with a model of the coach now in his ownership.
But Covid-19 and the uncertainty that resulted from the pandemic has had a negative effect on the Iconic Railway Coaches order book, as Armin explains. "Before Covid struck I had a list of people wanting to buy coaches who all loved the idea. There were various proposals for what customers wanted to do with them, but securing firm orders during the pandemic proved extremely difficult."
Things are now starting to look more promising and interest in the business is growing once more, with a number of proposals in the pipeline.
A number of coaches have been identified for conversion, most of which are currently housed on heritage lines, seemingly forgotten. Some will be changed for commercial use, such as cafés and function suites, while others will be for private customers as homes or offices. Armin says: "Whatever the customer wants, as long as we can fit it within the bodyshell of a Mk.1, we will do it."
Armin believes there is a strong market for his business and has a clear vision as to the future of Iconic Railway Coaches. If this first coach is a benchmark for what can be achieved, I don't doubt that the order book will soon start filling up.
---
Advert
---
Railway Reads
From the history of steam through to 21st century rail transport news, we have titles that cater for all rail enthusiasts. Covering diesels, modelling, steam and modern railways, check out our range of magazines and fantastic
subscription offers.
Get The Railway Hub Weekly Round-up
Enter your e-mail address below and you will receive weekly rail news straight into your inbox…

You can unsubscribe at any time.