Coleham depot is home to Network Rail's small fleet of ERTMS-fitted Class 37s, now designated Class 97/3s. Graeme Pickering finds out how these survivors from the era of British Railways modernisation continue to perform impressively in a unique role.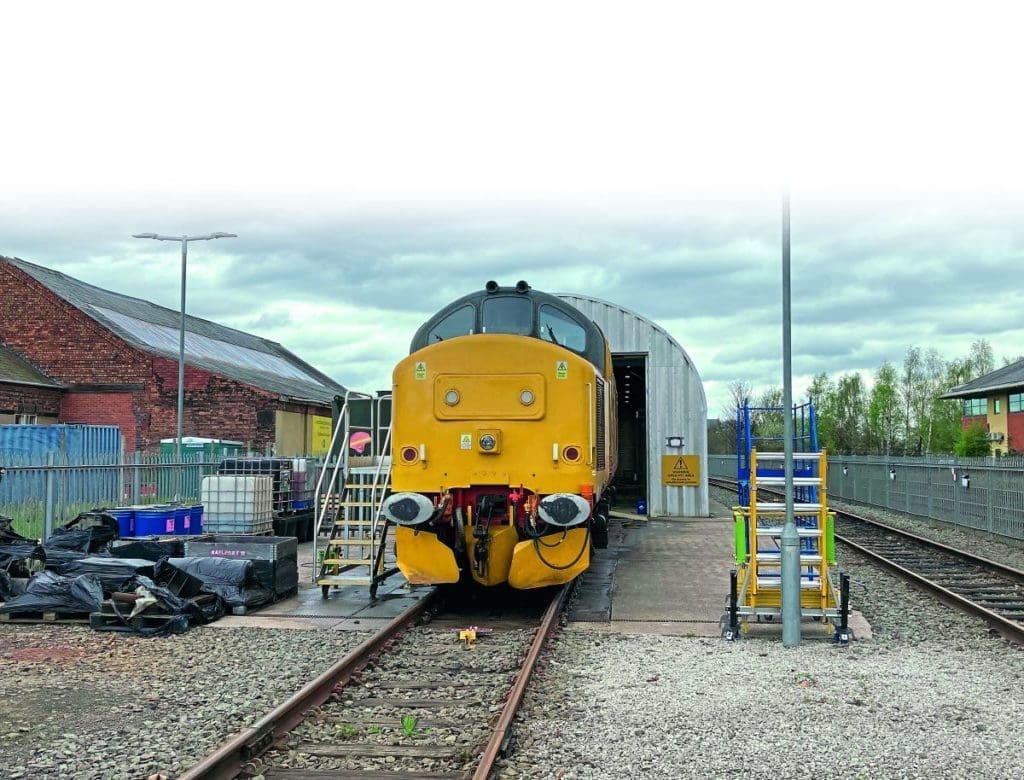 More than six decades since the first examples entered service, English Electric Type 3s remain a relatively familiar sight on Britain's railway network.
While still earning their keep, the growing availability of more modern traction has seen the role of what became known as the Class 37 become more peripheral, but for the three examples redesignated Class 97/3 – based at Coleham depot, near Sutton Bridge Junction, south of Shrewsbury station – the work continues to be intensive and varied.
Their renaissance as Class 97s was tied into the scheme to introduce the European Rail Traffic Management System (ERTMS) with ETCS (European Train Control System) Level 2 on the Cambrian lines, 135 miles of railway, from Sutton Bridge Junction via Welshpool and Machynlleth to Dovey Junction, branching southwards to Aberystwyth and northwards to Pwllheli. As the frequencies used for the previous Radio Electronic Token Block (RETB) signalling were due to be handed back to the Government within a few years, and the routes were regarded as a relatively self-contained part of the network, the decision was taken to use them for a £95 million ERTMS pilot scheme. It became operational throughout in March 2011.
As ETCS Level 2 uses an in-cab display to communicate signalling instructions to the driver rather than relying on physical lineside equipment, 24 Machynlleth-based Class 158 diesel multiple units, which are used on Cambrian lines passenger services, were fitted with the system. Four Class 37/0s were also modified, becoming Class 97/3s. Three of them, Nos. 97302 (ex-37170), 97303 (37178) and 97304 (37217) form the fully-equipped ERTMS fleet and act as pilot locomotives for the routes. The fourth – or numerically first – of the locomotives, No. 97301, was used to evaluate Hitachi ETCS equipment and is currently stored in sidings at Loram UK in Derby, retained with the thought of potentially returning it to service at some stage.
"You've got an engine, a generator, traction motors," says Simon Metcalf, business delivery manager for Colas Railfreight, which operates and maintains the Class 97/3s for Network Rail. "If you compare them to a Colas Class 70,it's like the Starship Enterprise compared to Noah's Ark, but they are reliable, they are robust and there's nothing else. You can't just go to the shelf and say 'I want another RA5 piece of traction'. That's all there is."
​That degree of RA, or route availability, (higher numbers mean greater restrictions) is necessary for the more weight-limited stretches of the Cambrian lines, but is not a feature of more modern types of locomotive that could undertake a similar range of tasks. All of these have higher axle loadings (and therefore a higher RA) and Class 66, for example, is RA7.
On board ERTMS
Inside the locomotives, in the area formerly occupied by the steam heating boiler, sit the racks of cabinet-mounted electronics that are the heart of the on board ERTMS system, known as the EVC (European Vital Computer).
The EVC manages functions and diagnostics of the on board system and receives instructions from balises (transponders) placed in the 'four foot' between the rails as well as GSM-R (the railway's mobile voice and data communication platform). It also supports Automatic Train Protection (ATP) as well as legacy systems in place on the wider rail network, such as TPWS and AWS.
In order to accommodate the cab display screen (known rather more technically as a driver machine interface or DMI), the traditional Class 37 instrument panel has been reconfigured.
On the locomotive underside are the balise antenna and, in place of one of the two fuel tanks, doppler radar equipment to measure instantaneous train speed.
As with many diesels of their era, the English Electric Type 3s are noted for producing clouds of smoke when starting from cold, but the Class 97/3s have been fitted with a programmable preheater to overcome that.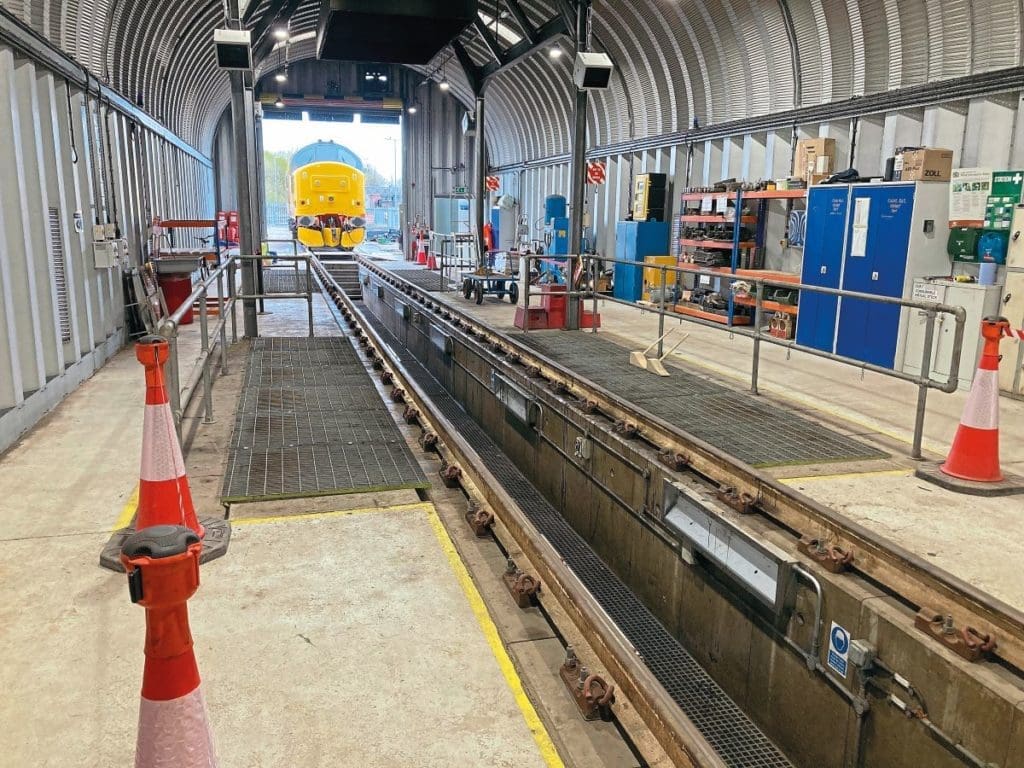 Duties
The duties for this trio of locomotives are diverse. They were used for route proving after February's storms and, with their 'home' lines having fully reopened following repairs, on April 29, Nos. 97304 and 97303 even took charge of the first timber working to be seen on Cambrian metals for years (see Freight page 78).
"You could be doing a tamper on Wednesday, bringing it back on Wednesday night and the locomotive is straight out onto a railhead treatment train," Simon explains. "Each of the departments within Colas and Network Rail have to work together quite closely to work out what we're actually doing with the resources. You might find that, if a locomotive is required in Derby for an infrastructure monitoring service, some of the guys from here will take it across or some of the guys from Derby might fetch it back or vice-versa."
For ageing machines leading busy lives, maintaining reliability is crucial. Network Rail locomotive fleet engineer Nathaniel Lotarew adds that, as they approached a decade in service as Class 97/3s, the decision was made to carry out another extensive overhaul and additional improvements: "They went through an extensive G-exam process, which is equivalent to a 10-year overhaul, and at that point we took the option of doing various reliability modifications. They all received new wheelsets as well, to a new monoblock design that removes some of the failure points we have with tyred wheelsets.
"They're doing quite high mileages in comparison to what they used to do, at the moment about 24,000 miles per year," he says, observing that an E-exam in 2023/4 will be the next big undertaking. "At that point we'll be looking to do some additional life-extension work on the vehicles to make sure that we can still deliver them to our customers."
Performance
That investment, combined with care and attention from the staff at Coleham, has been repaid in terms of performance.
"The '97s', for the financial year 2021/22, delivered pretty much 100% for track renewals," Nathaniel remarks, explaining that the last two years have seen an 'upward curve'.
They may be dealing with much heavier, slower machines than their counterparts in motor racing, but Simon Metcalf says the time management for maintenance is "like Formula 1", especially with autumn railhead treatment trains.
"It's so intensive that they're coming off the RHTT and going onto something else and the exams are slotted in between," he elaborates. "An A-examination could take three or four hours maybe, so you've only got that window between the set coming in and going back out to actually do it."
The small single-road shed, which is part of a bigger Network Rail site on the opposite side of the railway where Coleham steam depot stood, handles much of the maintenance of the three locomotives.
"Anything that requires major intervention like a roof off or a vehicle off its bogies we have to send to a Level 5 depot, so that would be like Derby RTC or Barrow Hill as a location that can handle Class 37s and 97s, but we're very well-equipped here to do most of the routine maintenance," says Nathaniel.
Obsolescence
Due to obsolescence, some parts have to be 'reverse-engineered', but Nathaniel says the most difficult issue at the moment is lead times on wheelsets: "You're looking at over 8-12 months for most major components for the Class 37 wheelset assembly. Suspension tube bearings, wheel pans, the actual wheels themselves, the axles. They're all on huge lead times now, not helped by current global problems."
At this stage, even the team themselves admit that it is difficult to know just how long they will need to operate the '97/3s' for.
"If all of the rolling stock that requires to use that line is fitted with ECTS, you don't then need a pilot service anyway," says Gwyn Rees, Network Rail's Wales Route interim head of maintenance delivery. "That will be fundamentally a choice for the industry, because currently the only fleet that is fitted is the Class 158s, which are all based out of Machynlleth."
As new trains are delivered, inbuilt ECTS provision becomes more commonplace, the Class 197s that will supersede Cambrian '158s' being one of the latest examples. But decisions regarding fitting the technology on a more widespread basis to other locomotives and track machines are those that will have a direct influence on the continued use of the Class 97/3s in the area.
Although he adds there are "a lot of discussions" about ultimately what to do and how to approach it, it seems likely that the Cambrian lines will be a stronghold for the Shrewsbury 'Syphons' for a good while to come.
---
Advert
---
Railway Reads
From the history of steam through to 21st century rail transport news, we have titles that cater for all rail enthusiasts. Covering diesels, modelling, steam and modern railways, check out our range of magazines and fantastic
subscription offers.
Get The Railway Hub Weekly Round-up
Enter your e-mail address below and you will receive weekly rail news straight into your inbox…

You can unsubscribe at any time.