Eastern Rail Services has built up an impressive fleet of coaches over a period of two decades and now has a main line depot at Great Yarmouth. Richard Clinnick meets the ERS team and discovers what's in store for the company.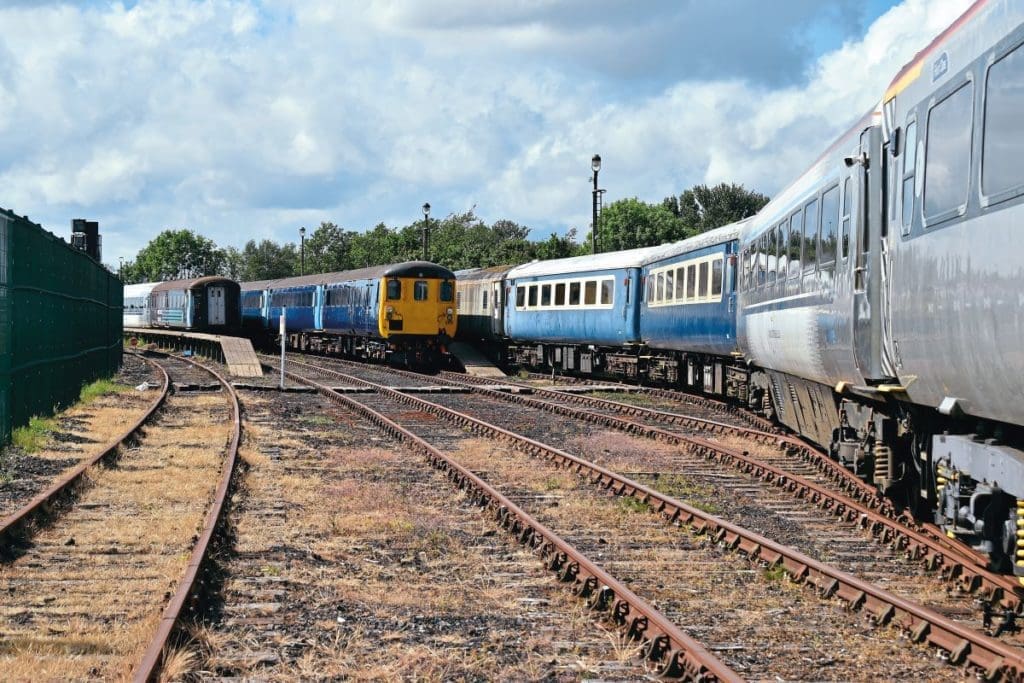 All Photography: Richard Clinnick.
"It started as a hobby," says James Steward, looking at the rows of coaching stock located at Vauxhall carriage sidings in Great Yarmouth. One of five career railwaymen behind Eastern Rail Services (ERS), he has spent the afternoon explaining the business – and its plans – to Railways Illustrated.
ERS has kept a low profile as it has slowly grown both its fleet and business. Even since moving into Yarmouth more than two years ago, there has been a deliberate policy of working on – and winning – contracts without overstretching the business.
There has been a steady stream of deliveries and departures from the site, by road due to costs, with a few preserved vehicles joining the main line fleet. The coaches on site are used for a variety of reasons, including component recovery, emergency services training, and filming purposes.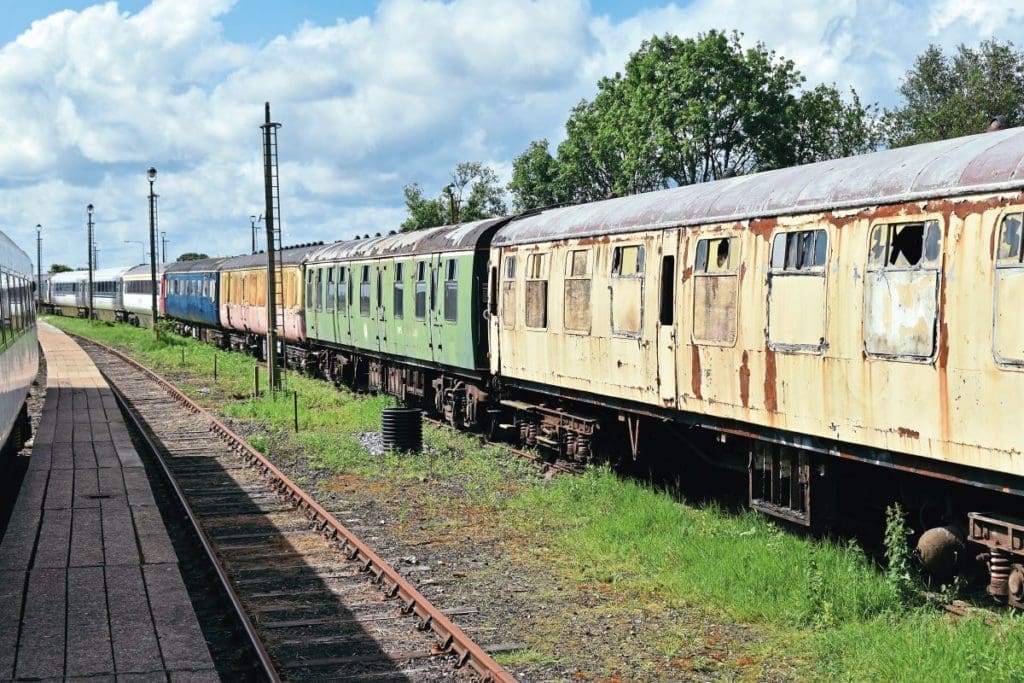 ERS buys and sells coaches too; several have been sold to Locomotive Services Group and others have been acquired for components and then immediately sold for scrap, including many of those that had been stored for several years at Dalton, in the north east, following a failed preservation attempt.
Also, within the ERS fleet is a Class 08, a Class 31/4, and five former European Passenger Services (EPS) Mk.3 generator vans.
Other than stock moves to the Vauxhall CS site on the Norfolk coast, and the Network Rail lease contract, ERS has not had any of its own fleet move on the national network carrying passengers. However, that is set to change in the near future if plans come to fruition (Railways Illustrated issue 236).
Mk.2s and Mk.3s make up the majority of the almost 70 coaches in the yard on the day of our visit. A further fleet of Mk.2s can be found at Wolsingham on the Weardale Railway, while there are also a handful of vehicles stored elsewhere. It's expected that in time these vehicles will either move to Vauxhall or be scrapped.
Indeed, not all of those at Vauxhall will be used again. Some will provide components to keep other ERS coaches operational, some could return to the main line with ERS, and others could find use with operators, such as LSG or contract hires.
The company acquired coaches as opportunities arose. The number of operators using locomotive-hauled trains has vastly reduced in recent years, so the number of coaches available has increased. Stock previously used by Caledonian Sleeper, Chiltern Railways and Greater Anglia all stand in the yard, alongside Mk.2s recently bought from Direct Rail Services after the company disposed of its coaching stock following the end of three LHCS contracts in the past two years and the decision to move away from supplying stock to passenger operators.
The Caledonian Sleeper Mk.2s and Mk.3s were replaced by new CAF Mk.5 coaches in October 2019, while the Greater Anglia Mk.3s were stood down by the end of March 2020 following the introduction of Stadler Class 745 electric multiple units.
The Chiltern Railways stock is the former slam-door set that was removed from traffic by the operator as it was no longer fully accessible and so failed to meet the disability requirements that came into force from January 1, 2020. These regulations do not affect businesses where the stock is not used every day, therefore making the coaches attractive to ERS. Much of the stock is also fitted with controlled emission toilets (CET) and central door locking, which are now essential for future main line operations.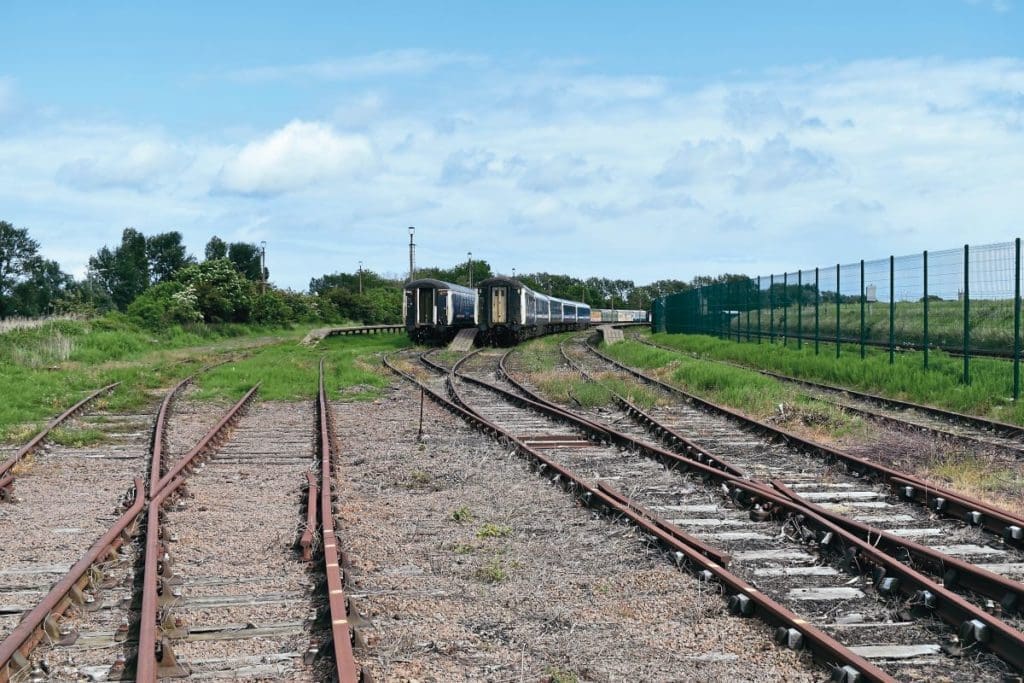 The ERS story can be linked back to the early days of the Mid-Norfolk Railway. Like so many embryonic heritage lines, it required rolling stock. James was a volunteer at the MNR and, alongside Paul Hughes, who at the time was working for Freightliner, tried to start the diesel galas at the railway. These were operated using vacuum-brake stock, but a decision was made early on that a blue and grey air-braked set would be useful and provide a unique selling point for the MNR.
The first vehicle in the blue/grey set was Mk.2 second open 5255 from the North Tyneside Steam Railway. For the Class 37 Golden Jubilee held in 2010 the MNR opened a passing loop at Thuxton and the intensive timetable operated just couldn't have happened without the blue and grey set.
ERS came into being as the MNR expanded. The Stratford 47 Group (SF47G) decided to base 47580 County of Essex at the railway, and this locomotive was main line certified. With James's role looking after the rural routes in Anglia, various opportunities were identified, including the potential to run trains off the MNR onto the main line network, for example, for home football games at Norwich. However, main line certified stock would be needed.
Dave Morphew, who was at Eversholt Rail at the time, assisted with the acquisition of vehicles. He advised when coaches were coming available, including the disposal of air-conditioned Mk.2s that had been used by Anglia Railways (now Greater Anglia). James also visited stock stored at MoD Kineton and Long Marston to pick those that would fit the requirements of both the MNR and what was to become ERS. The team said that Dave deserves a special mention as he did a lot to help preservation at the time, when the leasing companies were going through a lot of disposals.
Then Cargo-D went bankrupt. The company had acquired Mk.2s and Mk.3s and repainted them into blue and grey livery. They had been hired to TOCs, while the operator also supplied the stock to a sister organisation, Rail Blue Charters. However, the company suffered financial problems and folded in 2011.
In 2011, ERS was officially created following the decision that the MNR, while liking the idea of a main line set in principle, did not have the funding available. James, alongside two other MNR members, became the founding team within ERS. Robin Fransham was a dual-skilled rolling stock engineer at Crown Point Depot, and Chris Cheney an experienced electrical and mechanical engineer. Chris is also involved in the preservation of 50019 Ramillies.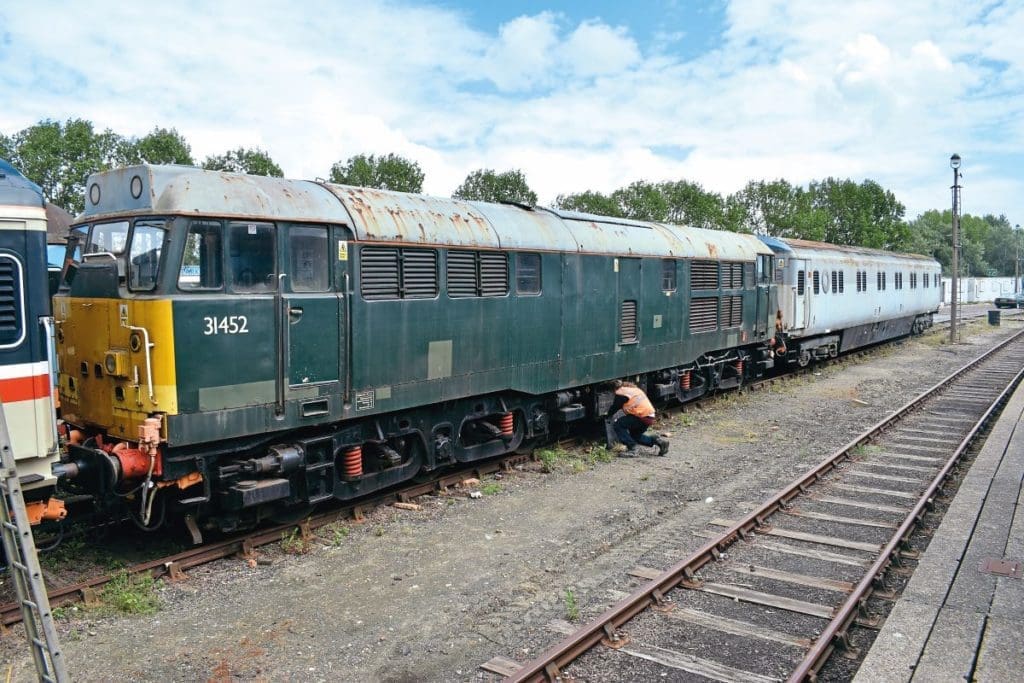 It acquired coaches from various sources, including the remnants of Cargo-D. Former Mainline Rail stock (one of the companies that rose from the ashes of the defunct FM Rail) was also bought. These were through-wired, having been used on the main line with top-and-tail Class 31s by Wessex Trains and, latterly, Mainline Rail between Minehead and Bristol.
Soon after the acquisition of the first tranche of coaches, ERS was approached by Garcia Hanson, who was involved in the BARS group – then operator of Weardale and Dartmoor Railways – and a number of vehicles moved to both of these locations to operate the popular Polar Express trains. The vehicles would be based at the MNR for most of the year, available for diesel galas, training and so on, and then move out for the Christmas season. The MNR also earned an income from hiring some of its own spare vehicles for the Polar Express trains.
This operation provided a small but steady stream of funding which was used to overhaul and repair vehicles as well as fund additional purchases. Certainly, it was lucrative enough that ERS was able to acquire Mk.2x Open First (FO) 3385 and Brake Open Standard (BSO) 9513 from eBay!
More coaches were bought, but the key, James says, was that these were bought for business purposes. Despite it still at the time being a hobby, the coaches had to make money. Then, any revenue raised was reinvested into the company and its assets. "We didn't pay ourselves for a very long time, and even to this day we do not draw a wage from the company," says James, despite it quite often appearing to be a full-time job
Buying 3385 and 9513 was an important milestone: "We had a desire for main line operations. The through-wired former FM Rail stock was pretty good and there wasn't too much competition."
It was at this time that James was approached by Paul Taylor at GB Railfreight to discuss putting together a bid to provide locomotive-hauled trains for East Midlands Trains. While this proposal got to a fairly advanced stage, it never went ahead, but the discussions with GBRf led to a request to assist Caledonian Sleeper after Serco – which had taken over the CS operations in April 2015 – was struggling with the reliability of its Mk.2 fleet.
Although the Mk.2 (and Mk.3) CS fleet was due to be replaced by CAF Mk.5s from 2018, it required maintenance to ensure they could reach that point. Collaborating with John Campbell of Technical Construction, ERS created a life-extension plan for the coaches, with this work to be undertaken at its Wolsingham engineering facility on the Weardale Railway.
At this point Alistair Gregory joined the ERS team on a permanent basis. Alistair started his railway career at Derby RTC, and this would later prove very useful. He had also been operations manager for BARS for a number of years so was crucial as an interface between ERS and Weardale.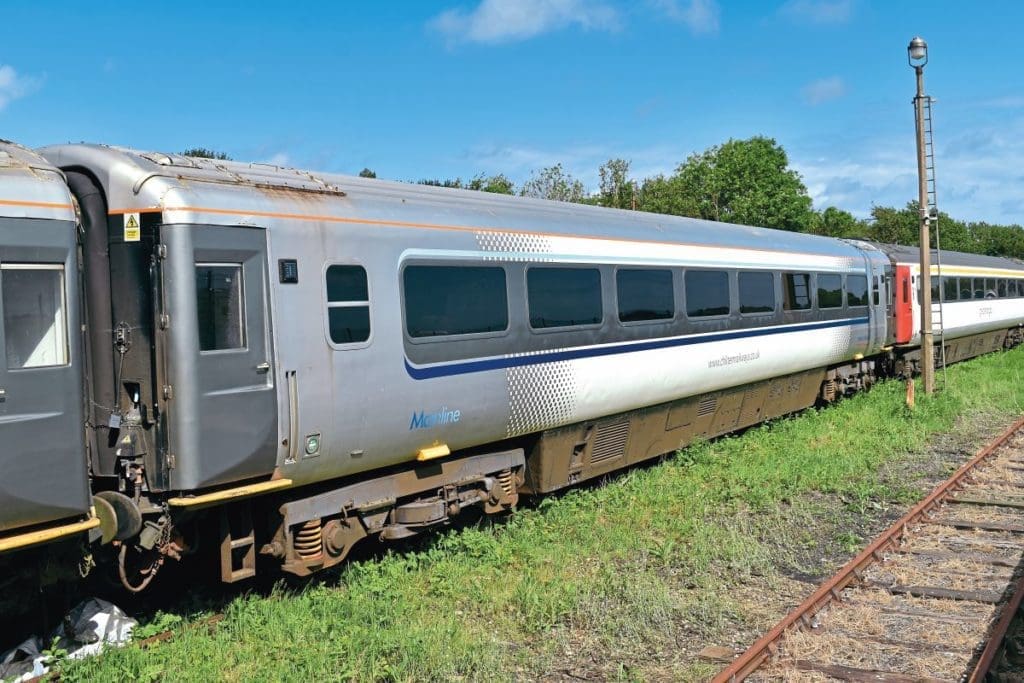 "We offered to buy the CS stock and lease it back, and we concluded a deal where when the stock went to Wolsingham – that was when we took ownership of it. We carried out the repair and upgrade work and then hired it back to Serco," says James
This additional work meant ERS was able to rapidly expand its fleet, but in the long term it would also have a main line certified and freshly overhauled fleet of some 20 Mk.2s from 2018. This was extended to 2019 due to delays with the introduction of the new CS Mk.5s.
Nevertheless, James says that there was no plan for the coaches initially: "We were then approached by Network Rail, which needed stock for its infrastructure monitoring fleet that was CET-fitted. I went to Wembley to show Network Rail the stock we had, although it was still clinging on in service at this point."
The final CS Mk.2 operation took place in October 2019, and it was around this time that a six-month hire deal was concluded with NR for the hire of stock. It was essentially taken straight out of service and went to Loram at Derby for modification. NR is still hiring coaches from ERS, an agreement which has just been extended to the end of 2022 with possibilities beyond that, and the working relationship between the two organisations is very close. Had the NR deal not been signed, there was every chance that most of the CS fleet would have been stripped for spares, with the remains sold for scrap.
As the fleet continued growing, so more space was required. The MNR didn't, at that point, have the required facilities, while Wolsingham was busy and geographically inconvenient for the team based in East Anglia.
ERS investigated a few options, including Sizewell, but this was ruled out due its small size. A NR contact suggested that the redundant carriage sidings at Great Yarmouth could be suitable. These had not been used since 2000, when EWS had operated fertiliser trains from the site. Having become heavily overgrown, they had been recently cleared as there had been a plan to stable Greater Anglia Class 745 and 755s there before they entered traffic, although this never materialised.
A resignalling scheme for the area had also been planned in two phases; the first was the signalling and removal of semaphores. As part of this, the sidings were disconnected from the main signalling panel and this prevented GA from using the site. However, the site was still operational and now available.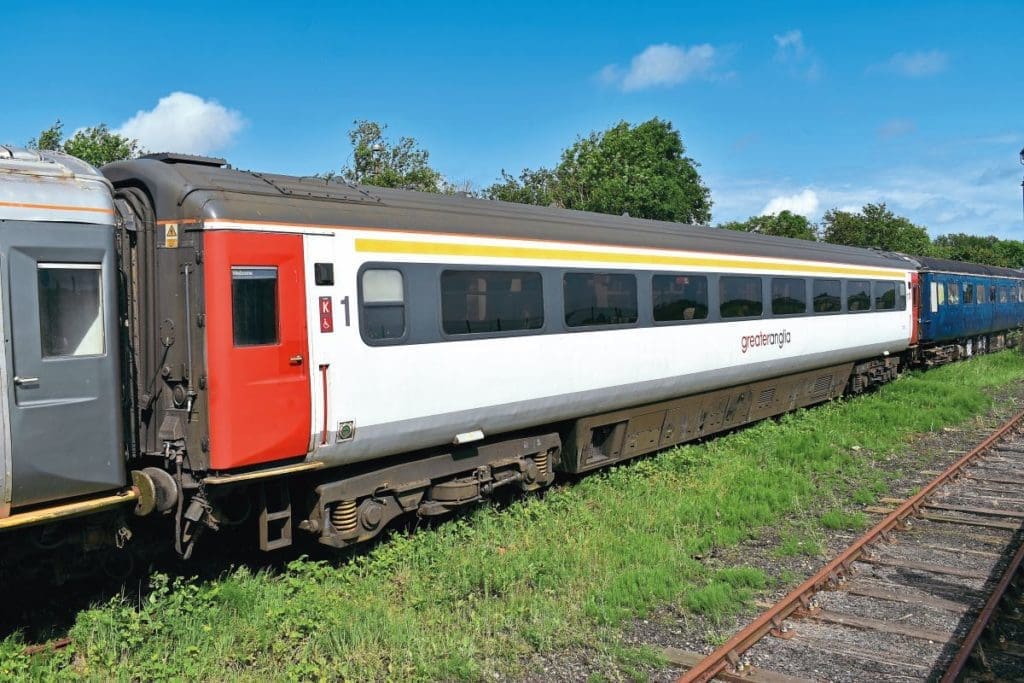 "Network Rail have been exceptionally helpful with the whole project," says James. "People often criticise NR for being a big, slow, faceless organisation, but on a local level things couldn't be more different."
A licence to use the site was granted by Great Yarmouth Borough Council, which owned roads 4-6, while NR owns roads 1-3. The council acquired the site to protect it from redevelopment and to use it, potentially, for freight serving the town's Outer Harbour. "We chose Yarmouth because it's close to our homes. It's got good access and a main line connection. There was nowhere near us that was this size or that had the potential for future growth."
During council ownership, the entrance to the site had been upgraded and a large amount of hardstanding was laid, which has proved invaluable.
The first coaches arrived during lockdown in 2020, along with 08762. James says: "The plan was for it to be used as a maintenance base and for freight. The council has been very supportive of what we are doing; we are the first organisation to bring the site back in use."
Comments often seen online say that nothing is happening with the growing collection of stock. This isn't true, says James: "We hire to preservation and main line operators. We also do filming work for the likes of the BBC, Sky, and Disney."
So far, ERS stock has been used in a film, two drama series, and an advert for an Egyptian holiday resort. The film Last Train to Christmas required five vehicles representing the 1960s through to the future, and ERS supplied five vehicles, including Mk.1, Mk.2 and Mk.3s as well as a number of authentic interiors. More recently an ERS vehicle was used for Stephen Merchant's The Outlaws on BBC 1, and this year has several other large productions in the planning stages.
Emergency services and main line operators also use the site – and vehicles – for training purposes.
When Railways Illustrated visited, there were more than 70 coaches on site, but there is currently capacity for 150 and that could grow.
Not all are owned by ERS either, with some vehicles stored for another operator. ERS will also carry out some contract component recovery on some Locomotive Services Group stock, although final disposal will not take place at Yarmouth. ERS has overhauled coaches for LSG and sold it former CS vehicles that are now in use on the company's 'Chairman's train'. Some recent arrivals include the Chiltern Railways slam-door Mk.3s; these had been stored at Long Marston and some have been used for filming purposes.
Not all will survive, with James confirming that some will be stripped of spares and disposed of. "Parts are valuable, and we do buy vehicles for that purpose. The Chiltern coaches have both short-swing and recently overhauled long-swing bogies. Effectively, we bought them for that as a lot of the value is in the mileages left on components such as the bogies. The plan is to strip them and dispose of them, although we will keep some of the Chiltern stock as they've proved useful for filming work."
Some stock is sent away to a private site in the Midlands for contract work at Independent Rail Engineering Ltd. IREL has also undertaken work on the Midland Pullman High Speed Train, with stock visiting the site for modifications in recent months.
Not all of that can be undertaken by ERS, says James: "All the ERS team have full-time jobs and I have a family, so it all has to be a balance. We hire in contract labour as required, such as trackwork repairs or welding. We also buy in services such as formal driver and shunter training via Victa Railfreight, which in turn use the site and locomotives for its own training. 'Deltic' Dave Thompson [a driver] is well-known locally and has been a key part in the competence development of the set-up at Vauxhall."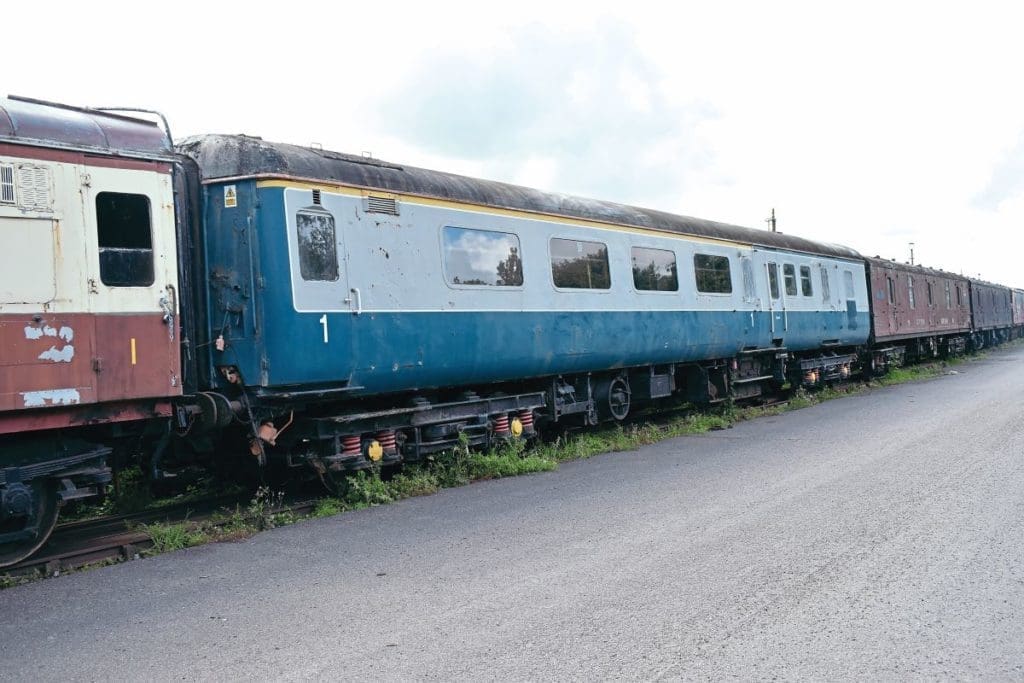 The next major part in the ERS story is the purchase of RMS Locotec. This brought a large portfolio of shunting locomotives – mainly Class 08s, as well as rolling stock and other assets at the Dartmoor Railway. ERS had been involved with British American Rail Services that had owned RMS; however, the company was put up for sale and had started to be wound down. Both the Dartmoor and Weardale Railways were also made available, with the Weardale being sold on as a going concern and Dartmoor falling into administration
ERS, collaborating with financiers, agreed a management buyout of RMS Locotec. It remains the case that RMS Locotec is independent of ERS. "They have to stand on their own two feet as entities," says James.
RMS carries out trackwork for ERS at Yarmouth and is paid accordingly. Likewise, ERS pays or carries out work for RMS Locotec for the hire of any locomotive, such as 08588 and 08762, when they were based at Vauxhall CS. Should an RMS Locotec locomotive be sent off-lease, then it will move to Vauxhall until a new contract is found.
Currently there are no RMS locomotives at Yarmouth as RMS has continued to win new contracts, including the recent provision of two Class 08s to Loram at Derby. This has meant that locomotives previously in long-term store have had to be reactivated. The shunter hire market is extremely buoyant – despite various replacements touted recently, the cost for these just makes it uneconomical for people to consider a change, RMS believes.
Part of the RMS purchase also included 31452, which has moved to Yarmouth and is now part of the ERS fleet. It is fully serviceable and one of two Class 31s that are currently main line certified (the other being Nemesis Rail's 31128). 31452 is fitted with all relevant safety equipment required for it to operate on NR, although its maintenance cycle has been suspended, which prevents it from leaving the confines of Vauxhall CS at the moment. However, that can be rectified easily. Says James: "We always wanted a 31. We've not got a plan for it at the moment as we're busy with other projects. We have had enquiries to loan or even buy the 31. We need to do some remedial work on it, but it's in very good condition. It's on the Rolling Stock Library and we do maintain it. Cosmetically, yes, it looks tired but mechanically it's excellent."
The locomotive is used to heat coaching stock at the site and does move around the yard, and while there are plans to improve its appearance, this is not a priority.
The Class 31 was previously based at Dartmoor, and that is where the next stage of the ERS story is –a shed. A two-road shed is currently in situ at Okehampton, but the current plan is for it to be deconstructed and rebuilt at Yarmouth. Planning permission is required, but is not expected to be a problem. It is hoped that the shed could be on site by the end of the year. ERS also owns a large amount of workshop equipment, such as lifting jacks (currently on hire elsewhere), and the planning includes pits too. James explains that the Wolsingham facility also has maintenance capabilities but that Yarmouth will be the main site: "There is nothing we cannot do here already, but we want to be undercover."
Already the site has a large amount of spares, with much more in storage at locations across the country. This is set to prove invaluable as ERS eyes further expansion, including providing coaches for main line operations. The charter market has changed significantly, with Locomotive Services entering the fray over the last few years, but there is still only a handful of providers which for many years has restricted competition.
ERS also owns all five former European Passenger Services (EPS) Mk.3 generator vans, converted for use for the planned Nightstar sleeper trains that never materialised. One (96371) has been used on contract hire in Scotland but is back at Vauxhall CS now undergoing a full refurbishment, while another (96374) has been repainted into Intercity livery. All five are potentially serviceable and have seen little use in the past. The long-term vision is for the fleet to be available for main line operators.
Says James: "They were a significant investment and that could not be done unless you can afford to lose money initially. We felt that if we had all five, we were in a better position to offer several out to the same operator in the future."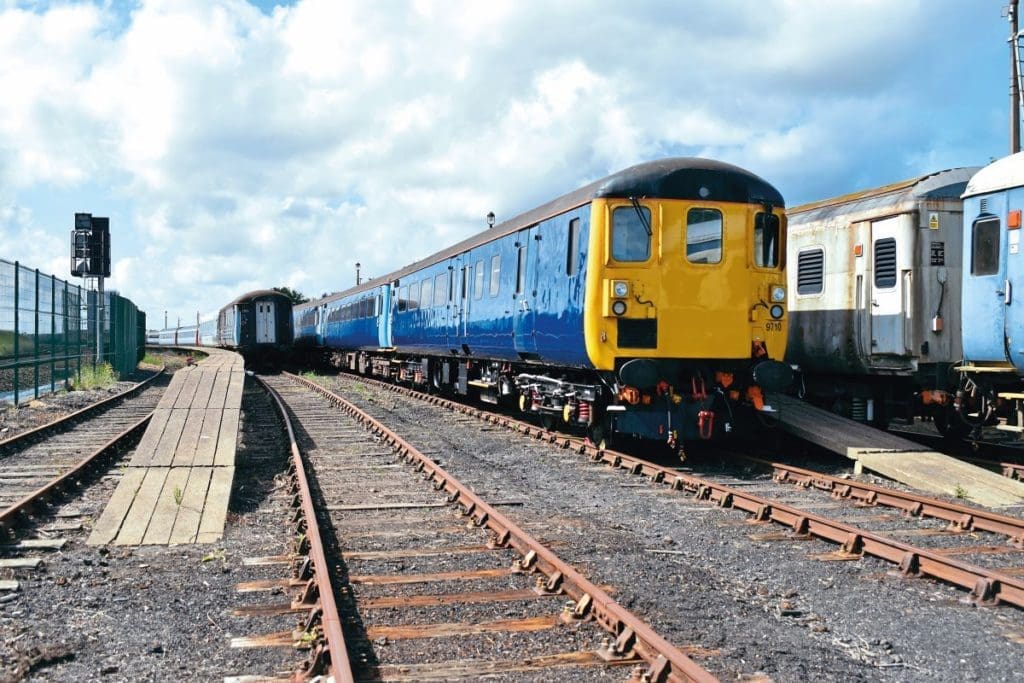 ERS does has ambitions to supply coaches for the charter market, James revealed to Railways Illustrated. "We received a lot of enquiries and it's been on the cards for a long time. LSG wants to use its own stock, and so does West Coast Railway. DB Cargo also generally works with Riviera Trains."
This explains the recent purchase of stock from DRS. This has all recently received significant investment, including six-figure sums on the DBSOs. "Some of the early stock we bought was tired and needs a lot of refurbishment work. Long-term, we can see a rake of Mk.2s and a rake of Mk.3s. Each would have up to 10-12 vehicles. There is a market for quality stock at a cheaper rate. There is a gap in the market. We do our own engineering, which keeps the overheads down, and a lot of our fleet meets modern requirements such as CDL on the doors and CET toilets.
"With Robin, Chris, and Alistair, there pretty much is no limit on the level of engineering that can be carried out, from detailed forensic electronics to heavy engineering. Despite the electronics on a Mk.2 being effectively 50-plus years old, ERS is still working with suppliers to replace and modify components to improve reliability," James explains.
He says that ERS would happily work with any operator that makes an approach, but says there is a good relationship with GBRf after the two companies worked together with the Caledonian Sleeper projects. "We would provide a hook-and-haul solution," he suggests. "We have had discussions about providing stock for main line operations as well; football trains are a good option as they require quantity and general functionality over things like fine dining."
The site at Vauxhall also offers further potential beyond just ERS. August 2021 saw Steam Dreams bring a steam-hauled charter train on site for servicing, and this year has already seen two further charters use the carriage sidings for exactly what they were designed for. The adjacent A47 is to be upgraded and James suggests material could be moved to the Norfolk town by rail and unloaded at the Yarmouth site. "We could also do storage for clients, too," he says. "There is a strong market in that and plenty of fleets due to come off-lease. We can offer security and power supplies, and there is space for three more sidings."
The ERS story is one of evolution and sense. No deal is taken on unless it benefits the business, and while growth has been huge in recent months, it remains an ever-evolving project for the small but dedicated team involved.
---
Advert
---
Railway Reads
From the history of steam through to 21st century rail transport news, we have titles that cater for all rail enthusiasts. Covering diesels, modelling, steam and modern railways, check out our range of magazines and fantastic
subscription offers.
Get The Railway Hub Weekly Round-up
Enter your e-mail address below and you will receive weekly rail news straight into your inbox…

You can unsubscribe at any time.