These are exciting times for Rail Operations (UK) Ltd. Richard Clinnick meets the operator's CEO Dave Burley to discover the future of the business.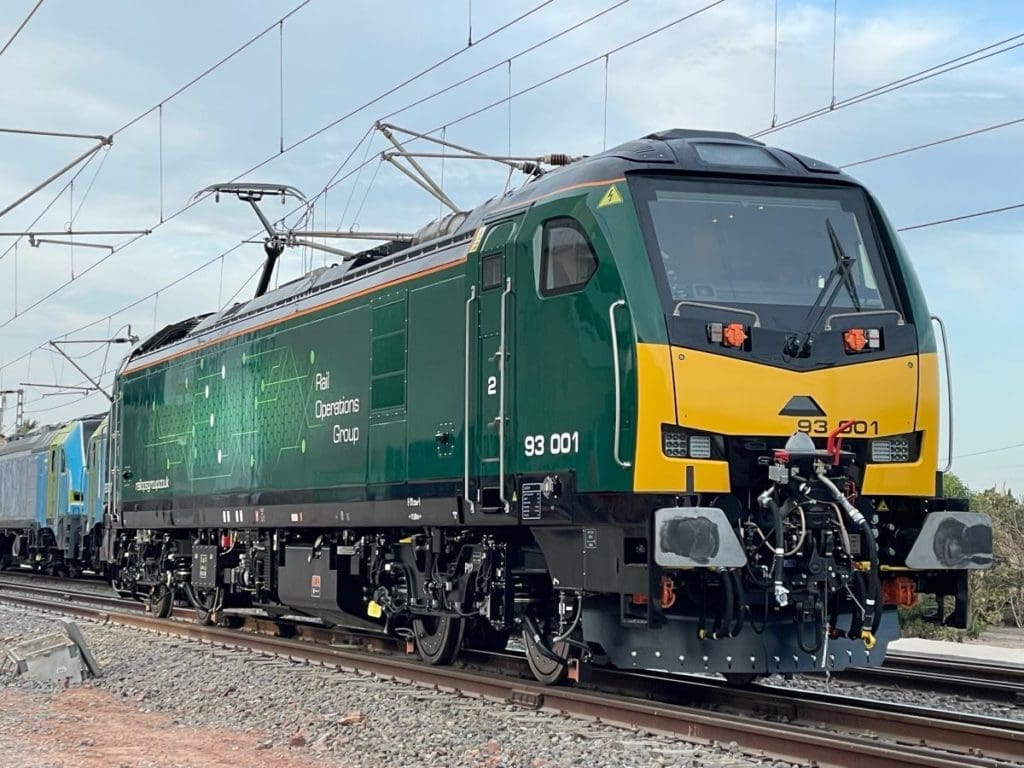 THE imminent arrival of the first tri-mode Class 93s for Rail Operations Group (ROG) is another significant moment in the recent history of the business, which has grown considerably in less than a decade.
It's too easy to think of ROG as an operator using heritage traction to deliver new trains from their manufacturers to their new operators, or taking redundant rolling stock either for storage or in its final trip to the breaker's yard. There is so much more to the business.
The company was formed in 2014, around the time that the first Crossrail Class 345 electric multiple units were to be moved for testing and commissioning. Previously, a locomotive and several vehicles would arrive at a facility and spend several hours shunting and marshalling a train before departing. This was akin to a lengthy freight train arriving at a usually congested depot and having to utilise what little space there was, often after a lengthy shunting process had already been undertaken, and an even lengthier 'freight' train would then leave the site. Depending on the condition of the brakes on the train being moved, it could be limited to 45mph. This meant often lengthy journeys. There had to be another way.
Mr Karl Watts founded ROG, which is now one of three companies under the Rail Operations (UK) Limited (ROUK) umbrella. A career railwayman, Karl saw the opportunity available for an innovative company to offer something different to an industry that was about to go through significant change. A variety of new fleets were on order at the time, or were expected to be ordered, with many of the existing fleets at the time set for withdrawal. This is exactly what went on to happen. In nearly a decade there has been a huge turnover in new trains and this required different thinking. ROG was built upon that.
Using a small fleet of Class 37s leased from Europhoenix, the company was able to offer solutions to the industry. The '37s' were modified with electrical brake translation equipment and fitted with various coupler types to enable either direction coupling to, and through automatic brake control of, most electric multiple units in this country. ROG worked with Dellner to design and fit couplings that would enable the '37s' to haul rolling stock.
Standardisation proved problematic with eight coupling heights across various fleets, but ROG was able to provide a solution and so it grew. Experienced railway people joined the business, such as Mr Dave Burley who is now the chief executive officer.
Fitting these couplings to the '37s' changed the game. Nos. 37510 Orion, 37601 Perseus, 37608 Andromeda and 37611 Pegasus were fitted with the Dellners, while Nos. 37800 and 37884 Cepheus retained their tightlock couplings, although they can have a Dellner fitted when required. This means the '37/5' and '37/6s' tend to haul new stock across the country and the 'Heavyweight' '37/7s' are used to take stock for storage or scrap.
Over the years, ROG has used various fleets. It bought Class 47/8s from Riviera Trains (Nos. 47812/813/815/843/847/848), but these were relatively short-lived and were sold to West Coast Railway (Nos. 47812/813/815/848), or Harry Needle Railroad Company (Nos. 47843/847). Class 57/3s were also sub-leased from Direct Rail Services (Nos. 57301/303/305/306/310/312); these being Dellner-fitted examples modified when leased by Network Rail in the early-2010s for use as standby locomotives on the former Southern Region for a short-period. These were returned to DRS last year.
The Class 37s continue to serve the business. Their maintenance has moved to Loram UK at Derby Railway Technical Centre (RTC) and they remain leased until 2025. One locomotive, No. 37800, has received a repaint into ROG's corporate livery as applied to two '47s' and two '57s'.
ROUK was created in 2018 with three companies currently under that umbrella. These are ROG, Orion (which was created with high-speed logistics in mind) and Traxion which is for the storage and management of rolling stock.
Within these various companies, ROUK offers train testing, fault-free running and mileage accumulation. Current fleet support is available through fleet maintenance, modification and refurbishment programmes, fleet cascade or transfer programmes, vehicle or fleet testing including after projects such as the nationwide fitting of European Train Control System (ETCS) to trains and the infrastructure-train interface testing.
General movements are also possible including empty coaching stock moves, ad-hoc freight or engineering rolling stock movements.
ROG is also currently supporting Porterbrook with the testing of HydroFlex No. 799201, which is operating trial runs from Long Marston to Evesham and on to Bromsgrove. This unit was demonstrated at COP26 in Glasgow in November 2021, with ROG again operating the train.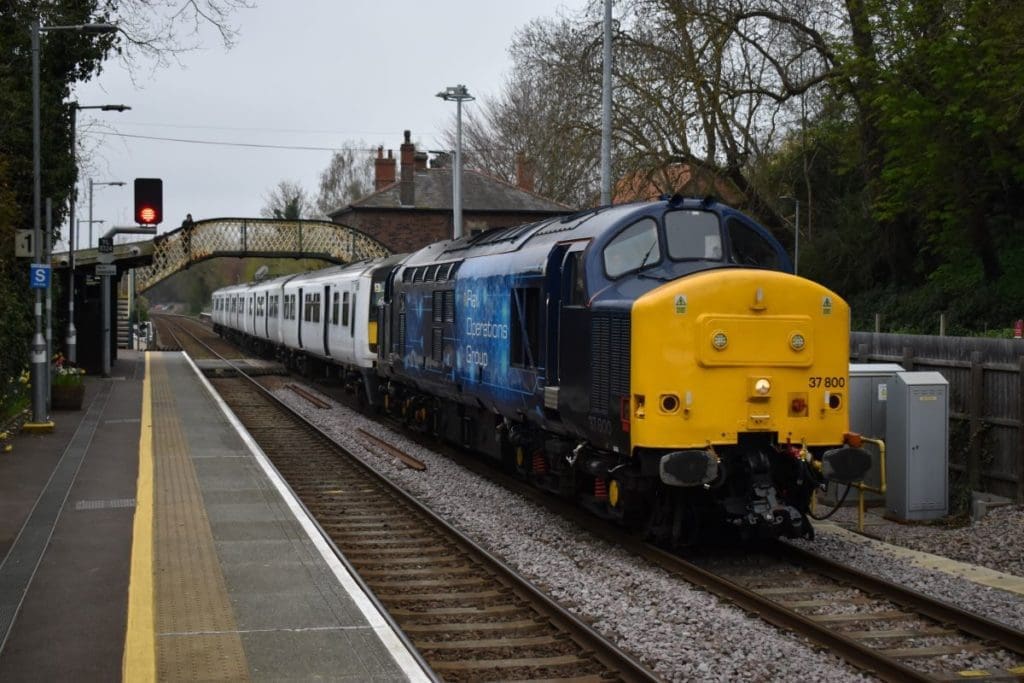 In January 2021, STAR Capital Partnership, a leading European fund manager, acquired a majority stake in ROUK. This provided a significant growth capital allowing the company to expand. Mr Neil Bennett, current ROUK chair, joined the group as part of that deal and he provides support to Dave and his team surrounding issues such as train-leasing.
Two days after the STAR announcement, it was confirmed that Stadler and ROUK had signed a framework agreement for the supply of 30 Class 93 tri-mode locomotives. An initial batch of 10 locomotives, Nos. 93001-010, are under construction with the first due in this country in April. All 10 will be here by the end of the year.
The Class 93s are being built by Stadler at its Valencia factory in Spain. They are the first tri-mode locomotive built by the Swiss manufacturer and the first such locomotive for Britain. The locomotives will have three power sources – 25kV AC overhead electrification offering power up to 4600kW, a Stage V 900kW diesel engine and two Lithium Titanate Oxide (LTO) traction battery packs that will enable them to operate away from the overhead wires. The battery packs provide 400kW extra power to supplement the diesel engine when the '93' is operating in diesel/battery hybrid mode. The battery modules can work alone.
ROUK believes that the Class 93swill significantly reduce exhaust gas emissions for not only rail freight but possibly other sectors in the future. The Class 93s are being fitted with efficiency features designed to minimise energy consumption. The high-efficiency transformer and the AC traction system with IGBT technology and one inverter per axle enables better adhesion control, reduces energy consumption and increases reliability. Kinetic energy is recovered during braking. As expected for ROG, the '93s' feature an innovative hybrid coupler that enables coupling via a draw hook and through automatic coupling.
The Class 93 is also capable of 110mph, which is faster than the 100mph offered by Stadler Class 68s and '88s' currently in use in the UK.
Images of the first almost complete locomotive were published by ROG on February 14, and two days later Rail Express met Dave in the company's headquarters in Derby.
A career railwayman, Dave's role is simple – take the business forward. These are challenging and exciting times for the industry, but it remains the case that ROG is a business. With 10 new locomotives, and possibly 20 more to follow, decisions need to be made regarding their use, contracts, exploring opportunities and taking advantage of them as well as being ready to react to an industry that faces greater uncertainty than it has in perhaps the last 30 years.
"There has been a huge amount of change here," says Dave. He suggests there was a slump during the pandemic, and not just at ROG but across the industry. Three years after Covid-19 caused the first lockdown, the railway is still trying to recover, yet it has impacted the business in which ROG made its name. Fleets have suddenly been withdrawn while construction of new fleets was affected by social distancing and forced lockdowns.
Training on the new fleets was also restricted for many months while some fleets were put into store. As passenger numbers and revenue continue to struggle to return to pre-pandemic levels, decisions continue to be made regarding the withdrawal and cascade of fleets. Furthermore, this has also created uncertainty regarding the continued order for new trains, for example industry sources suggest Class 158s will remain in the East Midlands until 2031, meaning they will pass 40 years of use!
"We have an excellent team of specialists who have analysed the industry and identified a plethora of stock cascades from the Department for Transport's (DfT) transport plan, but we also knew that would eventually end. They tracked fleet by fleet and spoke to those who knew what the expected decisions would be.
"My job is to diversify from the core rail services that supported such work."One area of diversification was Orion. This was the high-speed logistics business created in 2018 with the aim of capitalising on the explosion in online shopping. The opportunities were massive – the industry is worth far north of £10 billion per year. Using converted electric multiple units, or bi-mode units, Orion would operate initially on the West Coast Main Line (WCML) before expanding across the country.
Leased from Porterbrook, a Class 319, No. 319373, was acquired and stripped out internally with provision fitted for the carriage of roll-cages. Six more '319s' were leased from Porterbrook (Nos. 319009/010, 319377/380, 319441) with the two '319/0s' converted to Flex bi-mode trains. After demonstrations, they entered traffic on a trial between Willesden Princess Royal Distribution Centre (PRDC) and Mossend. The trial was a mixture of the units operating under their own power and with haulage from a Class 57/3 for various reasons.
ROG is not currently looking at acquiring more '319s' from Porterbrook. Orion planned to operate high-speed trains from locations including the Port of Felixstowe using the '93s' too, while a fleet of '319s' and '768s' would be used to support the logistics market.
However, Dave explains that Orion is currently "on hold" although he is adamant that does not mean it won't return. "It is part of the gap in the business that I have to fill and it has to succeed. Orion is about what the customer wants. The entire business was focussed on it, and Network Rail provided us with some cracking paths; Network Rail really supported us, but it's about the entire supply chain. It really needs to get the price right to be able to compete with the road industry. But we are working through the various issues we have encountered, and we still have the trains."
Great British Railways (GBR), the long-talked about reform first announced by the Williams-Shapps Report in May 2021, should help says Dave, as it is planned to change the way in which the railway is governed.
While looking ahead is vital, and that is even before the '93s' come into the mix, Dave has to consider the here and now. The business relies upon the Class 37s, however they are elderly. Reliable, busy but elderly. The oldest, No. 37601, was the fifth of the 309 locomotives built, and was delivered new in 1961. At 62 years old the '37' is still on the frontline most days, often hauling trains more than half its age to Newport Docks for scrap. But, as the '93s' show, decarbonisation is key and '37s', no matter how dependable they are, are not the most emissions-friendly traction. He reveals to Rail Express that informal discussions have been had with Europhoenix regarding a re-engineering programme that would see new emissions-friendly power units fitted. This would extend their working lives until 2040.
"Re-powering has had mixed success, but the '37/9s' showed it can be done," said Dave. The only surviving '37/9', No. 37901 Mirrlees Pioneer, is part of the Europhoenix fleet already. Dave suggests there is willingness to carry out the work, but it is at a very informal stage, with no details regarding the engine that would be fitted, or where the work would be done. Any work would require ROG to win such contracts that would require the '37s' to continue beyond 2025.
Nothing is ruled out – heavy freight for example could be an option as Dave seeks to diversify the business, although he perhaps draws the line at repowered '37s' hauling high-speed logistics services. "Class 37s have been many things, and can do many things, but they have never been high-speed machines," he grins.
The Class 37s are used for a number of duties. As well as the delivery of rolling stock, they also support TransPennine Express by moving Mk.5A coaches between sites, while one locomotive is hired to Greater Anglia for standby duties and can be found at Temple Mills. This is primarily to rescue Stadler Class 745 EMUs or '755' bi-modes but can be used to retrieve an Alstom Class 720 EMU if needed. Last summer ROG supplied '37s' as standby traction in case of any failures in the Birmingham area during the Commonwealth Games and they will do the same this spring when the King's Coronation takes place.
However, it's the Class 93s that are grabbing the headline, and which Dave is keen to chat about. The first locomotive, No. 93001, had begun testing at Valencia just before he met Rail Express, and was about to be joined by No. 93002.
Prior to the first '93' leaving Spain, ROUK will send test drivers to Valencia to begin training on the locomotives.
Currently the plan is that the first '93' will arrive by ship at Portbury Docks on April 11, and will be moved to the Rail Innovation and Delivery Centre (RIDC) at Old Dalby by road. After around two weeks of testing at that site it will be moved to the Class 93's maintenance facility before heading out on test on the WCML. Dave explained that as this issue of Rail Express went to press a decision on what company would undertake the maintenance had yet to be determined. "It's prudent to check the market. Stadler will provide warranty maintenance and the operator will maintain them. There are a number of companies we are talking to about this," he said.
No. 93002 will follow shortly afterwards and this will be used for maintenance training at the locomotive's base before joining its classmate on the national network. Progress-wise it is almost complete, while No. 93003 is not far away from starting testing.
Once No. 93001 begins testing on the WCML it is expected it will stable in the Crewe area between trips. Part of the approvals process has already been started by Stadler and this will continue during testing. Testing is expected to take around 20 weeks, says Dave.
The question remains, though, who will use them? "There's a number of operators we are talking to about what the locomotives can do. There are options but I have to consider what is the best return for the business."
Chatting with Dave it seems unlikely that a '93' will be seen hauling withdrawn rolling stock, instead he would rather have them hauling trains for customers or on hire. He declined to mention which operators he had been chatting to. It is known that FirstGroup issued a tender last year for locomotives for its TransPennine Express and Great Western Railway operations, while Avanti West Coast is also known to be considering replacing its Class 57/3 Thunderbirds hired from Direct Rail Services (RE322). Likewise, DRS has previously told Rail Express it is keen to see what the '93s' can offer performance-wise. All this offers opportunities for Dave to mull over.
The initial order is for 10 locomotives with an option for a further 20. He said that the option has to be exercised by the end of the year, by which point '93s' will have been on test on the national network for several months proving their credentials.
With Dave at the helm, supported by his hard-working and experienced team, the company is about to show once again how it innovates through its Class 93 fleet. These are exciting times for ROUK. 
Rail Operations Group, Orion fleets, February 17, 2023
Class 37: 37510, 37601/608/611, 37800/884
Class 93: 93001-010
Class 319: 319373/377/380, 319441
Class 768: 768001/002
Note: Class 93s are under construction.
---
Advert
---
Railway Reads
From the history of steam through to 21st century rail transport news, we have titles that cater for all rail enthusiasts. Covering diesels, modelling, steam and modern railways, check out our range of magazines and fantastic
subscription offers.
Get The Railway Hub Weekly Round-up
Enter your e-mail address below and you will receive weekly rail news straight into your inbox…

You can unsubscribe at any time.