It may be the smallest railfreight operator, but DC Rail is playing a key role in not only building major projects but in how the sector is operating, as Cappagh Group director of rail David Fletcher tells Richard Clinnick.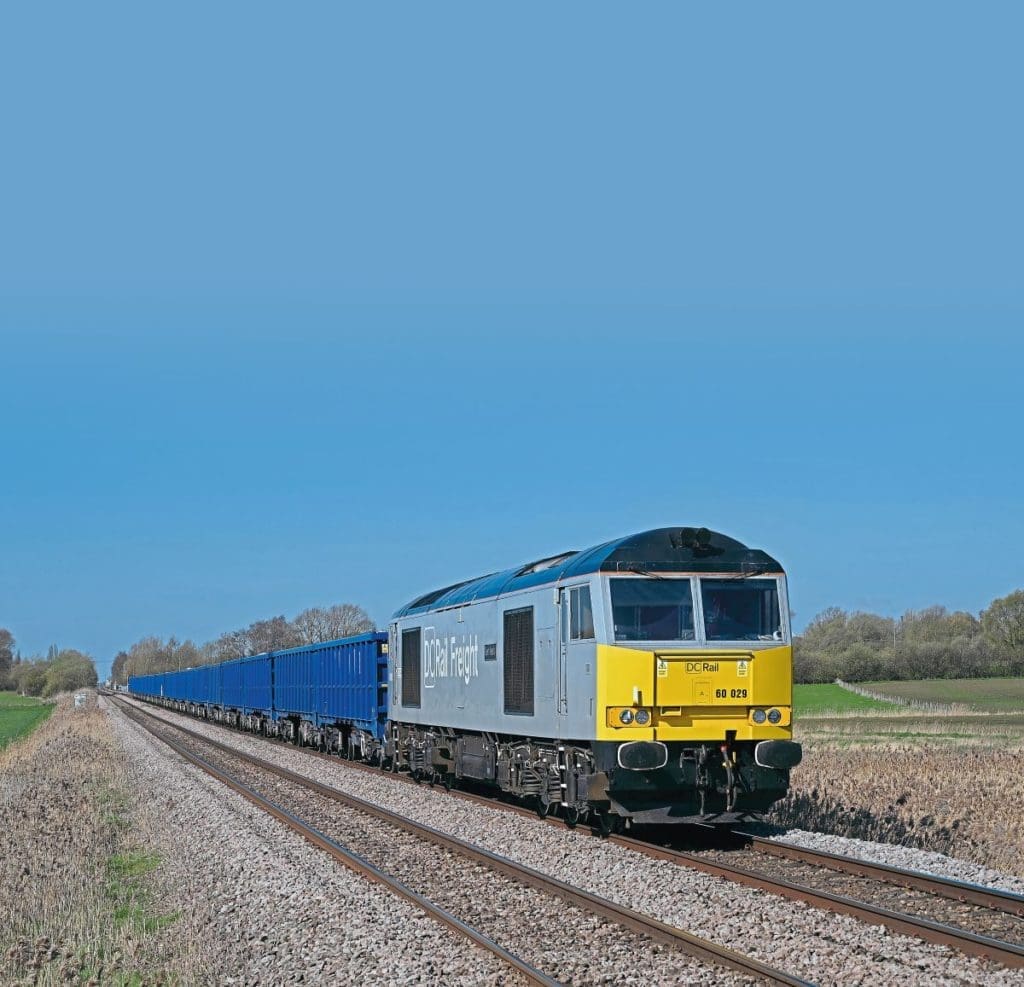 DC Rail may be the smallest of the six freight operating companies, but it is playing a crucial role in the construction of mega projects across London and the South East as well as the first phase of HS2 between the capital and Birmingham.
The operator specialises in the movement of bulk materials for customers in the construction, energy and manufacturing sectors and is part of the Cappagh Group of companies, based in Wimbledon.
Cappagh's formal history began when Cappagh Contractors was incorporated in 1973, and 50 years on the Group serves a wide range of sectors with civil engineering, transport, recycling and material services. Customers such as water and power utility companies are not viewed as traditional users of railfreight, however by incorporating DCR into its supply chain, Cappagh can enable more of its customers' freight to travel by rail. This affords Cappagh's customers an opportunity to reduce carbon emissions, improve air quality and make roads safer through the reduction in the miles covered by Heavy Goods Vehicles (HGVs).
David Fletcher, Cappagh Group's director of rail, told Rail Express: "We run longer trains to Wembley and then split the train with six wagons staying there and 18 going to Chessington. Longer, heavier trains are also better for the environment and fuel efficiency. A 50% increase in train length leads to only a circa 23% increase in emissions."
The group's annual turnover is more than £150 million and it provides a range of construction services through its various companies, which include Cappagh Contractors, Cappagh Public Works, Express Concrete, Allen Watson and DC Rail (DCR).
DCR has been operating since 2011. Initially the operator focussed on operating trains on the Dartmoor and Weardale heritage lines, but in 2011 it expanded through the purchase of Class 56s for freight operations after it acquired Hanson Traction. By that point it had been granted a freight operator's licence by the Office of Rail and Road (ORR) and began targeting contracts, particularly spoil and scrap.
Stability
In late-2017 the company was sold to join the Cappagh Group of companies, and this provided DCR with financial stability and the platform to be able to invest in new terminals, such as 'F' Sidings at Willesden.
David explains: "Rail is strategically important because of changes in the construction market. We need to move towards low carbon transport solutions and, alongside these, materials need to move further, and rail can help."
One immediate issue was traction. DCR's fleet at the time of the sale was a mixture of hired Class 31s and '56s', and in 2018 these were put up for sale by their owner, RMS Locotec. Cappagh bought Nos. 56091 and 56103, while the rest of the fleet was sold to a mixture of individuals and organisations.
A key part of the business development strategy was the traction used. The need to have its own fleet saw Cappagh buy four Class 60s from DB Cargo UK, all of which had been out of traffic for many years and so were put through an overhaul at Toton, undertaken by DB. The first to enter traffic was No. 60046, followed by Nos. 60028/055 and finally No. 60029. New wagons were ordered in, with a fleet of 100 Greenbrier JNA-T box wagons supplied by German leasing company VTG between 2019 and 2020.
Class 60s were the most powerful heavy haul locomotives available and enable DCR to operate longer, heavier trains into its terminals. Although there are four available currently for traffic, Cappagh owns a further 15 locomotives (Nos. 60008/009/013/022/038/057/060/061/064/070/075/080/090/098/099) which are either stored at UK Rail Leasing's Leicester depot (Nos. 60060/099) or the former Wabtec Rail site at Loughborough where the '60s' were assembled (the remaining 13 locomotives).
David explains the importance of the Class 60 to DCR. "The extra power that a '60' offers is vital for us as it allows payloads to be maximised providing better productivity of paths, loading slots and traincrew.
He says that with various costs increasing, DCR is able to use its '60' fleet to help operate more efficiently and economically.
"We look at the trains as being part of the supply chain. We are consolidating customers onto a train and that's how it works – there will be several companies' products or aggregates on a single train."
Location is key for DCR when it comes to terminals. "You need urban facilities for construction contracts," he says. "Out of town terminals do not work for bulk traffic due to the benefits of rail haulage being lost in poor utilisation of road vehicles. You need to get to central locations, but good sites are few and far between.
"There is also the fact that people do not want terminals in city centres and the need for housing has increased residential development around freight sites. Night-time operations at terminals are not wanted but that is often the best time for running freight."
"A terminal doesn't need to be complex. It can be as simple as a siding with capacity for a 300-metre train and a concrete pad for a material handler. In Leicester we opened a terminal where the aggregate is just lifted over the boundary fence with minimal set up costs. To increase capacity perhaps we need to be more innovative. Could carriage sidings be used during the day?
---
DC Rail locomotive fleet

There is much speculation regarding the DC Rail fleet. Currently, two Class 56s (No. 56091 Driver Wayne Gaskell The Godfather and 56103) and four Class 60s (Nos. 60028, 60029 Ben Nevis, 60046 William Wilberforce and 60055 Thomas Barnardo) are in the operational fleet, while 15 Class 60s (Nos. 60008/009/013/022/038/057/060/061/064/070/075/080/090/098/099) are in strategic store. Many of the unserviceable Class 60s have been out of traffic for a number of years, for example No. 60098 was withdrawn by EWS as long ago as May 2004. The majority of the rest were stood down in 2009. The most recent retiree was No. 60099, stored by DB Cargo UK in December 2015.

Cappagh Group's director of rail David Fletcher remains tight-lipped on their future. "The '60s' are in store. We are considering several options for them but the main purpose at the moment is to provide a pool of overhauled spares to minimise the downtime of the operational fleet''

UK Rail Leasing at Leicester maintains the Class 60 fleet, with heavy maintenance work also carried out at Loughborough. DCR is investing in its existing Class 60s, with LED headlights fitted to the fleet, while a reliability modification David highlights is the fitting of electronic governors to the locomotives. Traditionally this was a common cause of failures on the '60s', however a new design was created and fitted to the Type 5s.

Regarding the '56s', while No. 56091 is operational and is used on various flows, No. 56103 will re-enter service following an F-exam for which long lead time items are already being overhauled.

As for the future, DCR is looking at the development of low carbon traction with interest David says, however, no firm decisions have yet been made.
---
Future-proofed
"We are investing in a network of terminals across London and in the East Midlands. These make access to rail easier for our customers, but if rail freight is to play a greater role in a net zero economy we need more facilities closer to the end user."
An example of what Cappagh and DCR is about is the terminal at Chessington South, where the first train arrived in February 2022. The railhead has been established to serve south west London, using a site that had been closed for nearly four decades. Previously it was a domestic coal facility, but no freight had served it since the 1980s. The location, which was retained as a Strategic Freight Site, has been made operational once again to handle DCR's aggregate trains, but it has also been future-proofed to meet the demands of the local market that, traditionally, has been poorly served by rail freight.
The site features a 320m-long run round loop, a siding measuring 285m and a 195m-long headshunt. There is also a 100m siding for wagon maintenance and repairs. More than 1250 metres of new track was laid as part of the work to make it operational as what was there was deemed only fit for scrap, while a 250m concrete pad was also installed and this enables other use, including, potentially, containerised traffic if the need arises.
Also, by using this site, DCR is able to expand without being affected by any possible expansion of passenger services on the busy third-rail system.
This site followed similar DCR sites at Leicester and Willesden and there are plans to develop others, including at the recently acquired site in Plumstead, south east London. The Chessington South site will eventually be served by three trains per week which will carry sand, gravel, stone and recycled aggregates from Wiltshire and Kent; DCR expects this to increase as the site is developed still further, and the initial target is that 200,000 tonnes of new railfreight will serve the site annually.
The benefits are simple. Each train is 18 wagons long, removing 55 HGVs from the road network, some 8000 long-distance road movements per year. The material is distributed direct to local sites in a 10-mile radius using Cappagh's fleet of road vehicles.
Traditionally, the railways in south west London have been passenger-focussed with many of the former freight locations that had been in the area disposed of for development.
Future-proofing was based on considering projects including Crossrail 2 and/or extending various passenger services to a new station that would serve Chessington World of Adventures.
The cooperation DCR values was also shown to full effect when the first test train operated in December 2021, which required close working with Network Rail. Because the sidings at Chessington South officially remained part of the network, but with no trains operating into the site since the 1980s, there was no suitable method of work for the safe operation of the sidings. Local Network Rail freight and operations teams created a new method of working that considered all the changes to the site and modern rail operations.
This site is also testament to the need for Class 60s. The rail network in the area is served by a high-intensity passenger service. Night-time closures are regularly required to conduct repairs on the railway, meaning freight cannot operate at more peaceful times on the network. This means that the number of paths available into the terminal is limited. Each aggregates train must cross Wimbledon West Junction where there is no capacity to provide the necessary headway for a freight train to cross the four main lines.
Working with NR and various operators, the Wessex route was able to facilitate a small timetable change for the three weekly paths. These require a '60' to haul the longest possible trains of 18 wagons, something a '56' couldn't achieve.
Furthermore, surprisingly to some, the gradients on the former Southern Region are challenging for many locomotives tasked with hauling loaded aggregates trains weighing 2000 tonnes. Class 60s are perfect for the role.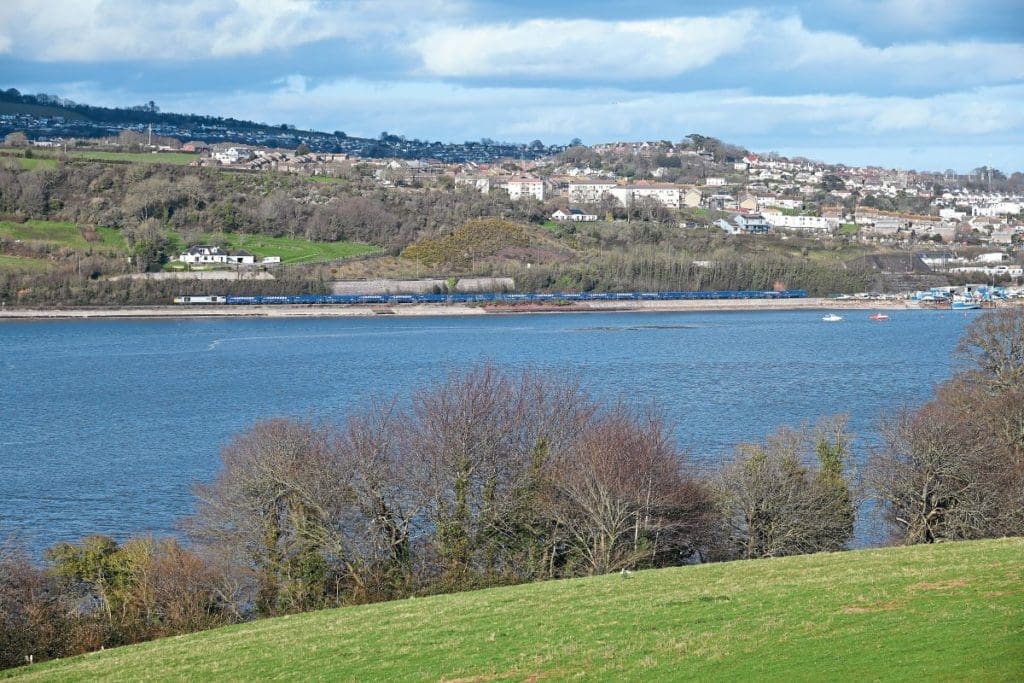 Sets
DCR trains can be seen nationwide although London and the South East is the focus of operations. Currently there are four operational Class 60s (Nos. 60028/ 029/046/055) and two Class 56(No. 56091 and 56103). These are used to haul four rakes of wagons, which David calls "sets". He explains that the wagons are dedicated to the products moved by DCR.
Currently two sets are operating on aggregates trains, with one serving Kent, Westbury or other quarries and the other operating across the south for various customers.
A third set is used to move spoil mainly between Acton Yard and Burton, operating via the Trent Valley. The fourth set is a 'northern set' based in Derby and used on traffic between the North West and East Anglia.
There is also a short spare set that offers the opportunity to be flexible with the main sets and cover maintenance issues. We can also spot-hire them when appropriate."
Although more resources will be acquired in the future, for now Davidis looking at existing operations. Currently one set is in use six days per week and a second five days per week, but there is still some capacity in the current fleet. Having the short set of spare wagons will help with this.
The supply of wagons is challenging at the moment due to various issues affecting the market, including the cost of materials and the conflict in Ukraine affecting the steel and wheelset sectors.
David says: "We are now the busiest we have ever been, but volumes have been variable too over the last 12 months, with the recent industrial action impacting traffic across the freight sector.'' That is backed up by statistics released by the ORR on March 28, which state that 3.70 billion net tonne kilometres were moved during the October-December 2022 period, the most recent quarterly figures available. This is down 9% compared with the October-December 2021 period and is the lowest level of freight moved in that quarter since the time series began in April 1998!
ORR also revealed that freight lifted was 17.0 million tonnes during the same quarter, a reduction of 17% compared with the same period in 2021, while the proportion of freight trains arriving within 15 minutes (as measured by the Freight Delivery Metric) was 80.0%; this the lowest since the time series began in 2013.
The annual figures are much more encouraging for DCR. According to ORR figures, between April 2021 and March 2022, some 0.17 million freight train kilometres were operated by DCR. This was an increase of 0.07 compared with April 2020 to March 2021, and the highest for the business since Cappagh bought it.
It remains the smallest of the freight operators in terms of freight train kilometres, but it shows a growth. When Cappagh took over, the first full year, April 2018 to March 2019, was only 0.06m.
While DCR is currently focussed on serving construction and manufacturing traffic it does not mean it won't look at other work says David. "We are building a reputation for reliable flexible bulk services and we do not want to stretch the business beyond its means. Each piece of traffic we take on is carefully considered to make sure it fits our capabilities.
Clear aim
"DCR is a relatively small company with a team of 60 employees, but we have a clear aim to be a safe and sustainable bulk logistics business," he says. "When DCR joined the Cappagh Group it was a sub-contractor offering hook and haul and resource hire to other freight companies. Now well over 95% of revenue is direct with rail freight customers.
"Covid-19 didn't help us in terms of our ability to grow and I would say at one stage we were around 18 months behind our original plans, but that has dropped to 12 months. People are our key asset and we are strengthening the team to meet our future growth. The new terminal at Plumstead and the continued development of sites at Willesden and Chessington South will provide additional traffic over the next 24 months.
"We have clear plans to grow the business around the core DCR routes and the network of terminals. DCR took on the Middleton Towers glass sand traffic to St Helen's during our initial growth phase and is an example of a traffic that fits in perfectly with other traffic on the North West to East Anglia axis.''
Despite the current situation with rail freight, David is optimistic. "There is still plenty of opportunities and rail is in a strong place to grow. Rail needs to keep ahead of the competition in terms of benefits to the environment and cost but there is still plenty happening despite the economy, and we are busy."
As the country requires more construction work, so DCR will likely be there providing the various materials through the creation of new rail freight terminals.
The Class 60 may be reducing in importance with other operators, but for DCR these big Type 5s are vital as this small but ambitious company continues to grow.
---
| | |
| --- | --- |
| Time period | DC Rail |
| April 2010-March 2011 | N/A |
| April 2011-March 2012 | 0.02 |
| April 2012-March 2013 | 0.16 |
| April 2013-March 2014 | 0.17 |
| April 2014-March 2015 | 0.08 |
| April 2015-March 2016 | 0.12 |
| April 2016-March 2017 | 0.06 |
| April 2017-March 2018 | 0.08 |
| April 2018-March 2019 | 0.06 |
| April 2019-March 2020 | 0.16 |
| April 2020-March 2021 | 0.10 |
| April 2021-March 2022 | 0.17 |
Note: Figures are in millions.
Source: ORR.
---
Advert
---
Railway Reads
From the history of steam through to 21st century rail transport news, we have titles that cater for all rail enthusiasts. Covering diesels, modelling, steam and modern railways, check out our range of magazines and fantastic
subscription offers.
Get The Railway Hub Weekly Round-up
Enter your e-mail address below and you will receive weekly rail news straight into your inbox…

You can unsubscribe at any time.