Five new fleets were ordered as part of the Greater Anglia franchise. With the final '321s' withdrawn, engineering director Martin Beable tells Richard Clinnick how the transition was achieved, and what comes next.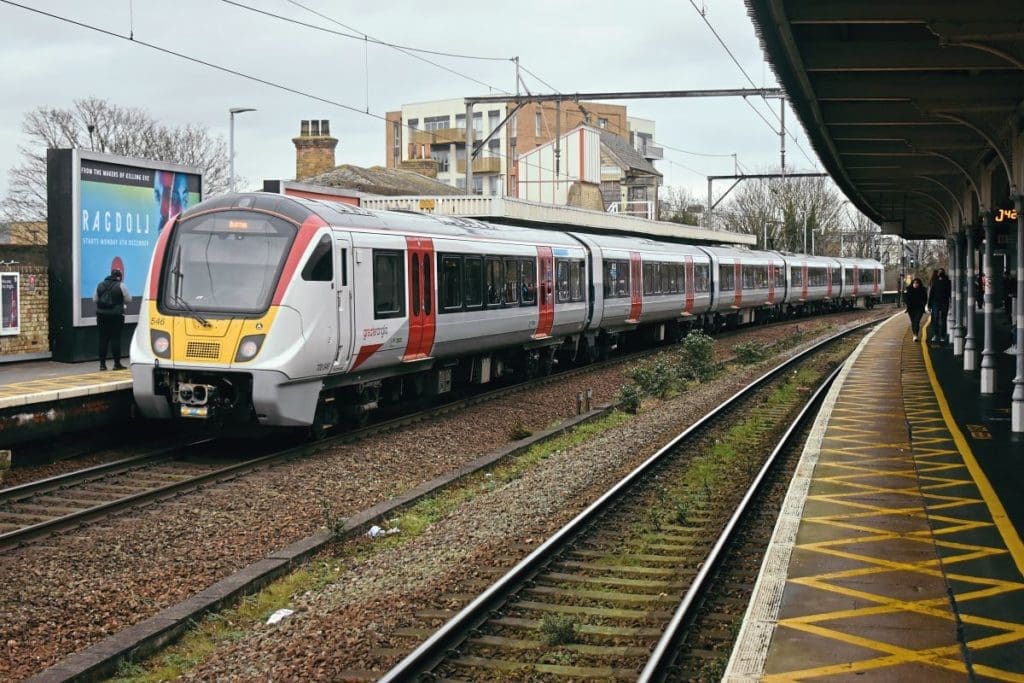 There's a constant flow of passenger trains in the background as Rail Express meets Greater Anglia engineering director Martin Beable at Ilford depot, but what stands out is that apart from the freight services, they are all brand-new trains passing the office block.
Even the Elizabeth line trains are formed of trains delivered from 2016 and introduced into traffic the following year. This has been quite the transformation on the Great Eastern Main Line, and indeed across GA's network.
Inside Ilford depot, itself modernised in readiness for the influx of new trains, there are several Class 720 electric multiple units undergoing maintenance. Beside them, a Class 321 is undergoing handback repairs while two '379s' are receiving checks ahead of their planned departure for storage. This perhaps perfectly reflects the changes on Anglia's railways.
This has been an ambitious and challenging project, and the first of its kind since the railways were privatised in the mid-1990s. When Abellio won the Greater Anglia franchise in August 2016 it did so on the proviso it would replace the entire fleet that was then in place; quite a varied fleet it was too. This included the introduction of the first main line trains built by Swiss manufacturer Stadler for the British main line network. These would be derivatives of the successful FLIRT design used across Europe, but which would have to be adapted for the UK network. Stadler was able to achieve this by using the same gauge as used by Turbostars and so used that train as the basis for its product.
Twelve-car Stadler EMUs (Class 745s) would be introduced on the Great Eastern Main Line between Norwich and London, becoming the first brand-new trains introduced on that service since No. D200 on April 18, 1958! Similar EMUs would be introduced on the Stansted Express route, replacing Class 379s that had only been put into traffic five years prior.
The entire fleet of Class 317s, '321s' and '360s' would also be replaced by an order of 89 five-car and 22 ten-car Class 720s from Bombardier (now Alstom) using the Aventra platform, which at that point had yet to enter service.
The rural routes would also undergo major upheaval. Various diesel multiple units, ranging from single-car Class 153s to three-car Class 170/2s would be replaced by Stadler Flirts (Class 755s). This would also eradicate the need for the Class 37-hauled 'short set' that had been running between Norwich, Great Yarmouth and Lowestoft since June 2015 (and before that on an ad-hoc basis with '47s') and which had recently been joined by a similar Class 68-hauled set.
The bi-modes were ordered as a mixture of three and four-car trains. Martin explained that this was due to infrastructure constraints on some routes which required the shorter trains, such as the Sudbury line, while there was also the issue of keeping the price of the new trains competitive, however there does remain the option of increasing the three-car train to four vehicles should the need ever arise.
The new fleets were to be based at Ilford (the '720s') and Norwich Crown Point ('745s' and '755s') with a new depot to be constructed at Brantham, near Manningtree, which would house a wheel lathe and maintenance facilities. This site was later abandoned although not before an event was held to announce plans for the site.
Building new trains meant upgrading existing facilities, and this had to be carried out without affecting existing operations. Stadler took over Crown Point depot, while Alstom now carries out all maintenance at Ilford. Pre-series testing of the new Stadler trains was undertaken at various sites across Europe including Velim in the Czech Republic, but the trains themselves still had to be tested on the GA network, with this undertaken by Rail Operations Group.
The new trains would be based at existing sites for initial testing and commissioning, which meant existing staff required training before the trains arrived, while also being required to keep the existing fleets operating.
The first '755' was unveiled, albeit incomplete, in Erlen, Switzerland onMay 3, 2018, with the first complete set, No. 755405 showcased at InnoTrans in Berlin on September 20, 2018. That same four-car set was the first to arrive at Norwich on November 15 that year. No. 755410 was the first to carry passengers, making its debut on July 29, 2019, operating the 07.47 Lowestoft-Norwich. By then the 12-car EMUs were being delivered (Stansted Express No. 745104 was the first to arrive on February 28, 2019), and it was January 2020 when the first '745/0' carried passengers. Such was the speed of their introduction that the final locomotive-hauled set ran on the first day of Covid lockdown in Marchthe
same year.
The new trains were designed to be a step-change in quality. Single-car DMUs dating from the Sprinterisation era of the 1980s were to be replaced by three and four-car trains fitted with air-conditioning, wi-fi, USB ports, fully accessible toilets and retractable external steps, making it much easier for people with reduced mobility to board the trains.
Capacity was key too. A '755/4' has 229 seats, while a '755/3' has 167 seats; this compares with 72 seats on a '153', 146 seats on a '156' or 187 seats on a three-car Class 170.
On the main line, an eight-coach Mk.3 set had 452 standard class seats and 86 first class seats; a nine-coach set had 528 standard class seats and 86 first class. These have been replaced by 12-car '745/0s' featuring 677 standard class seats, and 80 first class seats. The '745/1s' have 767 standard class seats and no first class.
Martin says GA has "done a good job to match capacity to demand," with the new trains. "We are seeing demand returning but over the short-term we are not at that peak yet." That means there is the possibility that a number of Class 720s could be made available for a sub-lease, and this has been looked at, but that would also depend upon appetite from elsewhere. The key to any decision, he says, is that GA has not yet had a smooth, issue-free post-pandemic period. Industrial action has hampered growth (RE324) while extensive engineering works across the region can also affect passenger confidence.
"We are planning a May timetable uplift. Weekday peak Stansted Express services go back to four trains per hour frequency and more peak five-car services will become 10-car trains – we need to keep being dynamic and drive growth and hopefully that will work."
---
| | | | |
| --- | --- | --- | --- |
| Trains | Vehicles per set | Manufacturer | Routes |
| 720101-720144 | 5 | Alstom | Suburban |
| 720501-720589 | 5 | Alstom | Suburban |
| 755325-755338 | 3 | Stadler | Rural, GEML expresses |
| 755401-755424 | 4 | Stadler | Rural, GEML expresses |
| 745001-745010 | 12 | Stadler | GEML expresses |
| 745101-745110 | 12 | Stadler | Stansted Express/GEML expresses |
Note: Class 755s will operate a small number of Norwich-London trains from the May timetable.
Note: Class 745/0s were ordered for the Great Eastern Main Line expresses, the '745/1s' for Stansted Express but they do operate on other routes when required.
---
The plan was always for the '755s' to enter service first. This decision was made due to the known workload Bombardier had at Derby Litchurch Lane while there was a keenness within GA to put new trains onto routes where the biggest change would be noticed. Certainly, a four-car '755' is a major upgrade on a single-car '153'!
"The job to get the trains in is massive. Four-car EMUs with 20-metre vehicles were being replaced with five-car trains each with 24m vehicles, so the five-cars are equivalent to six-car sets. The GEML was set-up as an eight-car or 12-car railway, so that means a five-car fills any sidings and platforms built for an eight-car train. On West Anglia, even more work was needed, for instance on the Hertford East branch we needed to move track circuits, signalling and extend platforms – that had to happen in other places too," he says.
A constant criticism of the Aventras is the sheer volume of seats. They are entirely standard class and fitted with 3+2 seating. A five-car set has 510 seats compared to the 308 in an unrefurbished '321' (which included first class, something not fitted to the Aventras).
Martin explains: "All our previous EMUs also had 3+2 seating. Passengers want safe, reliable and punctual trains and they want a seat. When these were ordered, the demand was rocketing skywards and the DfT wanted the bids to reflect that."
There have been some tweaks to the trains, the first passenger-facing modifications for any of the new fleets. No. 720118 was the first released from Derby with a slightly modified seating arrangement. In order to improve passenger flow and provide easier access, two seats in some of the bays adjacent to the vestibule doors have been removed, along with several perch seats. The net result is a decrease in seating capacity of 27 (18 normal seats, plus nine perch ones), although, given the reduction in demand for travel, particularly in peak periods, this is not regarded as an issue. New units will emerge with the new seat layout, and, in due course, the rest will be retrofitted with this arrangement.
When the order was placed, 22 ten-car sets were planned, which would be the Class 720/1s. However, it became apparent that these sets presented additional challenges with the Aventra production lines, and that the longer trains also required a software change. There would be operational issues too, such as fitting them into some of the maintenance facilities at Ilford that could previously house, at most, an eight-car set. The '720/1s' were planned to have semi-automatic couplings, as per the '701/0s', which would allow them to be split in half, with a forward-facing camera enabling a driver to move the unit in the depot. The various challenges were identified, discussed and GA accepted an offer to build an entirely five-car fleet, in a post-pandemic world where the added flexibility of an all five-carriage fleet was helpful.
Originally the '720s' were planned to serve Norwich, and driver training had begun with some sets visiting the Norfolk city. This approach has been discarded and, furthermore, while they currently serve Kings Lynn, this will end at the start of the new May timetable, as part of a joint plan with Govia Thameslink Railway to optimise the train service pattern between Cambridge and Kings Lynn, meaning the furthest north they will operate is Ely.
Introducing the '720s' has been an art form says Martin, praising the train planning and operations staff. "A five-car, 24m per vehicle train replacing a four-car, 20m per vehicle train is not a simple process. Trains split during the day, they meet other sets in the afternoon and our teams needed to ensure that during the change the right trains were in the right place at all times." Further complications during the introduction of the new fleets included the outbreak of Covid, delays to the '720s' caused by software issues and the need to keep the railway and depots operational while at the same time upgrading them ready for the new trains.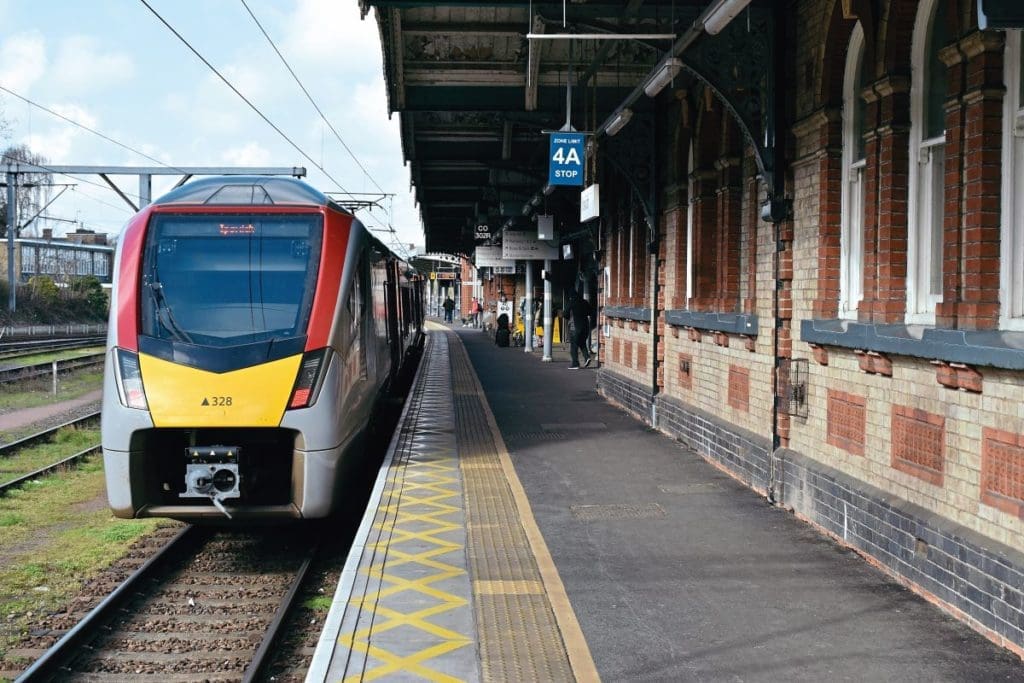 GA's various new trains were also ordered to enable some planned service increases as specified by the franchise award in 2016, but while some upgrades have been delivered, future plans have changed now that GA has moved to a National Rail Contract following the introduction of Emergency Recovery Measure Agreements (ERMAs) introduced by the DfT to protect the franchised operators against the collapse in passenger numbers during the pandemic. The nature of passenger recovery allied with the progress or otherwise of rail infrastructure upgrades has shaped ongoing timetable development.
"We're trying to manage the emerging patterns," says Martin. "From May there are four trains per hour again at peak periods on Stansted Express. That means more '745/1s' are needed and so their use on the GEML will be minimised." Originally, they were due to operate one up and one down service per day to swap for maintenance. Class 720s and '755s' were to be used on the GEML on various trains, but instead the '745/1s', which were free, were used. This drew criticism for the lack of catering, first class and tables, something GA recognised. "Annual performance on the intercity route is now 94%, but getting the balance of trains to Stadler for maintenance is a skill. We will be using '755s' on a number of trains where '745/1s' have been running. The infrastructure constraints currently preventing hourly Ipswich-Peterborough services and direct trains between London and Lowestoft, and no hourly Ipswich-Peterborough means we can use the bi-modes on the GEML, where their tables will be appreciated."
Regional stakeholders are very keen to see hourly Ipswich-Peterborough services (the most sought-after non-main line upgrade), but this relies on infrastructure upgrades including Ely North Junction improvements. GA is still investigating ways of running these services in the future, and looking at through Lowestoft to London services, but there are constraints on both the East Suffolk Line and south of Ipswich.
With the Government adamant on the removal of diesel-only trains from the railway by 2040, GA has begun thinking about the '755s'. The three-car trains have two diesel engines, the four-car sets have four. These are fitted in the power pack vehicle in the middle of the train, which is the same size regardless of the train. Martin says there is a "very, very formulative level discussion to think about this. It's on our agenda, but for the medium-term. If you're the DfT and you're looking at investment in making trains more environmentally friendly, the '755s' right now would not be top of that list."
Batteries could be an option, but he explains: "taking out a four-car set and putting a battery in there instead of an engine is not a simple plug and play operation."
One recent change in the way the '755s' operate is the ability to change power on the move. This was always planned but has now been introduced in recent months on the Colchester-Sudbury and Ipswich-Cambridge/Peterborough routes. Until recently '755s' would switch from diesel to electric or vice-versa at the first (or last) available station, for instance Stowmarket when heading north, but now this happens on the move. The next location where this 'on the move' switchover should be introduced is between Ely and Ely North Junction.
As for the reliability of the Stadler fleet, Martin says it's improving all the time. GA measures delays per incident, whereas national figures can reflect delays differently, which he says means the operator doesn't get the true picture. "Stadler is doing positive work on the trains, so the '755s' are much more reliable than they were. The 12-car trains are getting better and better, and they have reached the level of the hauled sets. We had zero cancellations on any '745/0'-operated train in the full month just gone."
In fact, for the general public, GA now has only new trains, but Martin says the New Trains Introduction Programme is not fully finished. This is only complete when the 133rd and final Class 720 carries passengers, which is expected to be by the end of the year. "Alstom has done well. They have had challenges, but our relationship is strong, and we collaborate well. They have added resources and put in additional testing which has made a major difference in getting the trains here – the performance shows that."
Nevertheless, there must be a point when he can sit back and look at the network, with its fleet of new trains, and consider the job done? Martin laughs. "We'll get to a point where it's all new trains, then it's all about reliability. We are hellbent on using this fleet as planned and providing value for money for the DfT, passengers and the region.
"I think the only time I would say the job is done will be when I retire!"
---
What happened to the old trains?

Greater Anglia's 'legacy' fleet has had a mixed fortune since leaving the operator.

The five Class 153s moved to Transport for Wales (Nos. 153306/309/314/ 322/335) where they have since been renumbered into the 1539xx range but will eventually be replaced by Stadler trains (for the second time). The nine '156s' (Nos. 156402/407/409/412/416-419/422) all moved to East Midlands Railway and were renumbered into the 1569xx range, however EMR is ridding itself of '156s' and most of these have reverted to their original identities and moved to Northern, however 156407 has been removed from that plan due to its condition and is instead stored at Long Marston.

All 12 Class 170/2s (Nos. 170201-208/270-273) also moved to TfW, however these have also started moving to EMR.

As for the Class 90s, they were all sold by Porterbrook, with Nos. 90003-015acquired by Freightliner and Nos. 90001/002 bought by Locomotive Services. Most of the Mk.3s also survived, with several also bought by LS (Nos. 10404/411/416, 11068/070/075-077/082/087/091/098, 12111/171, 82127/139, including some the company bought from other sources. Eastern Rail Services bought five (Nos. 10413, 11078/095, 12021/098), while DATS bought Nos. 11090, 12032/064/091/097, 82136. PNP Events owns Nos. 12061/079/090, 12137/146/164/167 and the Weardale Project bought Nos. 10417, 12015/034/ 084, 12108/126. Third Life Rail, which provides charter stock, owns Nos. 10406,11092/093/099, 11101, 12125/154, while Nos. 10403/412/415, 11072/088/096, 12009/049/067/093, 12107/114/116/118/130, 82114/118/ 121/143, have allbeen saved for various uses including preservation and even fire and rescue training. The Mid-Norfolk Railway, which was home to a number of Mk.3s stored during thetransition period, also bought several, with Nos. 10401/405/414, 11067/069/073/080/081/085, 11100, 12030/031/073, 12105/110/129/132/147, 82112/133part of its fleet. The rest, Nos. 10402, 11094, 12005/012/013/016/019/024/026/027/035/037/040-042/046/051/056/057/060/062/066/081/082/089/099, 12103/109/115/120/139/141/143/148151/153/159/166/170, 82102/103/105/107/132/152 were scrapped.

As for the EMU fleet, all 21 Class 360s transferred to EMR to operate services on the newly electrified Midland Main Line north of Bedford to Kettering and Corby. The 30 Class 379s, only delivered in 2011-2012, are currently all off-lease and are slowly moving to Worksop for further storage, with an uncertain future awaiting.

Nearly all the '317s' have now been scrapped, with only Nos. 317501/502/504/506/511, 317882 left at Ely. It's possible that by the time this edition of Rail Express has been published, they will have been disposed of. This leaves only two vehicles from No. 317345 left in existence.

The '321s' are the most varied in terms of what's left. Having all been withdrawn by the end of April, the rebuilt Renatus sets (Nos. 321301-330)are stored in various locations. Likewise, Nos. 321331-333/335-343, 321402/406/407/409/419/423/424/428-430/432/436/439/440/443 are stored, although some have been set aside for possible conversion to freight units, as perNo. 321334, which is used by Varamis Rail on the West Coast Main Line. Furthermore, No. 321440 has been earmarked for preservation. ERS has bought No. 321434 for filming duties. Meanwhile, Nos. 321344-366, 321405/408/410/421/422/425-427/431/433/435/437-439/441/442/444-448, 321901-903 and 322481-485 have all been scrapped.
---
---
Advert
---
Railway Reads
From the history of steam through to 21st century rail transport news, we have titles that cater for all rail enthusiasts. Covering diesels, modelling, steam and modern railways, check out our range of magazines and fantastic
subscription offers.
Get The Railway Hub Weekly Round-up
Enter your e-mail address below and you will receive weekly rail news straight into your inbox…

You can unsubscribe at any time.