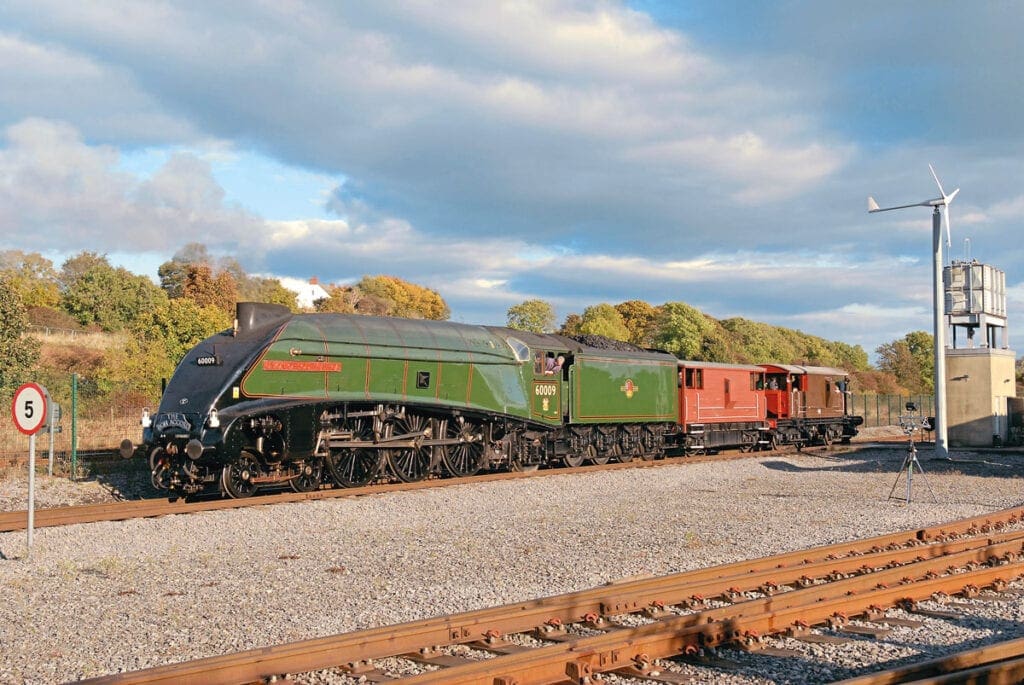 Words: Heritage Railway/Brian Sharpe
Which are Britain's top 10 steam engines? Brian Sharpe compares the history and performance of the 10 biggest working main line engines in roughly chronological order of the introduction of the class.
Britain's elite working steam locomotives are those registered to operate main line trains on the Network Rail system. In recent years, there have been fewer of the smaller engines and the heavier main line railtours have been in the hands of a select few Class 7 and 8 express steam locomotives.
In addition there are a number of Class 5 and 6 4-6-0s that generally haul lighter trains, often on secondary routes such as the West Highland extension, most subject to an overall maximum of 60mph as dictated by somewhat smaller driving wheels.
The system of power classification was devised by the London Midland & Scottish Railway as a development of a system first instigated by the Midland Railway. The smallest shunting engines on the LMS were classified '0' and the largest Pacifics were Class '7'. The Stanier 2-8-0s were as powerful as the largest Pacifics and were given the power classification '7F'. Engines could be classified '7P' or '7F' for example if they were designed for exclusively passenger or freight work, while those that were suitable for both were simply Class '5' for example.
Confusion crept in to the system with the LMS Jubilee 4-6-0s, which were more powerful than a Class '5' but not quite a Class '6', so the LMS designated them '5XP', effectively '51/2P'. This anomaly was removed by British Railways after Nationalisation by making Class 7s into Class 8s, Class 6s into Class 7s and 5XPs into Class 6s. The system was applied to the other BR regions but was adopted with varying degrees of enthusiasm.
The concept of mixed traffic locomotives is relatively new and the classifications '5MT' or in some cases '6P/5F' became more widely used in BR days but very inconsistently and the London Midland Region continued to refer to a '5MT' as simply a Class '5'.
At the present time there are 10 express steam locomotives of class 7 and above certified for main line use and currently in working order, although there are several more under repair, restoration or overhaul and expected to enter service in the near future. These 10 serviceable engines form a remarkably comprehensive cross-section of the history of British steam locomotive development over the period from 1923 to 1951, and enthusiasts are still keen to compare the performances of these engines, carrying out the duties they were designed for.
LNER A3 No. 60103 Flying Scotsman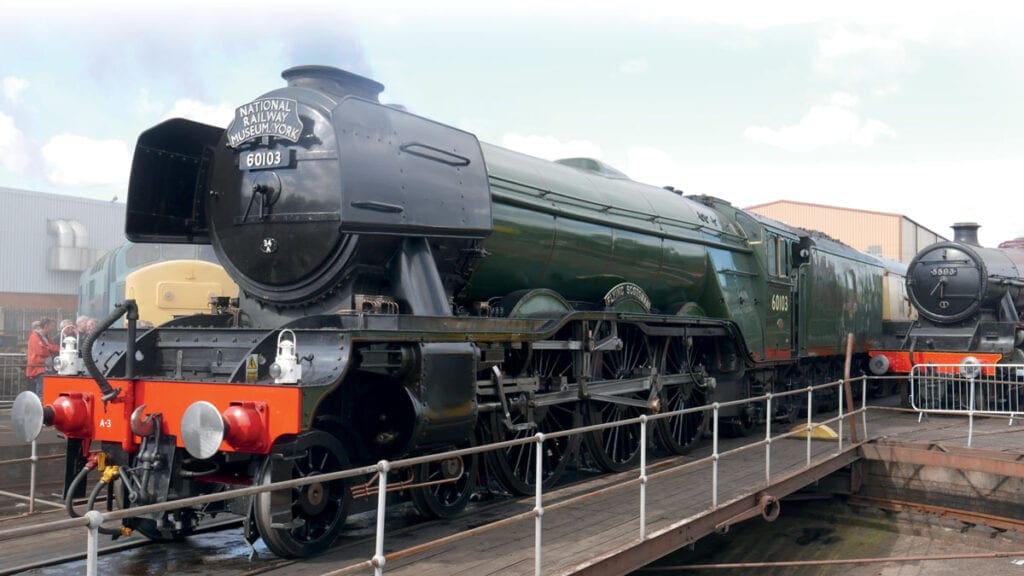 Flying Scotsman is now the oldest steam engine still active on Britain's main lines and the only preserved non-streamlined Gresley Pacific, but has many other claims to fame.
Britain's first Pacific was the Great Western Railway's The Great Bear, designed by George Jackson Churchward in 1908, but no more were built and it was not until 1922 that Sir Vincent Raven built some Pacifics for the North Eastern Railway, while Nigel Gresley built some for the Great Northern Railway.
The third of Gresley's GNR Pacifics did not emerge from Doncaster until after the 1923 Grouping, and became a member of the LNER's A1 class. Although the LNER haphazardly started naming the Pacifics, it was the decision to exhibit No. 4472 at the British Empire Exhibition in 1924 that led to it being named and the name chosen was Flying Scotsman, the name by which the 10am departure from King's Cross to Edinburgh was unofficially known.
Class 7 4-6-2
Built Doncaster 1923
Owned by National Railway Museum
The engine's next claim to fame was being chosen to head the first nonstop run of the 'Flying Scotsman' from King's Cross to Edinburgh in May 1928 and, of course, there has been confusion between the locomotive and the train ever since, the train having been officially designated in 1927.
Although never regarded as the best of the A1s, No. 4472 then received another great honour in 1934 when it became the first steam engine in Britain to be officially recorded as travelling at 100mph.
By then the A1 design had been enhanced as a result of the 1924 locomotive exchanges with the GWR and new Gresley Pacifics were being built as A3s, with the older ones being progressively rebuilt. Flying Scotsman was one of the last Gresley A1s to remain in its original condition.
Flying Scotsman was rebuilt to A3 specification in 1949 and became BR's No. 60103; by now the A3s had been displaced by the streamlined A4 Pacifics and Peppercorn's A1s were coming on stream.
Nevertheless, very late in its life, along with most A3s, No. 60103 was given the benefit of a double chimney, which transformed its performance, if only for the last few months of its working life.
It is hard to imagine a steam engine having a better pedigree than that of Flying Scotsman; yet it was not selected for official preservation by the British Transport Commission, largely as a result of having been substantially rebuilt from its original condition.
However, Retford businessman Alan Pegler, who had already purchased the Ffestiniog Railway, bought Flying Scotsman on withdrawal in January 1963, with the intention of keeping it running on the main line.
No. 60103 set off from King's Cross on its last run in BR service, the 1pm to Leeds on January 14, 1963. It left the train at Doncaster, went into the works and emerged in April in Alan Pegler's ownership, with single chimney reinstated and in LNER apple green livery carrying the number 4472.
And Pegler negotiated a contract with BR for its continued operation until 1972, a contract that no one else managed to obtain. No. 4472 gradually penetrated many unfamiliar parts of the BR system, this being made easier from 1966 after the purchase of a second tender.
From October 1967, Flying Scotsman became the only privately-owned steam engine able to run on BR and from August 1968 and the end of BR steam, it was Britain's only main line steam engine. Yet, rather than capitalise on this monopoly situation, Pegler took his engine to the United States for a promotional tour. After a successful tour, another tour was embarked on that proved disastrous. Pegler went bankrupt, the engine was seized by creditors and the future looked bleak.
A rescue operation was masterminded by long-time Scotsman minder George Hinchcliffe, bankrolled by the Hon. William McAlpine. In the nick of time, No. 4472 was on a ship heading east across the Atlantic, arriving in Liverpool in February 1972. It was quickly overhauled at Derby works, spent a summer season on what was then the Torbay Steam Railway and in September 1973 it returned to the main line passenger business.
Sir William based Flying Scotsman at Steamtown Carnforth for most of the period of his ownership but he moved it to Marylebone in 1985 when BR agreed to the running of steam tours in the London area. In 1988/89 though, Flying Scotsman was running across Australia and continuing to break new records.
Privatisation of Britain's railways in 1994 though saw pop impresario Pete Waterman get involved in the railway and railtour business and he acquired a half share in the owning company for Flying Scotsman set up by McAlpine. It was an uncertain time though and the new joint owners would not commit to the cost of a major overhaul until things settled down.
Instead, Flying Scotsman had a light overhaul and embarked on a programme of operation on heritage lines. Perhaps even more more shocking was the fact that it emerged from this overhaul in 1963 BR condition in Brunswick green livery with a double chimney and smoke deflectors, carrying the number 60103.
When it proved impossible to keep the increasingly unreliable engine going, it was sold to Oxfordshire entrepreneur Dr Tony Marchington, who bankrolled not just the most expensive overhaul of a British steam locomotive to date, but what amounted to a rebuild, which elevated it from a Class 7 to a Class 8. Dr Marchington's plans for upmarket dining trains across Britain were progressively downsized, but after Flying Scotsman emerged from its overhaul still with double chimney and smoke deflectors but back in LNER apple green livery as No. 4472 in 1999, it performed like no Gresley A3 had ever performed before.
It just did not earn enough money though and while it was arguably turning out more power than the frames, cylinders and motion could handle, maintenance was being carried out on a shoestring. Dr Marchington died and Flying Scotsman Ltd was effectively insolvent. Once again the A3 had an uncertain future.
The National Railway Museum launched a campaign to purchase it and overhaul it. The first objective was achieved and the engine arrived at York in 2004, still certified for main line use. The second objective proved more problematical for the museum. The unreliable engine was quickly withdrawn and the overhaul started but it was to take 10 years and cost millions of pounds more than anticipated.
Nevertheless, when Flying Scotsman returned to steam in late 2015 and entered service in 2016, its fame and popularity had increased to unprecedented levels. It has reverted to being a BR 1963-era A3 with double chimney and numbered 60103, but it is a Class 7 again and will not be hauling the size of train that it regularly did in the Marchington days. Nevertheless, it has proved to be a very capable engine as it embarks on the latest era in its eventful life.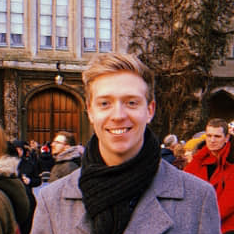 Latest posts by Sam Hewitt
(see all)
Let off some steam...